Volume 10 Issue 2

Inter-professionalism at the AQPA: McGill students join forces for the benefit of Montrealers with Aphasia
Author:  Leah De Gorter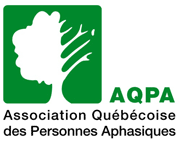 For most of us, the use of language is as natural as ordering a coffee or jotting down a grocery list. However, after a stroke, nearly one third of survivors live with aphasia and will find these day to day tasks difficult. Aphasia is an acquired language disorder that can disrupt the ability to produce language and/or understand language, while memory, intelligence and other cognitive ability remains intact (see March 2009, Volume 6 Issue 1).
 L'Association Québécoise des Personnes Aphasique (AQPA) is a non-profit, community based organization that provides support and services for those living with aphasia. AQPA is funded by a federal grant project titled McGill Training and Retention of Health Professions Project. The project's mandate is to provide services for minority language groups in Quebec as well as to provide student training. Due to this program, McGill students have the opportunity to learn and enhance skills during practicum placements at the AQPA. At the same time, AQPA members, who are in the later stages of rehabilitation, receive services for which they would not otherwise qualify.
The partnership between AQPA and McGill began with communication groups in 2006, supervised by a Speech-Language Pathologist (S-LP) and run by McGill S-LP students. For the past five years, many McGill S-LP students have completed their practicum at the AQPA. The S-LP students facilitate conversation groups and plan activities to enhance communication. These activities foster communication skills such as understanding language and expressing oneself using speech, gestures and writing. Louise Bourbonnais, Director of the AQPA, reports that the S-LP students "are wonderful people, they give our members confidence so that they can still speak and make themselves understood—the presence of S-LPs is invaluable".
However, AQPA staff recognized that their members' needs extended beyond that of just communication. Specifically, the members' had additional social and daily functioning needs that also needed to be addressed. Consequently, the department of Social Work at McGill became involved. In September of 2011 a Social Work student was placed in a practicum at the AQPA. The Social Worker's role is very important in the care of a person with aphasia. Maintaining relationships with a communication deficit is challenging, and families often require the support from a Social Worker.
A McGill Occupational Therapy (OT) practicum placement was also recently added to the AQPA, beginning in January 2012. The OT's role is to provide support for members' daily functioning, in areas such as self-care, leisure and productivity. Together, the OT and Social Work students started a community resource group, in which they provided sessions on topics such as how to volunteer in the community, seek employment, and participate in daily active living.
The students from the three professions have been working together in a model called inter-professionalism. This model is one in which professionals from different disciplines work together, sharing common goals for the members of the AQPA. This model benefits the members of the AQPA, as they get comprehensive and continuous support, and it also allows the students to learn from each other.
Anne Vogt, the former Coordinator of Clinical Education at the School of Communication Sciences and Disorders, stresses the value of different professionals being represented at the AQPA: "We've set the scenario for all disciplines to continue to work together with the aphasic group members. Communication, as important as it is, doesn't meet all of the isolation and psycho-social issues that people may have living with aphasia, so there really is a huge need for more than one service for this population".
In the words of an AQPA member living with aphasia: "[I] saw [my] skills improve: speaking, writing, reading, understanding. [We] must push. Work harder for your progress." With effortful speech, the member is able to express gratitude for the opportunity to meet many individuals from different communities with varying degrees of aphasia at the AQPA. This member also appreciates the students, who motivate members living with aphasia by helping them improve their language skills and providing opportunities and support for them to participate in their community.
For more information about the AQPA, please visit http://www.aphasie.ca or call 514-277-5678.