Volume 11 Issue 1

Transition Program for Young Adults with Autism Spectrum Disorder
Author:  Lauren McDonald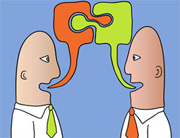 Finishing high school is an exciting time that marks the start of many new educational, work, and social opportunities. Adopting these new social roles is exciting but challenging for every young person. For people with Autism Spectrum Disorder (ASD), this transition can be very difficult without special supports that are often unavailable. McGill students who provide the McGill Transition Support Program are filling this gap in services and helping young people with ASD successfully transition into adult roles.
Studies done since 2000 say that the number of people with all autism spectrum conditions ranges from 34 to 110 in 10,000 people. Autism Spectrum Disorder is a neurological condition  that affects social communication and interaction, and involves restrictive or repetitive behaviours, interests, or activities. In general, people with ASD have some degree of difficulty with social interactions and communication. They may not know how to interact appropriately with other people, and may have difficulty having a conversation with others. They may have trouble understanding and using non-verbal communication such as facial expressions and gestures, which are important to understand in social situations. People with ASD may have restricted interests and may obsess about one topic or activity. Changes in routine can also be challenging for people with ASD. While there are some commonalities in communication and social behaviour, ASDs exist along a continuum, and the severity, level of functioning, and symptoms differ from individual to individual (http://www.autismsocietycanada.ca/index.php).
While they are children, individuals with ASD are eligible for various services both within and outside of the school system. Once they leave the school system, however, there are fewer, if any, services available for young adults at the high functioning end of the spectrum. While these young adults have a high IQ and strong formal language skills, they still need support to participate in mainstream settings, such as college or the workplace. Professor Aparna Nadig  of the School of Communication Sciences and Disorders and Professor Tara Flannagan of the Department of Education and Counselling Psychology at McGill University saw this need and developed The McGill Transition Support Program for high functioning English-speaking individuals with any Autism Spectrum Disorder aged 18 – 30 years old. The goals are to "develop transition services for young adults with ASD, raise knowledge in service providers, and bring together stake holders," says Dr. Nadig, who obtained a Max Bell Foundation grant to support the program. This interprofessional program combines knowledge from the fields of Speech-Language Pathology and Education and Counselling Psychology to focus on three main areas. Over 10 weeks, participants learn about social communication, self-determination, and team work in small groups of 4 – 6 people. Self-determination involves "having a role in your own future and outcomes, self choice, and self realization," explains Dr. Nadig. The participants are asked about their needs, and the curriculum can then be adapted to better meet the group's needs. The program aims to have a positive long-term outcome on participants' quality of life and social inclusion. The program is run by a facilitator, such as a Speech-Language Pathologist (SLP), who is assisted by a practicum student. This also provides a valuable opportunity for SLP and educational psychology students to gain experience with young adults with ASD.
A pilot session was run from May – July 2012 with six participants aged 19 – 26 years old. The group met once a week for 2 hours for 10 weeks. The sessions were run by a Speech-Language Pathologist and a Speech-Language Pathology student. Data on various skills such as social communication and social problem solving, as well as quality of life were collected. Parent reports about the program were also collected. Overall, Dr. Nadig says that there was good attendance and commitment from the participants, and that the response to the program was quite good. Vivian Bott, who participated in the program and is currently attending Lasalle College, says she liked going to the program, and "would do it again." She found the social skills modules to be most helpful, and enjoyed learning useful listening and communication strategies.
Besides providing a much needed service for young adults with ASD, the Transition Program also gives practicum students an opportunity to practice their skills and learn more about ASD. Madeleine Bellemare was the SLP practicum student for the pilot study. She has worked with individuals with ASD before, but says that this Transition Program was different from her previous experiences. She says, "Participating in the Transition Program was a truly unique experience and gave me great insight into what it may be like to be a young adult with ASD." This project gave her skills and experience that will be valuable in her future career as an SLP.
A new study has been planned, and new groups will start in spring 2013. This study will help Dr. Nadig and Dr. Flannagan to further measure the program's effectiveness. To learn how to participate in this transition program for young adults with ASD, please visit http://poplab.mcgill.ca/transition-program.html or contact Transition [dot] Program [dot] ASD [at] gmail [dot] com.