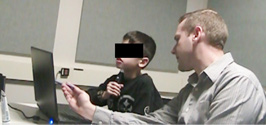 The School of Communication Sciences and Disorders is pleased to offer this free workshop as part of our 50th Anniversary celebration, as a means to highlight our commitment to leading edge clinical practice. Participation will be capped at 20 participants from the community because of the hands on nature of the experience. Please sign up here. Registrations will be taken on a first come basis with registrations closing on September 11, 2013.
"Hands-on Clinical Training in Ultrasound Biofeedback for Speech Sound Errors"
Abstract: Ultrasound visual feedback of the tongue has been used in research to improve speech sound accuracy for individuals with speech sound errors, including children with idiopathic residual articulation errors, childhood apraxia of speech, or hearing impairment. The aim of this workshop is to take initial steps in translating this research-based approach to clinicians. Ultrasound offers a real-time visual display of the tongue, and this can be used to cue clients to modify their tongue position or shape.  This helps clients to visually recognize whether they are achieving the desired tongue movements. Ultrasound has been used to treat errors on sounds such as /r, l, s, z, k, g, "ch", "sh"/ in clients whose sound errors do not respond well to traditional therapy methods. The workshop will provide an introduction to the use of ultrasound, demonstrate video examples of how this approach can be used, and will provide participants with hands-on experiences with the technology.
Workshop Information
The workshop will be hosted by Dr. Jon Preston
Time and Date: 1:00-3:30pm on October 11th 2013
Location: Goodman Cancer Centre, Room #501 
Tentative Schedule:
| | |
| --- | --- |
| 1:00-1:30pm | Introduction to Ultrasound visual feedback: strengths and limitations, safety considerations, candidacy for this approach |
| 1:30-1:45pm | Hands-on practice in small groups |
| 1:45-2:15pm | Video demonstrations/therapy examples:  Cueing sound-specific tongue shapes and movements: alveolars and velars, lateralized distortions of /s, z, "sh"/, North American English /r/, vowels |
| 2:15-2:45pm | Hands-on practice in small groups |
| 2:45-3:30pm | Questions/Discussion |
Workshop Handout
Click here to download the workshop handout
---
See a related event: Fall 2013 Clinical Outreach Seminar Series featuring Dr. Jon Preston