October 23 2013
The Beatty Memorial Lecture on Thursday the 24th at 6.30 pm will be LIVE STREAMED at the following link: http://bcooltv.mcgill.ca/Viewer/?EventID=201310226826.
In addition, all the conference talks will be recorded and will be made available on the website after the conference.
September 26 2013
The deadline for the Video and Photo/Picture contest has been extended! Submissions are open until October 6 2013 (23:59 h).
September 19 2013
Slowly but surely ... we have now received the first few submissions to our video and picture contest. Check them out here.
July 18 2013
The School is very pleased to announce two new events as part of our 50th anniversary celebration:
Will you be joining us?  If so, let us know on our Facebook events page!
June 21 2013
We are proud to report two new developments:
First, the SCSD has launched a new logo celebrating its 50th anniversary. 
Click here for more details.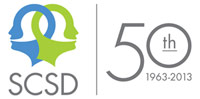 Second, Dr. Manuel Carreiras' talk on "Some mysteries about bilingualism" on October 24th has been acknowledged as a prestigious Beatty Memorial Lecture.  Beatty Memorial Lecture bring internationally renowned scholars and thinkers to McGill's campuses for public presentations on their work.
And please stay tuned for more NEWS …
June 6 2013
We have now started our video and photo/picture contest about the SCSD and Beatty Hall and invite you to contribute a video clip, photo or picture illustrating what you find interesting, surprising, worrysome, etc. about the work and 'life' at our school.
All contributions will be posted on our websites (with names or anonymous, as you prefer), and the three best contributions will receive prizes. An edited compilation of videos and pictures will also be presented at our Gala Dinner on October 25th.
Please check out our corresponding contest website for more information - and submit your video or picture by September 25th 2013 !
Also, we have created posters for the Multilingualism conference and for the call for paper.  Check it out and
spread the word !
May 17 2013
... this website is finally alive! This certainly IS news. 
But much more exciting stuff is to come soon ... 
for example our new logo!
Check out this website often.