Dr. Karim Nader, an associate professor in the department of psychology, wants to show undergraduate students how cool science can be and to inspire them to choose that path. For him, research in academia is great because you can follow your curiosity and use your creativity. He believes that anyone can be a scientist. You just need to be dedicated and passionate.
Dr. Nader works on how recent memories are transformed into long-term memories, a process called memory consolidation. He discovered that when we recall a memory, that memory becomes unstable; when a memory becomes unstable, it can be modified. According to him, by interfering with protein synthesis, an important molecular process in memory consolidation, a memory can be modified or "tuned down". Dr. Nader hopes that his discovery may eventually help people who suffer from traumatic experiences by tuning down unpleasant memories.
Peter Finnie, a recent psychology graduate, enjoys working in Dr. Nader's lab. He obtained this position by chatting with Dr. Nader one day after his class. "Next thing I knew, I was invited for an interview and got an honours research project," he said. His lab experience has allowed him to obtain an NSERC summer grant.
To get a foot in the lab, Szuhan Wang, a PhD student from Taiwan, first started by volunteering. With a great smile, she said, "the more I work in the field of behavioural neuroscience, the more interesting I find it! The research I do is challenging and brings me a feeling of achievement." She hopes to make a difference in her field by bringing a good attitude and positive energy.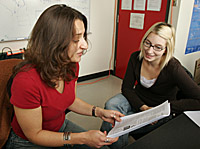 The two research assistants, Karine Ganache and Cyrinne Ben Mamou, love their work because every day they acquire new knowledge. They suggest that students who might be interested in working in the lab come with a basic knowledge of the group's research interests. Once in the lab, undergraduate students have their own project and are matched with a graduate student, who teaches them lab procedures. Usually, each student meets once a week with Dr. Nader.
---
Author: Sophie-Anne Lamour, PhD Student (Pharmacology & Therapeutics) and WARM-SPARK member
WARM-SPARK (Writing About Research at McGill-Students Promoting Awareness of Research Knowledge) was a program supported by the VP Research Office, Associate Vice Principal (Communications), the faculties of Agricultural and Environmental Sciences, Arts, Engineering, Medicine, and Science. See spark.mcgill.ca for more information and articles.
Photographer: Owen Egan 2006