Freaky Fridays: McGill scientists confront myths, debunk popular misconceptions, and clarify science. Each Freaky Friday lecture allows for audience interaction and is followed by a popular film.
Freaky Fridays takes place in the Auditorium of the Redpath Museum, 859 Sherbrooke Street West, Metro McGill or Peel. Seating is limited, but reservations are not necessary.
For the current season, please visit the main Freaky Friday page.
For the 2011-2012 season, please see below. Freaky Fridays took a break in Fall 2011, and resumed in Winter 2012.
Most of the Freaky Friday lectures are available on iTunes U and on McGill podcasts. 
---
Winter 2012
Friday, January 20: The misunderstanding of dinosaurs
By Emily Bamforth (Ph.D. candidate, Redpath Museum and Biology, McGill). Is a Pterodactyl really a dinosaur? Could 'Jurassic Park' actually happen? Come and find what you may not have known about society's favorite prehistorical creatures. Followed by the film DinoShark (2010). Check out this interview on CBC Radio 1.
---
Friday, January 13: The future of Quantum Mechanics
By Bill Coish (Physics, McGill). How can we realisitically use large scale quantum mechanical effects to our advantage? Followed by the film eXistenZ, a 1999 body horror/science fiction film by Canadian director David Cronenberg. Check out these interviews in Nature and on CBC Radio 1 where Dr. Coish talks about quantum information science.
---
Friday, February 10: Oxytocin me, baby — the truth about the so-called love hormone
By Jennifer A. Bartz (Psychology, McGill). Oxytocin is widely known as the "love hormone" released during birth and breastfeeding to bond a mother and child, but it's released other times, too. Like during an orgasm. Or a romantic date. Oxytocin supposedly overflows us with positive feelings about one another. Or does it? Followed by the 2010 film The Notebook.
Read more about Dr. Bartz work with oxytocin in this Time Magazine report. Tune into the CBC interview with Dr. Bartz on Freaky Sunday, Feb. 5, that explains how oxytocin is critical in mammalian pair-bonding.
IMAGE: Two oxytocin-soaked lead actors in the film The Notebook.
---
Friday, February 17: Nature or Nurture: Do genes actually determine your personality?
By Roberta Palmour (Genetics, McGill). How do specific personality traits themselves predispose to particular types of mental illness? Followed by the film As Good As It Gets (1997). Listen to Roberta Palmour's interview on CBC about personality disorders and her work with monkeys' personality traits.
PHOTO: Actor Jack Nicholson as Melvin in the film As Good As It Gets.
---
Friday, March 23: Climate science and geology -- a tale of three histories
By Paul F. Hoffman (Department of Earth and Planetary Sciences, Harvard University). Dr. Hoffman's interest in 'Snowball Earth' related studies originated in northern Namibia, where he has worked annually since 1993. The Snowball Earth hypothesis says that the Earth's surface became entirely or nearly entirely frozen at least once, some time earlier than 650 million years ago. The hypothesis remains controversial and is being debated under the auspices of the International Geoscience Programme (IGCP) Project 512: Neoproterozoic Ice Ages. There are a number of unanswered questions, including whether the Earth was a full snowball, or a "slushball" with a thin equatorial band of open (or seasonally open) water.
You can listen to the CBC interview with Dr. Hoffman on Freaky Sunday.
Sponsored by Department of Earth and Planetary Sciences, McGill University, this Freaky Friday will be followed by the film The Day after Tomorrow. IMAGE: Scene from the film showing New York City snowballed by ice.
---
Friday, March 30: Reel Injun — How Hollywood portrays aboriginals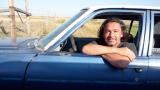 By Neil Diamond, Director and Executive Producer of the documentary film Reel Injun. This 2011 Gemini award-winning film will be introduced by Christina Fon, one of the producers. This Freaky Friday is co-sponsored by Allan Vicaire, Project Coordinator on the Aboriginal Sustainability Project, Social Equity and Diversity Education Office (SEDE), and First Peoples' House (FPH) at McGill.