Freaky Fridays: McGill scientists confront myths, debunk popular misconceptions, and clarify science. Each Freaky Friday lecture allows for audience interaction and is followed by a popular film.
Freaky Fridays takes place in the Auditorium of the Redpath Museum, 859 Sherbrooke Street West, Metro McGill or Peel. Seating is limited, but reservations are not necessary.
For the current season, please visit the main Freaky Friday page.
For the 2010-2011 season, please see below.
---

Friday, March 25, 2011
Radiation as a weapon of mass benefaction 
By Arman Sarfehnia (Department of Medical Physics, MUHC McGill)
Radiation is everywhere. It is part of the construct of our world as we know it. Indeed since its discovery in 1895, our understanding of radiation as well as the nature of matter in general has improved substantially. We have learnt much about the interactions of ionizing radiation with matter, and as such have learnt to better control and harness a small portion of the energy carried by radiation. The applications of radiation are as wide as the myths surrounding it. In this lecture, we will discuss what radiation is, and we will look at a brief history of radiation, how it was discovered and what role it has played in our lives. The applications of radiation in diagnostic radiology and radiation oncology will be discussed, and a brief cost-benefit analysis for medical applications will be presented. Followed by Silkwood, the 1983 film about the real-life story of Karen Silkwood, a metallurgy worker at a plutonium processing plant.
---

Friday, March 18, 2011
Aging process — Myths and realities
By Siegfried Hekimi (Biology)
What is aging? Recent animal studies have shown that clioquinol — an 80-year-old drug once used to treat diarrhea and other gastrointestinal disorders — can reverse the progression of Alzheimer's, Parkinson's, and Huntington's diseases. According to Dr. Siegfried Hekimi, clioquinol acts irectly on a protein called CLK-1, often informally called "clock-1," and might slow down the aging process. Learn about this anti-aging medication and the gut realities about the process of getting old. Followed by the Brad Pitt film The Curious life of Benjamin Button (2008). Photo by Michael Ströck, Wikipedia.org. Creative Commons Attribution-Share Alike 3.0 Unported license. 
---
Friday, March 11, 2011
Hematophagy – what is it with blood sucking? 
By Murray Humphries (Department of Natural Resource Sciences,McGill University, Macdonald Campus)
Since blood is a fluid tissue rich in nutritious proteins and lipids that can be taken without enormous effort, hematophagy has evolved as a preferred form of feeding in many organisms. Learn about the blood sucking habits and lifestyles of mosquitos, leeches, lampreys and some humans. Followed by the Anne Rice film Interview with a Vampire.
---
Friday, February 4, 2011
Is Love a Big Equilateral Triangle? 
By John Lydon (McGill Psychology)
On the science of close relationships: what are the physiological and psychological mechanisms that keep us in "love" ? Followed by the film Love Actually (2003). 
---
Friday, January 28, 2011
How I learned to stop worrying and love genetic modification
By Andrew Abela (Chudasama laboratory of Brain and Behaviour, Dept. of Psychology)
Genetic engineering, also called genetic modification, is the direct human manipulation of an organism's genetic material in a way that does not occur under natural conditions. It involves the use of recombinant DNA techniques, but does not include traditional animal and plant breeding or mutagenesis. Any organism that is generated using these techniques is considered to be a genetically modified organism. Learn about the genetic modification in experimental mice being used for research purposes. Followed by the film The Incredible Hulk, a 2008 superhero film based on the Marvel Comics character the Hulk. 
---
Friday, January 14, 2011
Science and Fiction in popular films — the good, the bad and the obotic
By Adrian Bobb (Art and Design, CDI College)
How and why has science found its special place in popular films? What is the scientific significance of films like Avatar, Gattaca, and Tron? Followed by the film WALL·E, a 2008 American computer-animated science fiction film. Photo by Humanrobo, Wikipedia.org. Creative Commons Attribution-Share Alike 3.0 Unported license.
---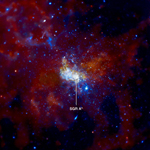 Friday, December 3, 2010
Black Holes
Dr. Gil Holder (Physics, McGill)
Now available as a podcast. Contrary to popular myth, a black hole is not a cosmic vacuum cleaner. Find out what it means to be "sucked" into a black hole, and whether the CERN reactor has anything to do with it. Followed by the 1979 Disney film The Black Hole (Disney, rated PG).
---
Friday, November 19, 2010
Birds, brains, and songs
Neeltje Boogert (Biology, McGill)
Not only do some birds sing but they sing cleverly. Female birds prefer males that sing 'prettier songs', but sometimes they have a strange definition of 'pretty'. Female zebra finches prefer males with more complex songs, even though all zebra finch songs sound like a squeaking rubber ducky to us. Moreover, females may be able to judge how smart a male is based on his song! Neeltje Boogert will discuss these and other amazing facts about animal communication.
---
Friday, November 5 and Friday November 12, 2010
UFOs and Close Encounters: The Psychology of a Phenomenon
Don C. Donderi, PhD
Now available as a podcast. Two lectures consider the UFO phenomenon as it has evolved from 1947 to the present. Don C. Donderi, the lecturer, is a research psychologist recently retired from McGill. He studies human perception and memory. The lectures review the evidence about UFOs and about Close Encounters. Donderi explains why he thinks some UFOs are extra-terrestrial. He discusses the UFO phenomenon and its reception by laymen and scientists from the perspectives of personality psychology and the philosophy of science.
Friday, November 5
UFOs: the Psychology and the Evidence 
Donderi describes the UFO phenomenon, including some personally investigated cases. After summarizing more than sixty years of government and scientific reaction to UFOs, he discusses how the phenomenon itself has evolved since the first widely reported North American sighting in 1947. After considering how UFOs might work, he justifies support for the thesis that some UFOs are extra-terrestrial, and he discusses that idea in the context of modern science. Followed by the recently released 1956 documentary film Unidentified Flying Objects which contains well-known but seldom-seen UFO camera footage.
Friday, November 12
UFOs and Close Encounters; Science and Society
In "Close Encounters", humans interact with humanoids aboard UFOs. The evidence is described, and then the psychology of close encounters is discussed in order to decide whether the evidence is reliable. Public and scientific reaction to the UFO phenomenon is considered from the perspectives of personality psychology and the philosophy of science. Finally, Donderi discusses the social and political ramifications of the extra-terrestrial hypothesis. Followed by the film Independence Day.

Image: Invasion of aliens 3D creation on Public Domain Images
---
Friday, October 15, 2010
The Growth of Quackery
Dr. Joe Schwarcz (Office for Science and Society, McGill)
This Freaky Friday lecture jumpstarted the Lorne Trottier Public Science Symposium: Confronting Pseudoscience — A Call to Action that was held on Oct 18 and 19.
Dr. Schwarcz's Freaky Friday presentation includedThe Living Matrix, a documentary film on the "New Science of Healing".
Webcasts from the sympposium are now available on McGill's bcooltv site:
The 2010 Lorne Trottier Roundtable with moderator Dr. Joe Schwarcz (October 17, 2010)
The 2010 Lorne Trottier Public Syposium with Drs. Ben Goldacre, David Gorski, and Michael Shermer (October 18, 2010)
Investigating Pseudoscientific & Paranormal Claims with James Randi, Paranormal and pseudoscience investigator extraordinaire! (October 19, 2010)
Also available: an interview with the moderator and presenters by WAMC — Northeast Public Radio.
---
Friday, October 8, 2010
Earth's earliest life — where did it come from?
Dr. Boswell Wing (Earth and Planetary Sciences, McGill)
Now available as a podcast. Find out the origins of the planet's oldest rocks and how they are linked to meteorites and the origins of life. Followed by the 1962 version of the film Day of the Triffids.
---