Posted in Autumn 2016 on the Museum's Youtube channel, this video is a time-lapse glimpse into what it takes to create a display of a Minke whale skull. You will see collection managers, volunteer students and educators prepare and install the lower jaw and skull of a baleen whale. All to a moving soundtrack. Created by Valentin Lucet.
---
A conversation with Richard W. Penney. Moderated by Nigel Penney on November 24, 2013, in the Redpath Museum. With support from Tomlinson Project (Chair David Harpp), Martin Grant (Dean of Science) and McGill Science Outreach.
---
Freaky Friday: Soldier ants and are human supersoldiers possible?
By Ehab Abouheif (Biol

ogy, McGill). How can you genetically engineer "supersoldier" ants from ordinary worker ants and why is this important for evolutionary biology? The full Webcast of Dr. Abouheif's Freaky Friday lecture. Read more on Newsmax.com: Canadian Scientists Create Monster Ants or check out these interviews in Nature News.
IMAGE: Ehab Abouheif showing supersoldier ant in his lab.
---
Women in Science, Engineering and Medicine Symposium (WISEMS)

October 12, 13, 2012
Now available as a Webcast.
Student reflections about WISEMS. Katharine Yagi, a graduate student in McGill Biology, reflects on the presentations and how the information affected her as a young woman scientist at McGill. She even adds some very personal information about her mother's experiences as a young fisheries biologist in Ontario in the late 1970s. Here is her concluding sentence with a recommendation to continue WISEMS: "In reflection I think having an annual WISEMS symposium would be very influential and a good idea. This will allow more time for students and other people to learn the existence of it and join in on the discussions. It will also help inform the public of the issues women are still having in the workforce, particularly in science and engineering. I really think most people don't even realize women would have issues like these, largely because they don't think of women working in science-related positions in the first place."
IMAGE: Carrie Derick, photo by Watson Davis, probably taken at the British Association of Science meeting, Toronto, Canada, August 1924. From Smithsonian Archives, retrieved from Wikipedia Commons.
---
Cutting Edge Lecture: Feeding the world without destroying the planet: What we can learn from the agricultural areas around Montreal
By

Elena Bennett (Natural Resource Sciences and McGill School of Environment, McGill).  This Cutting Edge lecture in Science was held at the Museum on December 8 and focused on the interactions and relationships among ecosystem services on the landscape.  The full webcast of Dr. Bennett's Cutting Edge lecture is here and and is also on iTunes U.
IMAGE: Elena Bennett in field.
---
Darwin Day 2011: Are humans really as smart as we think we are?
  Listen to Andre Costopoulos (Computational Archeology Lab, Anthropology, McGill) discuss his latests results which suggest tha thumans may in fact have evolved to have a very limited capacity to decide what is good for them.
---
Darwin Day 2010: What Darwin Didn't Know
This presentation was held at the Redpath Museum in honour of Darwin's bicentennary on Feb.9, 2009. It was recorded live and archived online. Moderated by David Green, the Director of the Museum, the speakers included in order of appearance: Robert Carroll, Hans Larsson, Virginie Millien and Graham Bell. This webcast was funded by Martin Grant, the Dean of Science.
---
Pseudoscience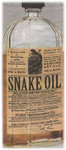 Three new webcasts on Pseudoscience are now available on McGill's bcooltv site:
The 2010 Lorne Trottier Roundtable with moderator Dr. Joe Schwarcz (October 17, 2010)
The 2010 Lorne Trottier Public Syposium with Drs. Ben Goldacre, David Gorski, and Michael Shermer (October 18, 2010)
Investigating Pseudoscientific & Paranormal Claims with James Randi, Paranormal and pseudoscience investigator extraordinaire! (October 19, 2010)
Also available: an interview with the moderator and presenters by WAMC — Northeast Public Radio.
---
McGill Symposium on Islam and Evolution
On March 30 and 31, 2009, international experts in Islamic and Religious Studies, Science Education, and Biological Evolution met to discuss their views and contribute to a broader dialogue and understanding of the relationship between Islam and modern science. Listen to the archived webcast.