. . . when McGill scientists bust myths and clarify science.
Freaky Friday public outreach lectures allow McGill scientists to examine the myths, realities and misconceptions surrounding some pressing science issues. Where: Auditorium, Redpath Museum, 859 Sherbrooke Street West, Metro McGill/Peel (unless otherwise indicated). Seating is limited. No reservations necessary.
When: 5 PM
Cost: Free, unless indicated otherwise.The Freaky Friday series was made possible with funding from the Science Outreach Program in the Faculty of Science.
Most of the Freaky Friday lectures are available on iTunes U and on McGill podcasts. Go to the section entitled "Science and Technology" to watch and/or download video and audio recordings of Freaky Friday presentations from the last three years. You can view many of our 2012-2013 Freaky Fridays podcasts here.
---
Dec. 4: Dinos, me, you and Spielberg
 By Hans Larsson (Director, Redpath Museum). Everything you ever wanted to know about what it takes to be a dinosaur lover, paleontologist or fetishist. Followed by the classic first Jurassic Park film.
 In English.
This Freaky Friday is a fundraiser for the Museum to help us purchase a replica of a Jurassic swimming reptile Terminononator found in Saskatchewan. Suggested donation: $5/regular adult OR $3/student, senior, child OR maximum $15/ family.
---
Nov. 13: Smart Drugs for not such smart people
 Date cancelled. Stay tuned for rescheduled date in 2016.
 By Joe Schwarcz (Director, Office for Science and Society, McGill)
A number of so-called 'smart drugs' or cognitive enhancers have captured attention recently, from stimulants such as modafinil, to amphetamines (often prescribed under the name Adderall) and methylphenidate (also known by its brand name Ritalin). According to widespread news reports, students have begun using these drugs to enhance their performance in school and college, and are continuing to do so in their professional lives. Yet are these smart drugs all they are cracked up to be? 

Find out how nootropics really work. Followed by the 2011 film Limitless.
---
Winter 2016
---
 Jan. 22, 2016: If and When the AIs Take Over: The Singularity Effect in the Progression of Artificial Intelligence
 By Prof. Thomas Shultz (Department of Psychology and School of Computer Science, McGill).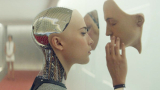 Followed by the 2015 film Ex Machina.
---
ARCHIVES of Freaky Fridays
---
Sept. 25: If Trees could Talk.  Join Jacky Farrell (Redpath Museum) for a walk around some of the campuses proudest trees. Followed by the film Butterfly, about the environmental heroine and tree sitter Julia Butterfly Hill who gained the attention of the world for her two-year vigil 60 metres atop Luna, an ancient redwood tree preventing it from being clear-cut. No reservation necessary. Meet on the front steps of the Museum. Rain or shine. This Freaky Friday is part of McGill Science Literacy week.
Oct. 23: Is humanity smart enough for AI?
 By Jeremy Cooperstock (Associate Professor, Centre for Intelligent Machines & Dept. of Electrical and Computer Engineering, McGill). A look at artificial intelligence and the human-robot divide. Followed by the film 2001 A Space Odyssey.
---