Oct. 13, 14, 15, 9h-14h: McGill Women in Science focus on the Environment
@ Vanier College Cegep
WHERE: 821 Sainte-Croix, Montréal,  Metro: du College. All talks are in the Auditorium (A-101). Panel Discussion on Wednesday, October 14 (12:30 to 2:00 PM) in A-548.
 Seven of McGill's women environmental scientists are presenting their research and focussed thoughts on the environment at a public conference at Vanier College over three days: Oct. 13, 14, and 15.
 KIYOKO GOTANDA: Adaptive traits and spatiotemporal variation in selection
 NIVATHA BALENDRA:  A sustainable solution to oil contamination: the power of microbes
 JULIA FREEMAN:  To Bt or not to Bt: Biotech questions in India and elsewhere
 PARISA ARIYA: Mercury in atmosphere and atmospheric interfaces
 CHRISTIE ROWE: Geology of earthquakes
 and on the panel discussion the graduate students: DALAL HANNA and MARIANNE FALARDEAU-CÔTÉ
 Check programme for details: http://www.vaniercollege.qc.ca/msc/women-in-SCIENCE/
FREE. Everyone welcome. No reservation necessary.
---
 Oct. 1 - Nov. 8, 2015: Au pas des arbres de parc La Fontaine
  An exhibit honouring the work and life of Bronwyn Chester, with special photos and artifacts reflecting her involvement with the trees of Parc La Fontaine. Bronwyn Chester wrote Leafy Legacy: The Trees of McGill University (2009, 32 pages, colour illustrations),  a self-guided walking tour that introduces 50 of McGill's downtown campus trees. She also wrote a column for the Montreal Gazette entitled Island of Trees and was editor of the McGill Reporter. Bronwyn died in 2012. Her posthumous book entitled Island of Trees (Vehicule Press, 2014) is available at most Montreal bookstores.  FREE. Daily, 10h-20h
Where: 3933, avenue du parc La Fontaine, Montreal, H2L 0C7. INFO: espacelafontaine.com
---
---
 Redpath Museum Great Plesiosaur Selfie Campaign is now online!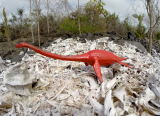 Check it out on Facebook and follow the Plesiosaur as it travels all over the world with McGilll and Museum research teams.
Check it out on Twitter as it travels with our scientists and researchers on field work all over the world.
PHOTO: Museum plesiosaur on a bone bed in Galapagos. By Andrew Hendry.
---

 The winner of the Redpath Museum Excellence (REDME) Award 2015: Melanie Massey
 Established in 2013 to honour a graduating student in the Minor Natural History program who has demonstrated a combination of outstanding leadership qualities, service and academic standing, this award was presented by David Green (ex-Director, Redpath Museum) at the convocation ceremony on June 2, 2015. Melanie studied Biology, with a minor in Natural History. She worked in the Larsson Lab as scientific illustrator and completed an independent project involving character scoring on developing chicks.
---
NEW Natural History T-shirt: $25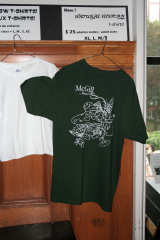 Designed by Melanie Massey, the winner of the Redpath Museum Excellence (REDME) Award 2015, and Anthony Zerafa, President of the RMC, this shirt salutes all aspects of the Minor Natural History program. Printed at the McGill Bookstore, on dark green 100% pre-shrunk Cotton. Made in Mexico. Cash or ANY CARDS. Available in Room 102 at the Redpath Museum. INFO: science [dot] outreach [at] mcgill [dot] ca.
---
 Winner of the Canadian Museums Association Volunteer Award 2015: Bruno Paul Stenson aka Dinoman
Presented in collaboration with the Canadian Federation of Friends of Museums, the 2015 Museum Volunteer Award recognizes Bruno's dedication to the Redpath Museum, McGill University. You can listen to Bruno on a recent episode of the podcast Ben Franklin's World. Or check out the photos of the Awards ceremony in Banff
---