Lady Into Fox

Lady Into Fox is an exhibition about the Victorian tale about a woman who suddenly transforms into a fox and how she and her husband struggle to come to terms with her new physical form and the eventual change in their natures. It is an exhibition which challenges notions of fact, fiction, science, authority and the miraculous. View the Lady Into Fox collection of artifacts.  IMAGE: Leigh Kotsilidis.
---
Water is Life/ L'eau - au coeur de la vie
New didactic exhibit about water resources and conservation created with support from the McGill Sustainability Projects Fund. In Dawson Gallery, 2nd floor. To learn more about Montreal's water, visit the Water Is Life website, listen to our Water is Life interview on CKUT, or check out the new, self-guided audio tour focusing on water at McGill.
---
Montreal Ville d'histoire
New photographic exhibit featuring 12 images from the Redpath Museum's 130 years as Canada's premiere natural history and world cultures Museum. On exhibit on all three floors of the Museum.
IMAGE: Shows visitors in the 1940s with the Museum's Silver-back Gorilla. From McGill Photographic Archives. PR001339.
---
Homecoming 2011: Secret Science Spots Display
As part of theecoming event Secret Science Spots the Redpath Museum created a small exhibit using historical artifacts such as Sir John William Dawson's microscope (on loan from the McCord Museum), his teaching sheets (photo left above), and Maude Abbott's Zoology notebook (photo right above) from her classes in the Museum in 1889 (on loan from McGill Archives). The exhibit was visited by over 500 people during Oct 15 and 16, 2011. PHOTOS I. Birker.
---
 Nature in Glass: The Blaschka Glass Models (displayed 2010)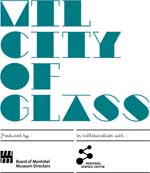 As part of the Mtl City of Glass cultural collaboration with the Board of Montréal Museum Directors, the Redpath Museum is presenting a new temporary exhibit highlighting its collection of Blaschka glass models. The Redpath Museum holds a suite of 27 Blaschka models, some of which are considered to be the oldest in North America. Unfortunately, due to the fragility of their construction, few remain intact.

Who were the Blaschkas? The Blaschkas were a father-and-son team of glass blowers who worked out of Dresden (in northern Germany) in the late 1800's. They reated glass menageries of sea animals, flowers, and even enlarged microscopic organisms such as hydrozoans. Blaschka models were distributed and acquired by museums and university collections worldwide. The Blaschka sculptures are known as unique examples of anatomically detailed, scientifically correct glass representations of hundreds of species of marine animals, and greatly magnified microscopic organisms. The sculptures are so detailed that they are in many cases startlingly realistic. Modern glass artists have been unable to recreate these stunning, intricate sculptures and they remain 'an artistic marvel in the field of science and a scientific marvel in the field of art'. PHOTO: I. Birker
---
Mineral Display (displayed March-December 2009)
At the invitation of the Schulich Library of Science and Engineering, an exhibit of minerals was mounted in the Library's new display case. The exhibit features dawsonite named after Sir William Dawson, adamsite-(Y) named after Frank Dawson Adams, artifacts from Adams' pioneering research on rock deformation, a suite of minerals collected by Adams during his geological work in Sri Lanka, and his landmark book Birth and Development of the Geological Sciences. Also displayed is a selection of other mineral specimens from the Museum's collection. The exhibit is located on the ground floor of the Library.
---
Beaver Art (displayed 2008)

Selection of 27 wooden log sculptures carved by beavers. Collected and exhibited as found by Henry Mintzberg (McGill Faculty of Management), this suite of sculptures highlights the role of these iconic rodents in the changing environment of our world. This exhibit also contains information about the natural history of the beaver, its place in our society and its up-and-down relationship with humans.
---
Dawson's Teaching Sheets (displayed 2007 and Homecoming 2011)
 
Sir William Dawson was the first Director of the Redpath Museum and the man for whom it was built. A small selection of textbooks, handbooks, and articles written by Dawson, as well as 'teaching sheets' handpainted by his daughter Anna were on exhibit during the Fall of 2007. The Dawson teaching sheets are held at the McGill University Archives. The Dawson textbooks and articles, along with Dawson fossils, are on exhibit at the entrance to the Dawson Gallery, 2nd floor, Redpath Museum. PHOTO: Tania Aldred.