Paradoxides - Real or Fake?
Paradoxides is a genus of large to very large trilobites found throughout the world during the Mid Cambrian period, about 500 million years ago. On exhibit is a large specimen of Paradoxides that was donated to the Museum in 2015. Come and see for yourself if it is real or fake. In Dawson Gallery, 2nd floor, near Trilobite exhibit.
---
Minke Whale skull

The cranium, including baleen, and lower jaw bones of a Minke whale. In the Entrance Hall.  
By Museum staff and students in the Redpath Museum Society. October 2016.
---
Cabinet of Curiosity
This co-sponsored project between the Redpath Museum and the Stewart Museum is in collaboration with the artist Jérôme Fortin, and with the support of the programme: Une école montréalaise pour tous.
The project focused on the question of "What is a collection?". Eight classes of primary school children in the Montreal area pondered this question and then created their own Cabinet of Curiosity.  144 students participated in this project and each created their own unique cabinet or collection of objects.  These Cabinets of Curiosity will be on display until March 31.
---
Mammoths and mastodons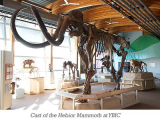 Installed in 2016, this exhibit features three broken leg bones from Mammoths and Mastodons. These fossil bones were collected in the Yukon over 100 years ago and have never been exhibited in the Museum galleries. The image shows the reconstructed cast of a Mammoth in the Yukon Beringia Interpretive Centre in Whitehorse. Used with permission. In Dawson Gallery, 2nd floor.
---
Solnhofen Fossils
Two Solnhofen fossil fish specimens:Leptolepis (a small fish known for its "delicate scale") and Eurycormus speciosus  (larger Solnhofen fossil fish known for its gar-like outer scales). Both these specimens are real and were collected in the Jurassic quarry at Solnhofen by the Molson family at the end of the 1900s.
Don't forget to check out the cast of Archaeopteryx, the fossil bird of Solnhofen, mounted in case D. This is a cast made of plaster and donated to the Museum when it opened in 1882. In Dawson Gallery, 2nd floor.
---
ONE WITH NATURE
Photographic exhibit by Anne-Josée Laquerre: ONE WITH NATURE - the Canadian Rockies and the Great Bear Rainforest. Captured while travelling the north-central coast of British Columbia in late summer of 2016, this exhibit features drawings and photographs of birds, black bears, grizzly bears, mezmerizing landscapes and the "spirit bear" or Moskgm'ol.
In Room 200.