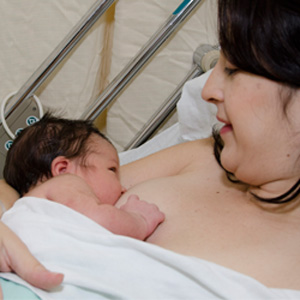 What is BFI?
The Baby Friendly Initiative (BFI) was launched by the World Health Organization (WHO) and UNICEF in 1991, following the Innocenti Declaration of 1990. The initiative represents a global collaborative effort to implement practices that protect, promote and support breastfeeding. 
Learn more at these sites WHO Unicef
The Ten Steps to Successful Breastfeeding were developed by the WHO to help maternity services provide the right start for every infant and the necessary support for mothers to breastfeed. Today this check-list is used by hospitals worldwide, in more than 150 countries. Read about the evidence supporting the Ten Steps. See how The Breastfeeding Committee for Canada, the National Authority for the WHO/Unicef Baby Friendly Initiative (BFI) in Canada, has adopted the 10 steps for Canadian practice.
CLICK for the Ten Steps to Successful Breastfeeding
Have a written breastfeeding policy that is routinely communicated to all health care staff.
Train all health care staff in the skills necessary to implement this policy.
Inform all pregnant women about the benefits and management of breastfeeding.
Help mothers initiate breastfeeding within half an hour of birth.
Show mothers how to breastfeed and how to maintain lactation even if they should be separated from their infants.
Give newborn infants no food or drink other than breast milk unless medically indicated.
Practise "rooming in" – allowing mothers and infants to remain together – 24 hours a day.
Encourage breastfeeding on demand – whenever the baby is hungry.
Give no artificial teats or pacifiers (also called dummies or soothers) to breastfeeding infants.
Foster the establishment of breastfeeding support groups and refer mothers to them on discharge from the hospital or clinic.
---
Baby-Friendly Initiatives at MUHC, JGH and SMHC
             
CONGRATULATIONS to St. Mary's Hospital Center
In April 2011 SMHC was designated as "Baby-Friendly" according to the international WHO criteria !! A fantastic achievement for families being cared for at this McGill University teaching site due to an enormous effort by MANY staff. BRAVO!
Breastfeeding Champions at MUHC
The Breastfeeding Champions are the group of dedicated interdisciplinary health professionals from the Women's Health Mission who are advancing the Baby Friendly Initiative at the MUHC. We are ensuring that staff and community members receive the right information and appropriate support to make the best decision about infant feeding.  Accomplishments so far include:
increased exclusive breastfeeding rates during the hospital stay from 46 to 64% over the last year
standardized breastfeeding teaching modules for perinatal nursing staff
increased skin-to-skin contact between newborns and their parents while in hospital
development of a BFI logo and several resources
CSRAM
The  "Comite regional de l'allaitement maternel" or CSRAM is the grouping of community and hospital partners working together under the Direction de  santé publique, to promote breastfeeding and to establish BFI status at all establishments that work with women during the pregnancy or the postpartum period. 
FLAC
The Foundation Lucie et André Chagnon (FLAC) is a Québec philanthropist organization with a special mission to help young Quebecers to develop their full potential from conception to age 17.  They have generously funded McGill's ObGyn hospital teaching sites (MUHC, JGH, SMHC) to help them achieve their WHO Baby Friendly status.   FLAC website