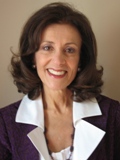 Associate Professor
Ingram School of Nursing (Retired)
514-398-4162
Room 221, Wilson Hall
helene.ezer [at] mcgill.ca
Professor Hélène Ezer completed her undergraduate, master and doctoral studies in nursing. She has been actively involved in teaching and program development at all levels of study in nursing. She has worked as a Head Nurse in Medicine at the Mount Sinai Hospital in Toronto. Prior to taking a position at McGill, she has taught in School of Nursing at the Montreal General Hospital in the community college program at Dawson College. Outside the School, she currently co-chairs the Sous-table en soins infirmiers in the McGill RUIS, sits at the CREPUQ sous-table in nursing, the nursing executive committees of the MUHC and JGH, is actively involved in FERASI (Research and Education in Nursing Services Administration) and in RRIISIQ (Réseau de recherche en interventions en sciences infirmières du Québec - Quebec Nursing Intervention Research Network).
BSc(N), MSc(A) (McGill University), PhD (Université de Montréal).
Areas of interests
inter-professional education and practice
the development of advanced practice nursing
the promotion of academic nursing in the Academic Health Science network
family caregivers of persons with acute and chronic illness
impact of health/illness problems on couples
impact of cancer on patients and families at different stages of the disease
To view Dr. Ezer's publications, visit the Ingram School of Nursing's Research/Publications page.