---
Diana Burbano Noriega, M.Sc.
Department of Geography
Supervisors:
Thomas Meredith
Started her Ph.D. in September 2013
Topic:
Assessing complexity in coupled human and natural systems: Changes in traditional livelihoods facing Ecotourism Development in the main populated islands of Galapagos - A comparative analysis.
My research examines three inhabited islands in the Galapagos where social and environmental changes are taking place in relation to the three major drivers of change: traditional resource-based livelihood activities, nature conservation, and increasing tourism. The study takes a coupled human and nature approach and compares the three islands with respect to drivers, impacts and interactions. The objective is to provide an understanding of the social-ecological system that can be used to improve effective and inclusive participation in decision-making. Information gathered through surveys and interviews will be integrated in dynamic "actor-based" models which can be used in decision-making to promote sustainable resource management. Identify the socio-cultural, economic, and political differences of the three islands in relation to the use of goods and environmental services, could contribute with information that can increase the understanding of the islands as a subsystems, and advance the knowledge of the Galapagos social-ecological system.
---
Sofia Carvajal Endara, M.Sc.
Department of Biology
Supervisors:
Andrew Hendry
Jonathan Davies
Luis Fernando De León
Started her Ph.D. in September 2013
Topic:
Darwin's finches and plant assemblies: Evaluating the role of predation on phylogenetic community structure.
I am interested in the eco-evolutionary dynamics that are shaping the structure of communities. I intend to explore how evolutionary changes in species traits can influence the ecological and evolutionary patterns of a community. During my Ph.D, I will focus my research on the effect of seed predation of Darwin's finches on plant communities in the Galapagos Islands. In this extraordinary system, the availability of food items is thought to have played a determinant role in the evolution of the morphology of finches' beaks and in their adaptive radiation. However, the feed back of these interactions, the effect of predation by finches on plant community structure remains unexplored.
---
Felipe Dargent Bocanegra, M.Sc.
Department of Biology
Supervisors:
Gregor Fussmann
Marilyn Scott
Indar Ramnarine
Started his Ph.D. in September 2008
Topic:
Rapid Evolution of Tolerance and Resistance in the Poecilia reticulata - Gyrodactylus sp. Host-Parasite System.
Resistance and tolerance, the two main component of host antipathogen defence, trade off with each other leading to two conceptually different mechanisms through which the host can decrease the parasite burden or reduce the fitness decreasing effects of a given burden. Although well explored in plants, these mechanisms have been scarcely studied in animals due to practical and conceptual complications for measuring such mechanisms. By comparing parasite population dynamics and an array of host health indicators through different generations I will assess the rate and nature of the evolution of host's defence.
---
Alana I. Domingo, M.Sc.
Department of Biology
Supervisors:
Eldredge Bermingham
Frederic Guichard
Started her Ph.D. in January 2009
Topic:
Consequences of Larval Dispersal on Population Connectivity among Marine Protected Areas.
My interests as a biologist center on the evolutionary ecology of marine fishes; especially on how biological processes such as dispersal, settlement, and recruitment interact with physical oceanographic processes to shape the demographic and genetic structure of marine fish populations. My research evaluates the scale of larval dispersal and the consequences of connectivity on marine populations using community ecology and population genetic approaches. I am describing patterns of genetic structure among marine protected areas in the Eastern Pacific of Panama with a combination of mitochondrial DNA and microsatellite analysis of selected larval assemblages. Establishing the magnitude of dispersal and the extent of population connectivity in marine systems is critical not only for understanding the ecology and evolution of marine fishes, but also for the scientific design of marine reserves and management policies. Furthermore, estimating the extent of larval dispersal and recruitment success will help to understand how spillover effects from marine protected areas could affect biodiversity and population sustainability at local and regional scales.
---
Victor Frankel Vilches, M.Sc.
Department of Biology
Supervisors:
Mark Torchin
Andrew Hendry
Started his Ph.D. in January 2010
Topic:
Putting parasites on the map: Ecology and evolution of host-parasite interactions across the Isthmus of Panama
The complete separation of the Atlantic and Pacific Oceans by the rising Isthmus of Panama occurred approximately four million years ago, reproductively isolating populations of marine species and permitting speciation of many species across different taxa. This system provides a unique opportunity to test hypotheses on the factors that permit speciation processes. My research hopes to integrate ecological dynamics and evolutionary processes to understand factors that have shaped host-parasite interactions across the Isthmus of Panama.
---
Gillian Gregory, M.A.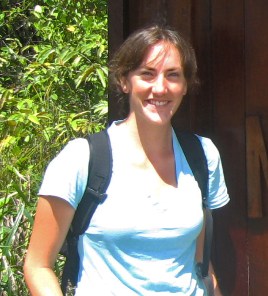 Department of Geography
Supervisor:
Oliver Coomes
Started her Ph.D. in September 2009
Topic:
Impacts of community-based conservation and emerging regimes of environmental governance on peasant livelihoods in the Peruvian Amazon.
My research investigates the impacts of community-based conservation initiatives on peasant livelihoods in the Peruvian Amazon. The notion of community-based management of resources and conservation has, since the 1980's, been considered a primary means of ensuring the long-term viability of both cultural and biological diversity, particularly in the tropics. Today, the popularity of these initiatives is increasing dramatically in response to heightened international attention to rainforest conservation. However, the assumptions upon which community-based management initiatives are based often fail to consider the complexities of both cultural history and internal community dynamics. My research examines the ways in which the presumption of stability – particularly in terms of geographic situation – as an endogenous trait of human communities often serves to undermine possibilities for effective, long-term conservation initiatives in the tropical forests of the Amazon. This research is an expansion of work I have conducted on issues of environmental regulation and extractive industry in Guyana.
---
Luz Ignacia Holmes Cheyre, M.Sc.
Department of Biology
Supervisor:
Catherine Potvin
Started her Ph.D. in January 2009
Since 2007, at the 13th Conference of the Parties in 2007, Reducing Emissions from Deforestation and forest Degradation, known as REDD+, has become a strategic issue in the climate change and development agendas for the period post 2012. REDD+ has the potential to affect forest dwellers lives in various ways that could include both benefits, by providing environmental services incomes, as well as threats, by restricting access and extraction right to forest dwellers and indigenous peoples to their natural endowment. Thus, in designing REDD+ interventions there is a need to consider the livelihoods needs of the local communities; forest access and management are essential to maintain forest dwelling communities and their cultures. My research will, therefore, focus in understanding how can REDD+ be implemented in indigenous communities without undermining local livelihoods. Using a participatory approach, I will explore the following issues: the conditions under which agroforestry could become a REDD+ intervention amongst indigenous communities; the information and capacity building needs for effective participation of indigenous peoples in REDD+; the role of local governance in REDD+ leakage and implementation; selective logging compatibility with REDD+; the social and economic impacts of REDD+ initiatives.
---
Maryna Lesoway, M.Sc.
Department of Biology
Supervisors:
Rachel Collin
Ehab Abouheif
Started her Ph.D. in September 2009
Topic:
Evolution and Development in the Calyptraeid Gastropods.
Understanding the evolution of marine invertebrate larvae, their development, and the transitions between different modes of development requires knowledge of the interplay between structure, the underlying genetic mechanisms and the environment. I study members of the calyptraeid gastropods, a group distributed world-wide, but with their highest diversity in the Americas. Panama is home to numerous species of calyptraied gastropod which have different developmental modes including indirect development with a free-swimming, feeding larva and direct development with nurse eggs: embryos that do not complete development, but are used as extraembryonic nutrition by developing embryos. Recent phylogenetic study has shown numerous rapid transitions in a relatively short time between different modes of development; notably from direct development with nurse eggs to indirect development with a swimming and feeding larva. Direct developing clades without nurse eggs appear to be an evolutionary dead-end, and do not show similar transitions. My research will focus on three axes to study the characteristics of nurse eggs that may have allowed for the re-evolution of a free-living, feeding larval type: understanding the structures that vary between larvae that feed on nurse eggs and larvae that may have re-evolved planktotrophy, the underlying developmental mechanisms that control the production of nurse eggs, and the environmental factors that affect nurse egg production and embryonic development.
---
Alberto Prado
Department of Plant Science
Supervisors:
Jacqueline C. Bede
Donald Windsor
Started his M.Sc. in September 2009
Plants have always been regarded as the ultimate chemists for their ability to synthesize a huge diversity of compounds. More than 200, 000 chemical structures have been described as plant secondary metabolites. Only in the recent decade have some of these compounds been linked to their original endophytic producers. Early scientists proposed that many of these secondary metabolites confer plants a chemical defense against herbivores. Since then, an array of plant-herbivore relationships have been elucidated, providing evidence of the co-evolution that plants and herbivores have undergone and how the secondary metabolism is involved. My research is centered on the chemical ecology of two different toxins of the neotropical cycad family, the Zamiaceae. I am focusing on the levels of these toxins in leafs, stems and roots in relationship to the genetic variability, the maturity of the leaves, herbivore damage, root conditions and root-symbionts. As a first step, I am comparing how toxins are handled by their associate leaf herbivores, the Aulacoscelinae beetles, against herbivore generalists. By combining field biology, biochemical analysis and feeding experiments, I hope to gain specific knowledge on the production and maintenance of the Cycad toxicity as well as how insects cope with them.
---
Ivet Reyes Maturano, M.A.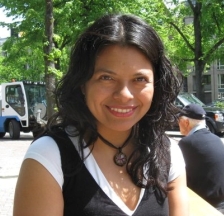 Department of Anthropology
Supervisors:
Ismael Vaccaro
Andrés Medina Hernández
Started her Ph.D. in September 2009
Topic:
Post-migration landscapes: forest recovery and cultural transformation in the watershed of the upper Los Cajonos river of the Sierra Norte of Oaxaca.
My research interests focus on social transformation and its effect on ecological and cultural landscapes in contemporary indigenous communities in the Sierra Norte of Oaxaca with high levels of out-migration. The exodus of people from these communities to other places has caused deep social, ecological and cultural changes. The most prominent change has been the cessation of farming in many areas. This has allowed forest recovery; however, it has made the population highly dependent on global fluxes of labor, goods and capital. Farming has been the basis of traditional households, social organization, and a cosmological world-view in these places since pre-hispanic times. With the recent cessation of farming, social structures, symbolic values and the ecological landscape of these communities have been transformed and restructured. Most research on outmigration has focused on either the cultural or economic dimension of changes within indigenous communities. Yet it is necessary to include the ecological dimension, that is, to explore the interactions among ecology, economy, and society/culture -an innovative aspect of my research.
---
David Ross
Department of Biology
Supervisors:
Catherine Potvin
Hector Guzmán
Started his M.Sc. in September 2012
Topic:
Bioaccumulation of anthropogenic heavy metal contamination in sea turtles nesting along the Pacific coast of Panama, and the resulting health implications to people from the consumption of contaminated eggs.
My research interests include monitoring sea turtle population and ecological shifts with regards to predicted climate change scenarios; improving on-the-ground conservation efforts, especially in rural communities; and investigating the effects and severity of anthropogenic pollution on sea turtles and their environment. Currently, my work involves testing for trace metal concentrations in samples of se turtle eggs from multiple species and locations along the Pacific coast of Panama to better understand the current state of contamination in populations with no previous toxicological data, and where poaching and consumption of sea turtle products is ongoing.
---
Andrew Sellers
Department of Biology
Supervisors:
Brian Leung
Mark Torchin
Started his M.Sc. in September 2012
Topic:
Role of Parasites in the Invasion by the Indo-Pacific Lionfish (Pterois volitans.
Introduced species become invasive when they establish and become superabundant in the novel range. Though many species are introduced, relatively few become invasive. Along with other processes, interactions between introduced species and novel enemies (e.g. predators, competitors, parasites) can determine the success of an introduced species in their new range. This biotic resistance to invasion is thought to be strongest at low latitudes as a result of the diversity and strong biotic interactions found in the tropics. For my thesis I examine this hypothesis by studying how the diversity, abundance, and effect of parasites infecting the invasive lionfish varies across latitudes. The invasive lionfish was introduced in Florida in the 1980s and has since spread and established across the Western Atlantic and Caribbean. The species is a good study system because of its presence across a broad latitudinal gradient, and because it established along this gradient within a short amount of time. Non native species are often introduced without their native parasites and accumulate few new ones in the introduced range. While a number of generalist parasites may be able to switch to the novel host, specialist parasites may not be able to do so. The inability of specialized parasites to switch hosts may cause native species to harbor more parasites and a greater proportion of specialist parasites than introduced species. Such differences in parasitism could lead to differences in the effect of parasites on native and introduced hosts. Another component of my work aims to study differences in parasitism between the invasive lionfish and ecologically similar native species.
---
Divya Sharma
Department of Biology
Supervisor:
Catherine Potvin
Started her M.Sc. in January 2013
Topic:
Genesis of a social-ecological landscape in eastern Panama.
I am interested in furthering the understanding of social-ecological landscapes development. Specifically, I am studying factors that inform land use decision-making in the indigenous community of Piriatí-Emberá in eastern Panama. The community members have expressed concern over loss of forest in their lands and in their culture through time. Thus, using participatory methods and interviewing, I aim to better understand reasons for changes in land use and culture in the community. The ultimate goal is to help identify causal factors in the genesis of a social-ecological landscape, using the indigenous community of Piriatí-Emberá as a case study.
---
Timothy Thurman
Department of Biology and the Redpath Museum
Supervisor:
Owen McMillan
Rowan Barrett
Started his Ph.D. in September 2013
Topic:
The Genetics Basis of Adaptation in Heliconius Butterflies.
Adaptation is a fundamental process of evolution, but many questions remain about how it operates at the genetic level: What is the genetic architecture of adaptive traits? How does natural selection shape variation across the genome? How predictable is evolution at the genetic level? With recent advances in DNA sequencing technology, biologists can finally begin answering some of these questions. I'm interested in combining field experiments with genome sequencing to understand how selection pressures from ecological interactions shape genetic variation in natural populations of Heliconius butterflies. Heliconius butterflies are widespread across the neotropics and face a number of adaptive challenges, from specializing on different host plants to adapting to different climate regimes. By understanding how Heliconius meet these specific challenges, I hope to gain insight into the genetic basis of adaptation in general.
---
Alex Tran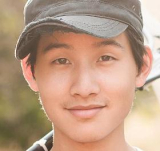 Department of Biology
Supervisors:
Rudiger Krahe
Owan McMillan
Started his M.Sc. in September 2012
Topic:
The role of predators in the evolution of electric fish signals.
I work with Brachyhypopomus occidentalis, a weakly electric fish that generates electric signals used for navigation, prey location and communication. NEO alumna Sophie Picq recently showed that across Panama, many populations of B. occidentalis are diverging in the shape of their electric signals, but we don't know what is causing this divergence. Is it just due to the populations being isolated for a long period of time, or is there something driving this signal divergence? Co-existing with these electric fish are electroreceptive predators, predators equipped with electroreceptors which allow them to eavesdrop on the electric signals produced by B. occidentalis. My main objective of my M.Sc. is to investigate whether differences in densities of these electroreceptive predators may be what is driving the divergence of the electric fish signals.
---
Javier Mateo Vega, M.A.
Department of Biology
Supervisors:
Catherine Potvin
Jefferson Hall
Started his Ph.D. in September 2012
Topic: Elucidating sustainable land-use pathways: Lessons from complex social-ecological systems.
My research interests lie in understanding the forces and trade-offs that drive and constrain forest conservation and other land-uses in complex multicultural and multifunctional landscapes. I am interested in contributing to the body of knowledge that informs how to manage complex social-ecological systems sustainably. I am currently using eastern Panama (i.e. Bayano Region and Darien) as a model site. Drawing from several disciplines, my research seeks to (1) understand the factors that shape the position of indigenous peoples on the climate change mitigation mechanism, Reducing Emissions from Deforestation and Forest Degradation (REDD+); (2) test whether forest carbon stocks and tree diversity converge at the landscape level; (3) elucidate the effects of land invasions on forest cover; (4) model land use trade-offs based on the desires of the various groups that inhabit eastern Panama; and (5) reveal the values that different groups attach to varying land-use scenarios and their implications on the provision of ecosystem services.
---
Gerardo Vergara Asenjo, M.Sc.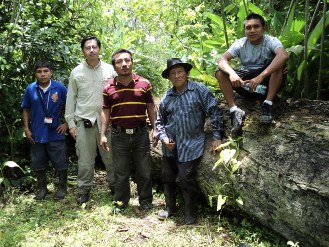 Department of Biology
Supervisors:
Catherine Potvin
Margaret Kalacska
Started his Ph.D. in January 2010
In Panama as in many other countries of Central America where the agricultural frontier is a motor of deforestation, colonos are playing an important role in understanding land use dynamics. It must be recognized that colonos move in the forest to open new land for agriculture and cattle ranching in search for new livelihood opportunities and that not all the colonos have negative interactions with Indigenous people. Key questions that must be answered and that will provide deliverables are: Where are the zones of conflict of land and land-use? What is the impact of this conflict on the forest cover and carbon stocks?
To answer these questions, a work with COONAPIP will be coordinated to identify precise location of colonos incursions in Indigenous territories throughout the country, zones of overlap with protected areas and zones where land rights are either unresolved or conflictive. This will be mapped and analysis of aerial photos, ground truthing and interviews will be used to estimate the greenhouse gas emissions that directly result from such conflict. This research will estimate the change in forest cover in indigenous communities between 1992-2008.
The deliverables expected from STRI will be a GIS map of the zones of conflict in Panama and an estimate of how much carbon emissions can be ascribed to colonos invading indigenous land and the carbon stock present in zones of double or unclear land tenure.