Dr. Steven Pinker
On Friday, October 17, 2014, the McGill Writing Centre was delighted to host a lecture by Dr. Steven Pinker, renowned linguist and cognitive psychologist, celebrated author and public intellectual, Chair of the Usage Panel of the American Heritage Dictionary, and McGill alumnus.
Dr. Pinker gave a talk on his new book The Sense of Style: The Thinking Person's Guide to Writing in the 21st Century, one of the most refreshing and compelling accounts in decades of what it takes to become a skillful writer.
Click here to view the archived video.
---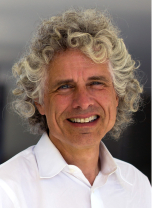 Why is so much writing so bad, and how can we make it better? Is the English language being corrupted by texting and social media? Do people (academics?) write badly on purpose, to obfuscate and impress? Have dictionaries abandoned their responsibility to safeguard correct usage? Do students today even care about good writing? And if they don't, why should anyone else care?
In The Sense of Style, Pinker urges us to move beyond pet peeves and baseless claims about generational decline and embrace the fact that good writing has always been difficult. Pinker applies insights from the sciences of language and mind to the challenge of crafting clear, coherent, and stylish prose that, at its best, "can flip the way the world is perceived." Filled with examples of great and gruesome prose, The Sense of Style shows how the art of writing can be a pleasurable form of mastery and a rich intellectual topic in its own right.