Carissa Klopoushak
From orchestral to chamber music, solo Bach to traditional Ukrainian repertoire, each season of 2013 brought new, exciting endeavors for Schulich alum Carissa Klopoushak (D.Mus '13). 
Winter…
One of the biggest moments of the year was the completion of my Doctorate in Violin Performance at McGill.  Finished in February, my dissertation discussed the cornerstones of the Ukrainian violin repertoire - if anyone wants to read it (...anyone? anyone?), I'm happy to share a copy.  As much as I've loved the academic life, I'm really happy for this chapter to be over!  I have so far resisted the temptation to use "Dr." when buying plane tickets...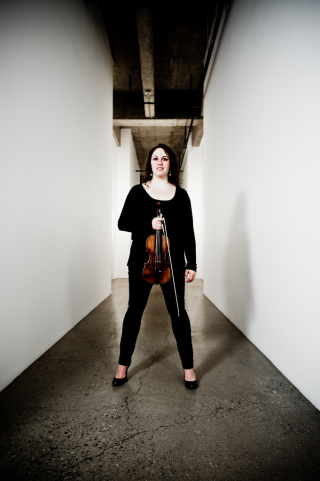 I spent a few weeks at The Banff Centre, first in November of 2012 for recording project with Gruppo Montebello, and once again in March 2013 for my own post-dissertation practicing.  Being there is such a breath of fresh air (quite literally, as well as musically), and I always return home feeling refreshed.  
In March of 2013, a new venture of mine, the Montreal Collective Orchestra, got off the ground.  Created with my great friends Andrea Stewart (D.Mus candidate) and Améline Chauvette-Groulx (M.Mus '10), our goal was to work together in an ensemble where the atmosphere is conducive to creativity, excellence, and a good time, resulting in engaging, energetic performances that truly reflect the calibre and desires of the musicians on stage. Without a conductor, the propelling force behind the artistic decision-making process one that is inclusive and democratic – that is to say, collective.  On our first program, we performed Beethoven's Op. 95 String Quartet and Tchaikovsky's String Serenade.
Spring…
I presented the 5th edition of Ritornello Fest, the chamber music festival that I started in 2009 with my dear friend Jacqueline Woods.  It happens annually in Saskatoon at the end of May.  This year, we presented the sometimes-Montreal-based indie-classical group Plumes as well as our usual collaborative concert experience with local musicians and other young Canadian classical performers.  At this time, I'm busy gearing up for the 6th edition (May 23-25, 2014), which should be full of surprises – be sure to check out the website for more information!
Speaking of chamber music, I also performed for the Montreal Chamber Music Festival, playing some solo Bach and the Brandenburg concertos with all of the other Canada Council Music Instrument Bank winners, led by Libby Walfisch.  The Vuillaume violin and I are getting along very well - I can't believe that my term with it is already half-over!  I'm very lucky to have this instrument, and feel as though I'm learning more and more the longer I play on it.  
At this point in the year, my life became very interesting indeed...
In June, the Australian Chamber Orchestra.   I was flown to Sydney by the ACO after a video round to work with them for one concert period.  Hilariously enough, as this trip was being organized, my Ukrainian band Tyt i Tam was asked to travel to Sydney to perform at the 65th anniversary of Ukrainian immigration to Australia immediately preceding my ACO work.  The timing couldn't have been better!  I stayed in Australia for 3 weeks, touring most of the country with the orchestra.  I'll be returning to work with the ACO again in February 2014, this time for a three-month period which includes regional tours, recording projects, and a North American tour with stops in Banff (March 13), New York (March 19/20), and Chicago (March 23/24).  I'm very much looking forward to this opportunity, and not just because I get to skip the non-festive part of a Canadian winter!  
Summer...
I travelled with my father's Ukrainian choir, Lastiwka, and the Pavlychenko dancers of Saskatoon to Ukraine, where we performed 7 concerts, participated in workshops, and did a bit of sightseeing.  With this group, I got to flex other musical muscles - I sang and played the sopilka (a wooden flute) more than the violin.  It was a really incredible trip which has inspired me to return to Ukraine more frequently in the future.  On my way home, I swung by Amsterdam (where I saw the most incredible art!) and Norway, where I visit a dear friend (Améline) who now works for the Bergen Philharmonic.  It's a beautiful country that I'd love to visit again.  I returned to Canada in August in time for my brother Mark's Big Fat Ukrainian Wedding - and what a wedding it was, filled with so much Ukrainian folk song, music, and dance!
Fall...
In August, I returned "out east" (as we say in the prairies) to Montreal and Ottawa.  In October, I travelled with the National Arts Centre Orchestra to China - a really incredible trip and unbelievably delicious gastronomic experience.  I'm very lucky to have been performing regularly with this fantastic group of people for the last 5 years. 
In November, I toured across the Maritime Provinces with pianist extraordinaire (and my good friend) Phil Chiu for Debut Atlantic.  We performed recitals in Moncton, Antigonish, and Halifax, and presented school shows across Nova Scotia.  I wrote about the trip (and posted many seafood pictures!) on my blog, which you can read here.  (I also posted about the NACO China Trip, should you be interested!)  We got along on the road just fine, having practiced in 2009 on the Eckhardt-Grammatté Winner's tour!
Currently...
I'm resting up at my parents' home in Saskatoon, just having celebrated Ukrainian Christmas and New Years... my fingers are still sore from pinching perogies...  My Ukrainian band just returned from Toronto and Winnipeg to play Malanka (Ukrainian New Year) parties the last two weekends; we're also in the midst of writing a 4th album.  I'm busy planning Ritornello Fest events, practicing, and preparing to leave the country!  
The future?
Upon returning from Australia (February-May), I'll be busy planning and performing in Ritornello Fest 6, will again perform in the Montreal Chamber Music Festival, and who knows what else!  I plan to be in Montreal over the summer months, where I look forward to catching up and/or doing collaborative projects with many friends and colleagues.  
I keep an updated account of what I'm up to on carissaklopoushak.com, including concert dates, blog posts, etc.  If you're at all curious, I'd also encourage you to check out ritornello.ca and tytitam.com to hear more about my festival and my band.  I'm also a big fan of Facebook, Twitter, and Instagram...
I wish you all a happy, healthy, and creative 2014.  Thanks for taking the time to read through this account of my year.  It's been a very complicated, but incredibly fulfilling time for me.  I don't know at this point where I'll end up, but that's part of the fun, isn't it?!
All the best,
Carissa