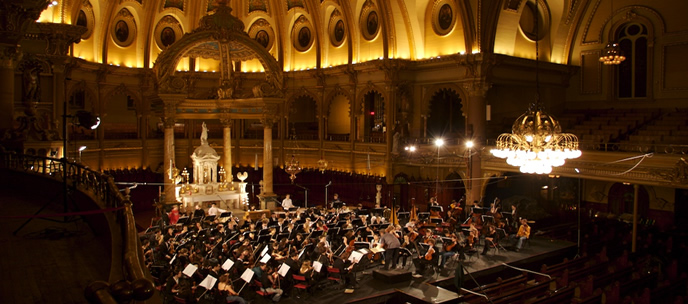 The performance programs at McGill are designed to train professional musicians of the highest standard. Each individual is encouraged to reach her or his potential as a performer through private lessons with renowned faculty as well as performing opportunities provided by the Orchestral Training Program, jazz and choral ensembles, opera, Baroque Orchestra, and chamber music activities.
The degree of Bachelor of Music in Performance is offered in the following areas: Keyboard Instruments, Guitar, Harp, Strings, Voice, Woodwinds, Brass, Percussion, Early Music, and Jazz.
The diploma of Licentiate in Music is designed for advanced instrumentalists and singers who wish to concentrate on their practical subject while limiting their theoretical studies to basic courses in Music History, Theory, and Musicianship. This program normally requires three years of study.
The Artist Diploma program is available only to the most gifted instrumentalists and singers who demonstrate the capacity for a professional career in performance. It normally requires two years of study following the completion of the Licentiate in Music or a Bachelor of Music and is considered the School's highest diploma in performance.
ORCHESTRAL TRAINING PROGRAM
The Orchestral Training Program is the largest performance program in the Schulich School of Music, one of four specialized programs offered by the School, the others being in Opera, Early Music, and Jazz. It includes all students in the B.Mus., L.Mus., Artist Diploma and M.Mus. (orchestral option) programs whose major is one of the orchestral instruments.
The McGill Symphony Orchestra is the senior instrumental ensemble of the Orchestral Training Program. In addition to its regular concert series at McGill University, consisting of orchestral, choral and operatic programs, the McGill Symphony Orchestra has performed at Carnegie Hall, Roy Thomson Hall in Toronto, the National Arts Centre, and the Grand Theatre in Quebec City. The orchestra has won a Juno award and received two Special Mentions of the Grand Prix du Disque of Canada. The conductor of the McGill Symphony Orchestra is Alexis Hauser.
Alongside the McGill Symphony Orchestra, the McGill Contemporary Music Ensemble and the Wind Symphony form the core of the large ensemble program. These are complemented by extensive small ensembles for strings, woodwinds, and brass, as well as by the McGill Percussion Ensemble, directed by Aiyun Huang and Fabrice Marandola. This ensemble, which has performed throughout the country, has won the Grand Prix du Disque of Canada for chamber music and recorded a CD for Radio-Canada International.
OTP FACULTY HIGHLIGHTS
The high level of artistry for which McGill's ensembles are renowned is made possible by an outstanding corps of instrumental instructors.
The String Area, headed by Axel Strauss, boasts:
• Violin: Mark Fewer (former concertmaster, Vancouver Symphony), Denise Lupien (former concertmaster, Orchestre Métropolitain), Felicia Moye (former concertmaster Santa Fe Opera, former acting concertmaster San Francisco Symphony), Richard Roberts (concertmaster, MSO), Axel Strauss (has served as guest concertmaster for Berlin Philharmonic and MSO), Andrew Wan (concertmaster, MSO), Andrée Azar, Marcelle Mallette;
• Viola: Douglas McNabney, André Roy, Lambert Chen (MSO), Frédéric Lambert;
• Cello: Matt Haimovitz, Elizabeth Dolin, Brian Manker (principal, MSO), Yegor Dyachkov;
• Bass: Ali Yazdanfar (principal, MSO), Brian Robinson (assistant principal, MSO), Eric Chappell (2nd assistant, MSO), Scott Feltham (MSO);
• Harp: Jennifer Swartz (principal, MSO).
The Wind Area headed by Jacqueline Leclair, the Brass Area headed by Andrew Dunn, and the Percussion Area headed by Aiyun Huang include:
• Flute: Timothy Hutchins (principal, MSO), Denis Bluteau (associate principal, MSO), Carolyn Christie (2nd flute, MSO), Heather Howes, Cindy Shuter;
• Oboe: Theodore Baskin (principal, MSO), Normand Forget; Jacqueline Leclair;
• Clarinet: Robert Crowley (former principal, MSO), Alain Desgagné (associate principal, MSO), Michael Dumouchel (2nd & E-flat clarinet, MSO), Simon Aldrich (principal, Orchestre Métropolitain);
• Bassoon: Stéphane Lévesque (principal, MSO), Martin Mangrum (2nd bassoon, MSO);
• Saxophone: Abe Kestenberg, Peter Freeman;
• Horn: John Zirbel (principal, MSO), Jean Gaudreault (2nd horn, MSO), Denys Derome (associate principal, MSO);
• Trumpet: Paul Merkelo (principal, MSO), Russell DeVuyst (associate principal, MSO), Andrew Dunn;
• Trombone: James Box (principal, MSO), Vivian Lee (2nd trombone, MSO), Trevor Dix, Pierre Beaudry (principal bass trombone, MSO);
• Tuba/Euphonium: Dennis Miller (principal, MSO), Alain Cazes, Sasha Johnson;
• Percussion: Aiyun Huang, Fabrice Marandola;
OTP ALUMNI ACHIEVEMENTS
Graduates of the Orchestral Training Program are now members of North America's major orchestras including those of Atlanta, Boston, Buffalo, Calgary, Cleveland, Edmonton, Halifax, Montreal, National Arts Centre, Pittsburgh, Quebec, Toronto, Vancouver, Victoria and Winnipeg.