About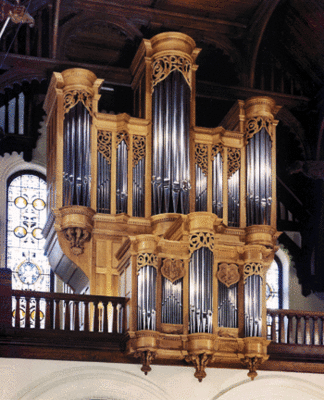 Under the leadership of Prof. John Grew the organ and church music area has steadily produced graduates who have distinguished themselves both at home and abroad. The excellent facilities include practice organs by Beckerath, Casavant, Tsuji, Wilhelm and Wolff as well as the famous French classical organ in Redpath Hall. There are many opportunities to perform and frequent master classes. The curriculum includes courses in choral conducting, continuo playing and improvisation. A number of assistanships are available in downtown churches with some of Montreal's most distinguished church musicians. Additionally the department organizes the McGill Summer Organ Academy on a bi-annual basis.
Chair, Organ and Church Music Area:
Hans-Ola Ericsson, Grad. Dip. (Performance) (Hochschule für Musik Freiburg), Grad. Dip. (Composition) Hochschule für Musik Freiburg
Professor Emeritus
John Grew, L.T.C.L.(Lond.), B.Mus.(Mt. All.), M.Mus.(Mich.), D.D.(U.T.C.), LL.D. (Mt. All.)
Adjunct Professor, Organ and Harpsichord:
Kenneth Gilbert, O.C., D.Mus. h.c.(McG.), F.R.S.C., HonR.A.M., F.R.C.M.
Continuo and Harpsichord:
Hank Knox, B.Mus., M.Mus. (McGill)
Improvisation
William Porter, B.Mus.(Oberlin), M.M., M.M.A., DM.A. (Yale)
Organ and Harpsichord:
John Grew, L.T.C.L.(Lond.), B.Mus.(Mt. All.), M.Mus.(Mich.), D.D.(U.T.C.), LL.D. (Mt. All.)
William Porter, B.Mus.(Oberlin), M.M., M.M.A., DM.A. (Yale)