Associate Professor; Microbiology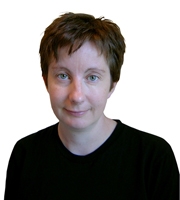 Host/pathogen interactions, Bacterial pathogenesis
* Dr Gruenheid is not accepting graduate nor undergraduate students at this time.
McGill Life Sciences Complex
Bellini Building, Room 365
3649 Promenade Sir-William-Osler
Montreal, QC H3G 0B1
Tel: (514) 398-2138
Fax: (514) 398-2603
samantha [dot] gruenheid [at] mcgill [dot] ca (Email)
Complex Traits Group - Web page

 Canada Research Chair profile
Research Orientations
Our lab is focused on identifying and studying the molecules and pathways that play critical roles during the interaction of bacterial pathogens with their hosts. We examine the host/pathogen interaction from both angles: the virulence mechanisms employed by bacteria to cause disease, and the mechanisms employed by the host to resist infection.