Assistant Professor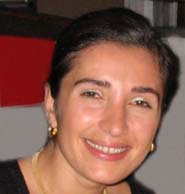 Apoptosis, inflammation and
host response to infections
McGill Life Sciences Complex
Bellini Pavilion, Room 364
3649 Promenade Sir-William-Osler
Montreal, QC H3G 0B1
Tel: (514) 398-2065
Lab: (514) 398-2140
Fax: (514) 398-2603
maya [dot] saleh [at] mcgill [dot] ca (Email)
Research Orientations
Our research interests are focused on two inter-related themes which are already considerably advanced towards identification of novel players in apoptotic cell death, and investigation of the implication of apoptosis and the "inflammasome" in inflammatory mediated immune disorders that include auto-immune disorders, inflammatory bowel disease as well as the host response to bacterial infection and sepsis. The strengths of my laboratory are based in fundamental research in apoptosis and cellular immunology, mouse models (genetic and other) of infectious diseases and inflammatory disorders and access to well-defined cohorts of patients with clinical and therapeutic subtypes of many inflammatory disorders.
Theme 1. Structure/Function Characterization of Inflammatory factors and Genetic basis of inflammatory disorders.
This theme is based on the observations that many inflammatory diseases are under the control of 'master switches' that operate not only in specific inflammatory diseases, but also across multiple immune disorders. These master switches operate at the innate as well as adaptive immune levels as either stimulators or suppressors of inflammation. 1) Toll-like receptors [TLRs], a highly conserved family of proteins that detects pathogen associated molecular patterns (PAMPs) and trigger acute inflammation, 2) inflammatory caspases: caspase-1 (ICE, Interleukin-1b Converting Enzyme, caspases-4, -5 and –12) required for cytokine maturation and apoptosis, and 3) a macromolecular complex known as the inflammasome which has been implicated in various hereditary auto-inflammatory disorders as well as in the host response to invading pathogens. The work in this theme, which represents a large part of the research in my lab, aims to further characterize the above markers at the molecular and functional levels in animal models and possibly in patients.
Theme 2. Identification of novel players in apoptotic and non-apoptotic cell death.
Apoptosis is a physiological process necessary for the survival of an organism. Apoptosis must be kept in check, as defects in its regulation are associated with pathogenesis. Too much apoptosis is evident in AIDS, ischemic injury and neurodegenerative diseases, while too little causes cancer and autoimmunity. Identification of novel regulators of cell death is expected to provide important insights into tumor biology.
In summary, we are investigating key pathways of inflammation and apoptosis that will ultimately lead to the discovery of new biologic therapies which will allow us to diagnose, treat and prognosticate inflammatory-mediated immune disorders and cancer earlier with better, evidence-based, accuracy.
Selected Recent Publications
Nadiri, A., Wolinski, M.K., and Saleh, M. (2006) "The inflammatory caspases: Key players in the host response to pathogenic invasion and sepsis." Journal of Immunology 177 :4239-4245.
Saleh, M. (2006) "Caspase-1 builds a new barrier to infection." Cell 126 :1028-1030.
Saleh, M., Mathison, J. C., Wolinski, M. K., Bensinger, S. J., Fitzgerald, P., Ulevitch, R. J., Green, D. R. and Nicholson, D. W. (2006) "Sepsis Resistance in Caspase-12 Deficient Mice." Nature 440 : 1064-1068.
Spierings, D., McStay, G., Saleh, M., Bender, C., Chipuk, J., Maurer, U., and Green D. R (2005) "Connected to death: The (unexpurgated) mitochondrial pathway of apoptosis." Science 310: 66-67.
Saleh, M., Vaillancourt, J. P., Graham, R. K., Huyck, M., Srinivasula, S. M., Alnemri, E. S., Steinberg, M. H., Nolan, V., Baldwin, C. T., Hotchkiss, R. S., Buchman, T. G., Zehnbauer, B. A., Hayden, M. R., Farrer, L. A., Roy, S. and Nicholson, D. W. (2004) "Differential modulation of endotoxin responsiveness by human caspase-12 polymorphisms." Nature 429: 75-79.