Adjunct Professor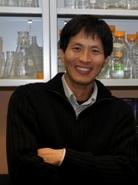 T cell costimulation in immunity and cancer
Accepting graduate students
Immune Regulation Laboratory
IRCM
110 des Pins Ouest
Montreal, QC H2W 1R7
Tel: (514) 987-5720
Fax: (514) 987-5768
woong-kyung [dot] suh [at] ircm [dot] qc [dot] ca (Email)
Research Orientations
T cells play a central role in shaping the adaptive immune system. Against non-self antigens with pathogenic threat, T cells should develop immunity. On the other hand, T cells are supposed to become tolerant to self antigens or innocuous environmental antigens. Many immunological disorders such as immunodeficiency, autoimmune diseases, and allergies are caused by T cells that fail to obey the above rules.
T cells are guided by two kinds of sensors during immune reaction to make decisions: the antigen receptor (TCR) and cosignaling receptors. Engagement of TCRs with cognate antigens presented by MHC molecules provides a specificity signal. Along with TCR, positive cosignals (also known as costimulation) and negative cosignals are given to T cells while T cells interact with antigen presenting cells or target cells. Positive cosignals amplify whereas negative cosignals inhibit TCR signals. A balance between positive and negative cosignals influences T cell activation, differentiation, survival, and ultimately immunity vs. tolerance. Thus, understanding the mechanisms of T cell cosignaling should facilitate development of tools to boost immunity or suppress unwanted immune reactions.
Members of the CD28 family cosignaling receptors and their ligands (members of B7 family) are known to play crucial roles in T cell immunity and tolerance. Dr. Suh's laboratory is investigating the molecular and cellular mechanisms of CD28-B7 family of T cell cosignaling molecules using a panel of knockout, knockin, and transgenic mice. Impacts of altered T cell cosignaling are analyzed at the biochemical or cellular levels using immune cells isolated from the mice. The consequences of altered cosignaling in overall immune reactions in mice are examined in the context of infection, cancer, autoimmunity, and allergy.
Selected Recent Publications
Gigoux, M., Lovato, A., Leconte, J., Leung, J., Sonenberg, N., and Suh, W.-K.  (2014) Inducible Costimulator facilitates T-dependent B cell activation by augmenting IL-4 translation.  Molecular Immunology.  DOI: 10.1016/j.molimm.2014.01.008
Chen, H., Fu, T., Suh, W.-K., Tsavachidou, D., Wen, S., Gao, J., Tang, D.N., He, Q., Sun, J., Sharma, P*. (2013) CD4 T cells require ICOS-mediated PI3K-signaling to increase T-bet expression in the setting of anti-CTLA-4 therapy. Cancer Immunology Research, DOI: 10.1158/2326-6066.CIR-13-0155
Li, J., Heinrich, J., Leconte, J., Semple, K., Gigoux, M.,  Suh, W.-K.*, and Yu, X.-Z.* (2013) Phosphatidylinositol 3-kinase-independent signaling pathways contribute to ICOS-mediated T-cell costimulation in acute graft-versus-host disease in mice. J. Immunol. 191:200-207. *Joint corresponding authors
Leung, J. and Suh, W.-K. (2013) Host B7-H4 regulates anti-tumor T cell responses through inhibition of myeloid-derived suppressor cells in a 4T1 tumor transplantation model.  J. Immunol. 190:6651-6661
Gao, X., Gigoux, M., Yang, J, Leconte, J., Yang, X*, and Suh, W.-K.* (2012) Anti-Chlamydial Th17 responses are controlled by the Inducible Costimulator partially through phosphoinositide 3-kinase signaling. PLoS One 7(12):e52657. *Joint corresponding authors
Li, J, Semple K, Suh, W.-K, Liu, C, Chen, F, Blazar, B.R., Yu X.Z.  (2011) Roles of CD28, CTLA4, and inducible costimulator in acute graft-versus-host disease in mice. Biol Blood Marrow Transplant. 17: 962-969
Gigoux, M., Shang, J., Pak, Y., Xu, M., Choe, J., Mak, T.W., and Suh, W.-K. (2009) Inducible costimulator promotes helper T cell differentiation through phosphoinositide 3-kinase. Proc. Natl. Acad. Sci. USA. 106: 20371-20376