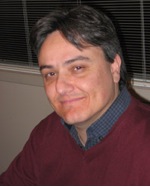 Professor;
Molecular Virology
Molecular Biology and Pathogenesis of Human Papillomaviruses (HPV)
Director - Laboratory of Molecular Virology Institut de Recherches Cliniques de Montréal (IRCM)
110 Pine Av. West Montreal, QC H2W 1R7
Phone: (514) 987-5739
Fax: (514) 987-5741
Email: jacques [dot] archambault [at] ircm [dot] qc [dot] ca (Jacques Archambault at IRCM)
or jacques [dot] archambault2 [at] mcgill [dot] ca (Jacques Archambault at McGill)
ACCEPTING GRADUATE STUDENTS
Research Orientations
Human Papillomaviruses (HPV)
Infections by certain HPV types are the cause of cervical cancer, the second most common cancer affecting women worldwide. Our laboratory is using molecular and cellular biology approaches as well as biochemical and biophysical methods to study how the HPV genome is replicated, amplified and expressed in the nucleus of infected epithelial cells. Proteomic and chemical biology approaches are used to identify cellular factors targeted by HPV. In addition to these studies, our laboratory is interested in the discovery of small molecule inhibitors of HPV as potential drug leads for the treatment of HPV infections. Click on this link to learn more about HPV.
Selected recent publications
Lehoux M, D'Abramo CM, J Archambault (Review). (2009). "Molecular mechanisms of HPV-induced carcinogenesis (Review)." Public Health Genomics 12:268-280.

Gagnon D, S Joubert, H Sénéchal, A Fradet-Turcotte, S Torre, J Archambault. (2009). "Proteasomal degradation of the papillomavirus E2 protein is inhibited by overexpression of the bromodomain-containing protein 4 (Brd4)." J Virol, 83:4127-4139.

Côté-Martin A, C Moody, A Fradet-Turcotte, CM D'Abramo, M Lehoux, S Joubert, GG Poirier, B Coulombe, LA Laimins, J Archambault. 2008. "The human papillomavirus E1 Helicase interacts with the WD repeat protein p80 to promote maintenance of the viral genome in keratinocytes." J Virol, 82:1271-1283.

Moody CA, A Fradet-Turcotte, J Archambault, LA Laimins. 2007. "Human papillomaviruses activate caspases upon epithelial differentiation to induce viral genome amplification." Proc Natl Acad Sci (USA), 104:19541-19546.

Fradet-Turcotte A, J Archambault. 2007. "Recent advances in the search for antiviral agents against human papillomaviruses (Review)." Antivir Ther, 12:431-451.

Fradet-Turcotte A, C Vincent, S Joubert, PA Bullock, J Archambault. 2007. "Quantitative analysis of the binding of simian virus 40 large T antigen to DNA." J Virol, 81:9162-9174.