The Centre occupies 18,500 square feet of physical space, with another 10,000 square feet to be added in 2016. Our facilities are based around three broad areas of learning:
Procedural skills – a 16-station technical skills area
Communication skills – 10 clinical exam rooms
Team training – A high-fidelity clinical suite
We also have conference rooms of varying sizes and an administrative area. Audiovisual recording and playback facilities and wireless internet are available in all simulation areas.
Once completed, our expanded facilities will enable us to continue to provide new simulated clinical settings, novel equipment and ground-breaking programs into the future.
Conference room
The conference room can seat 50 to 60 people. It has complete audiovisual capability and is fully equipped with wireless internet access, two wide flat screens and dry erase boards. The high fidelity simulation room, the 10 clinical examination rooms and the two professors' tables in the technical skills room can also be viewed from this room. The room can host lectures and presentations as well as provide a debriefing area for a large group.
Debriefing rooms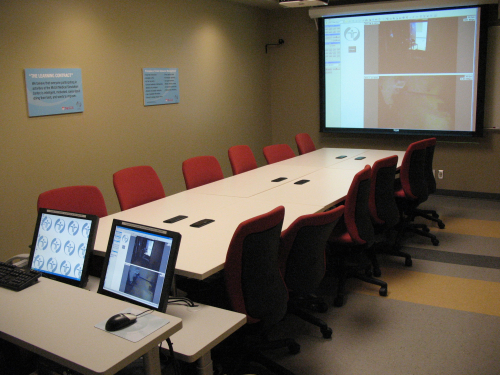 These two smaller conference rooms can each seat 14 to 16 people. These have full audiovisual capability and can be used for presentations, workshops and debriefing sessions. They can link to the high fidelity room and the 10 clinical examination rooms.
High-fidelity simulation room
The high-fidelity simulation room offers learners the opportunity to use programmable mannequins to simulate a clinical scenario. These scenarios may be developed to demonstrate crisis resource management, clinical decision-making and team training situations. Every event can be audio and video taped for immediate play back for debriefing.
Clinical examination rooms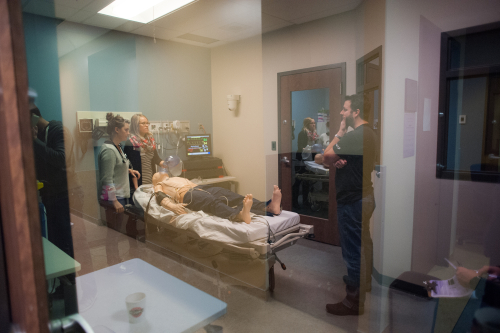 There are 10 clinical examination rooms, which can be used for encounters with standardized patients or practice with task trainers or mannequins. All of these rooms are fully equipped with oxygen, suction and basic medical equipment. The encounters in all of these rooms can be audio and video taped for students and professors to view post encounter to enhance the learning process. The rooms can be set up as a hospital room, an emergency room area or a bed in an intensive care unit.
Technical skills room
The technical skills room contains 16 mobile work stations where a full range of medical and surgical procedures can be practiced. Individual monitors and service columns enable each student to work independently while watching the procedure on their monitor. The room can be divided into two smaller rooms so that two groups can use the area at the same time.
---
Learner visits
Educational activities range from teaching procedural skills on synthetic and real-tissue models to communication skills using actors for patients and inter-professional team-based skills in a high-fidelity simulated suite with computer-operated mannequins.er rooms so that two groups can use the area at the same time.
Per group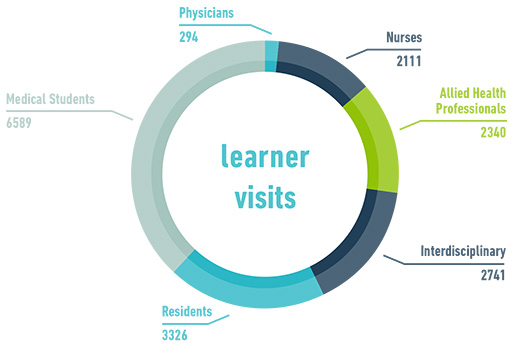 Per activity type