This page is currently under revision (September 2014)
Colombo is a web-based interlibrary loan (ILL) system used to
Search multiple university and other library catalogues simultaneously
Request items not held at McGill Library
Track the progress of any request made
---
Advanced search
Search multiple library catalogues, locate the item you want to borrow, then request it.
details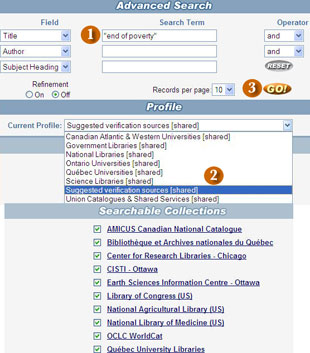 Go to Advanced Search after signing in.
Enter your search terms within quotations, e.g "end of poverty"

Choose a group of libraries from the Profile. The recommended profile is "Suggested Verification Sources" which includes OCLC's Worldcat and the Center for Research Libraries.

Click on the "Go" button to activate the search

Look at the search results. Click the "Get it!" link for any item you want to borrow. You don't need to choose the "best" library, as the system will do this automatically. If you have not signed in, the system will prompt you to do so.

If you do not need the item after a certain date, specify the date by clicking on the pop-up calendar, or by typing it in the following format: 04 Sep 2008.

Select a pickup location
Create a request
If you do not obtain the desired results using the Advanced Search, you can request the item using a form.
details
Select the Create Request option under "My Account"

Select an Item Type ("book", "journal" or "other")

Select a Service("Loan" for books, conferences, music scores, theses or films; "Copy" for journal articles, conference papers or book chapters)

Complete the form by providing as much information as possible regarding the item you want to request. Add Special Instructions or information when appropriate.

Specify a date if you do not need the item after a certain date by clicking on the pop-up calendar, or type the date using the following format: 04 Sep 2007

Select a pickup location
To search effectively
Use the Advanced Search option
Use quotation marks for a title, author or a phrase search

e.g. "end of poverty" or "Atwood Margaret"

Do not use the web browser's "Back" or "Forward" button. Use the buttons provided on the screen, such as "Search Results" to return to a list
Search journal titles not article titles

e.g. "Journal of History"

Place author surname first
Right hand truncation of search terms will occur

e.g. global will also retrieve globalization

Click on "Sign Out" link to exit
My Requests
The progress of your request can be monitored in COLOMBO.
details
Click on the "My Requests" option under "My Account"
Your current requests will be displayed
If a journal article you have requested is no longer in the list, check your email for notification that it has been received
Click on "Show everything" to view completed requests

The Status field displays the following terms to inform you about the progress of your request:

Cancelled - your request is now cancelled
Completed -your request is now completed
New - your request has been received by the McGill Library Central ILL Service and will be processed soon
No holdings found/available - the McGill Library Central ILL service continues to seek other potential suppliers
Overdue -the item is overdue at the supplying library which requests its return
Pending - your request has been sent to a potential supplying library
Recalled- the item has been recalled by the supplying library. Please return it immediately
Received - your requested item has arrived. Check your email for pickup time and location
Returned - your requested item has been sent back to the supplying library
Shipped - your requested item has been shipped from a supplying library but has not arrived yet
Notification
The Interlibrary Loan Office will send you email notifications when:
The item you requested has arrived and is ready to be picked up
Additional information is required to process your request
The item has been located in one of the McGill Library
Pickup locations
Items may be picked up at the Loans Service Desk of the following libraries
Education Curriculum Resources Centre
Humanities and Social Sciences Library
Islamic Studies Library
Life Sciences Library
Macdonald Campus Library
Marvin Duchow Music Library
Nahum Gelber Law Library
Schulich Library of Science and Engineering
Cancelling a request
To cancel a request you previously made, use the Cancel icon that appears in MY REQUESTS. Click Submit to cancel the request. COLOMBO confirms the request is cancelled. In the My Requests Search Results COLOMBO shows "Request No Longer Required".
---
Colombo troubleshooting tips
Browser compatibility
COLOMBO is compatible with Internet Explorer 9.0 or higher, and recent versions of Firefox, Chrome, and Safari.
Timeout error messages
This COLOMBO timeout error message might be related to your browser's Cookies settings. To solve the problem, please follow these steps:
Clear out your web browser's temporary internet files and cookies files.

In Internet Explorer, from the Tools menu, choose Internet Options.
Under the Browsing History section, Click on the Delete button.
Check the boxes next to Temporary internet files and website files and Cookies and website data.
Uncheck all other boxes for data you do not wish to delete from your browser.
Click the Delete button, and then Ok.
If you use a different browser, please consult its documentation or Help files on how to clear cookies and cache.

After clearing those files, close any browser windows that are open.
Open a fresh web browser window.
Login to COLOMBO and begin a new search.