sharon.rankin

[at]

mcgill.ca
514-398-6657
McLennan Library Building
3459 McTavish Street
Montreal, Quebec H3A 0C9
---
BSc Dalhousie University
MLIS McGill University
Scholarly interests
Touch table technology & special collections
An Innovation in Service award from the Dean of Libraries has supported the purchase of an Ideum touch table, which is being used to expand special collections exhibitions. The Intuiface software has been used to create an touch interface for two Music Library exhibitions.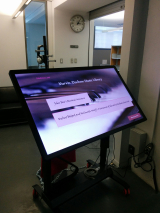 TEI and the McGill Library Chapbook Collection
This a text encoding project in Rare Books and Special Collections involving the creation of a TEI XML file for each of the digitized chapbooks using TEI P5: Guidelines for Electronic Text Encoding and Interchange by the TEI Consortium. Level 4 coding from Best Practices for TEI in Libraries was used to enable future functionality using the encoded TEI file. The woodcuts in each chapbook were assigned a classification code from the Iconclass thesaurus. The McGill Library Chapbook Project can be viewed at http://digital.library.mcgill.ca/chapbooks/index.php
Canadian Inuit Periodicals: Past, Present and Future
Caninuit is an annotated source of information about the magazines, journals, newspapers and newsletters of Canada's Inuit peoples and communities. Hosted by Reference Press (www.libris.ca/inuit/go.exe/), this web site was created in 2008. The annotations are being updated and augmented regularly by the editor. Caninuit can be browsed by title or category, or searched in anyword (Find) mode. Each entry in the Caninuit database refers to a periodical publication which deals predominently with Canadian Inuit and their communities.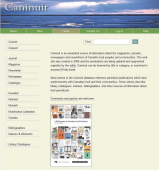 In 2011, A Bibliography of Canadian Inuit Periodicals was published by UQAM Press. (http://mcgill.worldcat.org/oclc/768304248)
Saint Columba House - Library & Learning Centre Project
The Library & Learning Centre was created for the children in the Alternate School, After-School and Teen programs to promote literacy for children who are often underexposed to literature, and to empower them to develop the skills they need to appreciate and embrace the written word. An online catalogue was created for the Saint Columba House Library collection.
International Polar Year (IPY) grant entitled "Entendre et communiquer les voix du Nunavik/ Hearing and sharing the voices of Nunavik"
This project brought together three cultural communities (Inuktitut, French and English) in a unique partnership between Makivik Corporation, the Université du Québec à Montréal and McGill University in cooperation with the Avataq Cultural Institute, to provide a focus on the written heritage of Nunavik that meets the requirements of the communities in this region and that is totally in line with the education, dissemination and popularization efforts of International Polar Year. A report on the grant acheivements can be found here - https://nsidc.org/pubs/gd/gd-34/PLC-24-proceedings-GD-34.pdf