Liaison librarians
Cynthia [dot] Leive

[at]

mcgill [dot] ca

(Email)

•

514-398-4694

Cathy [dot] Martin

[at]

mcgill [dot] ca

(Email)

•

514-398-5874
Open access resource
Free resource
In-library-use only
Catalogue record
Recorded music
Finding recordings
The Music Library has thousands of jazz recordings on CD, DVD, streaming audio online, LP, video, and even 78 rpm discs. To find them, search the...
Library catalogue
In either the Classic catalogue or the McGill WorldCat catalogue
Go to the Advanced search screen
Enter composer/performer/title keywords
Select the format desired: Recorded music or DVD or Videorecording (Classic catalogue) / Sound recording or Visual material (McGill WorldCat catalogue)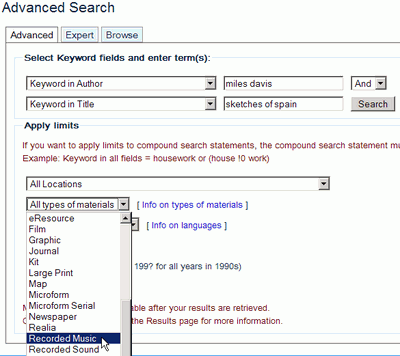 4th-floor A/V card catalogue
The Library has thousands of jazz performances on LP and 78 rpm records. While several LPs do appear in the Library catalogues, many recordings are still only accessible through the card catalogue.
Uncatalogued LPs
Several thousand uncatalogued LPs, arranged by label name, are available on the 4 shelf ranges closest to the 4th-floor desk. Feel free to browse or ask a member of the full-time Music Library staff for assistance.
Online streaming audio collections
Find more search tips at the How to find recordings page.
McGill Jazz Ensembles
Select performances by the McGill jazz ensembles are archived in the Library. Click to see a list of these recordings in the Library catalogue.
Recording equipment
The Music Library loans high quality recording equipment to students affiliated with the Schulich School of Music. High quality video cameras, microphones, stands, audio recording devices as well as Mac and PC laptops with music editing software may be reserved at the 4th-floor desk for 48-hour loan.
---
Scores
Finding scores
Fake books
Fake books provide the basic melody, lyrics, and chord changes for a wide range of repertoire from the American Songbook classics to Latin jazz. See a complete list of titles in the Music Library collection.
To locate a song in a fake book, consult the Fake Book Index or Where's That Tune: An Index to Songs in Fakebooks REF ML128 S3 G66 1990.
Arrangements
The Music Library collects published arrangements. Browse the 3rd-floor shelves around M1366 or search the Library catalogue for jazz scores or big band scores to see titles in the collection.
Gertrude Whitley Performance Library
The Gertrude Whitley Performance Library (5th floor) also has nearly 1000 scores listed in its Jazz catalogue.
Artist Transcriptions series
This series of scores reproduces the recorded performances of several jazz greats in print. See a complete list of titles in the Music Library collection.
Instructional materials
Scores written to develop particular skills such as improvisation or comping may be found by searching the following subject headings in the Library catalogue:
Aebersold scores and cds
The Aebersold series of "play-a-long book and cd sets" allow jazz musicians to practice their parts with a pre-recorded back-up. Both scores and cds are available at the 4th-floor loans desk. See a complete list of titles in the Music Library collection.
Sheet Music Collection
The Music Library has over 6000 pieces of popular sheet music. Too fragile to place on the shelves, the Sheet Music Collection is a treasure trove of standards and Broadway tunes. Ask a Library staff member if you wish to consult the printed music.
Transcription and score-writing software
Transcribe! software
The Music Student Computer Room computers have Transcribe! software that will slow down the fastest lick to facilitate transcription. Student technicians can offer help in using the software.
Sibelius and Finale
To create new arrangements, use Sibelius or Finale. This software is available in the Music Student Computer Room and on select computers on the 4th and 5th floors of the Music Library.
---
Jazz research
Sources for background information
Encyclopedias and dictionaries
The Biographical Encyclopedia of Jazz (Feather and Gitler)
REF ML102 J3 F39 1999
The Complete Encyclopedia of Popular Music and Jazz, 1900-1950. 4 vols. (Kinkle)
REF ML102 P66 K55
The Encyclopedia of Jazz (Feather)
REF ML105 F34 1955
Free Jazz and Free Improvisation: An Encyclopedia (Jenkins) 2 vols.
ML102 J3 J46 2004
The Guinness Encyclopedia of Popular Music. 2nd ed. 6 vols. (Larkin, ed.)
REF ML102 P66 G84 1995
The Miller Companion to Jazz in Canada and Canadians in Jazz (Miller)
ML3509 C2 M536 2001
The New Grove Dictionary of Jazz. 2nd ed. (Kernfeld, ed.)
Online via Oxford Music Online or in print: REF ML102 J3 N48 2001
The Virgin Encyclopedia of Jazz. Rev. ed. (Larkin, ed.)
REF ML3506 V57 2004
Bibliographies
Jazz Books in the 1990s: An Annotated Bibliography (Hochstat-Greenberg)
REF ML128 J3 H63 2010
The Jazz Ensemble Companion: A Guide to Outstanding Big Band Arrangements Selected by Some of the Foremost Jazz Educators (Caniato)
REF ML128 B29 C36 2009
Jazz Fiction: A History and Comprehensive Reader's Guide (Rife)
PN3352 J39 R54 2008
Jazz Scholarship and Pedagogy: A Research and Information Guide. 3rd ed. (Meadows)
REF ML128 J3 M34 2006
Discographies
Many researchers have tried to document the complex history of jazz recordings. Discographies list who recorded what, with whom, when, and where. They are essential tools for the jazz historian.
Print discographies are located both on the 4th floor of the Library in the Audio-Visual Reference section and on the 5th floor in the regular stacks. Below are listed only a few examples. Many more may be discovered by browsing the shelves at the call number ML156.
General discographies
60 Years of Recorded Jazz, 1917-1977. 13 vols. (Bruyninckx)
REF ML156.4 J3 B82
By record label
The Blue Note Label: A Discography (Cuscuna and Ruppli)
REF ML156.4 J3 C87 2001
The Clef/Verve Labels: A Discography (Ruppli and Porter)
REF ML156.2 R784 1986
The Prestige Label: A Discography (Ruppli and Porter)
REF ML156.2 R786
By artist
Dis Here: A Bio-Discography of Julian "Cannonball" Adderley (Sheridan)
REF ML156.7 A33 S5 2000
Ella Fitzgerald: An Annotated Discography; Including a Complete Discography of Chick Webb (Johnson)
REF ML156.7 F594 J64 2001
Ellingtonia: The Recorded Music of Duke Ellington and His Sidemen (Timner)
REF ML156.5 E45 T5 1988
Searching the Library catalogue
Truncation symbol:
?
e.g. saxophone? will retrieve catalogue records containing the words saxophone and saxophones.
Phrase searching:
"___"
e.g. "cool jazz" will retrieve catalogue records containing the phrase cool jazz.
Boolean operators:
( ), AND, OR, NOT
default: AND
e.g. jazz AND (free OR improvization) will retrieve catalogue records containing the word jazz AND either of the words free OR improvization.
Useful Subject Headings
Jazz History and Criticism
Big Bands
Boogie Woogie music
Bop music (for "Bebop")
Cool jazz
Dixieland music
Free jazz
Latin jazz
Swing music
Jazz
Core and additional databases
Core databases
Additional databases
Jazz is a multidisciplinary field of research, so literature on jazz topics and personalities may be found in databases that index disciplines other than music: history, gender, sociology, and literature, just to name a few. Below are a few examples of databases with a broad scope and more subject-specific ones.
General humanities scope
JSTOR
JSTOR provides full-text access to thousands of archived scholarly humanities journals in areas such as African American Studies and History as well as Music
Subject-specific databases
Periodicals
Below are a few select journal and magazine titles. Find a more complete list of both print and online periodicals by searching the subject heading Jazz periodicals in the Library catalogue.
Print periodicals are available on the 5th floor of the Music Library. Online journals of course are available anywhere access to the Internet permits.
Academic journals
Popular magazines
Periodicals on microfilm
The Music Library owns runs of several significant jazz periodicals on microfilm. Ask at the 3rd-floor staff area for any of the following:
Billboard (1920s – )
DownBeat (1937 – 1976)

Jazz periodical series

Over 20 titles published from 1914-1977. Click for a full list.

Australian Jazz Quarterly
no.1 (1946:May)-no.31 (1957)
Les cahiers du jazz
no 1(1959)-no 16/17 (1968)
Clef
v.1 (1946)
The Discophile
no.1 (1948)-no.61 (1958)
Hip
v.1:no.1 (1962:Sept.)-v.1:no.2 (1962:Oct.)
v.1:no.4 (1962:Dec.)-v.2:no.6 (1964:Mar.)
v.2:no.8 (1964:May)-v.10 (1971)
HRS Society Rag
1938:July-1941:Mar.
Jazz (Berkeley, CA)
no.1 (1958:Oct.)-no.5 (1960:Winter)
Jazz (Forest Hills, NY)
v.1:no.1 (1942:June), v.1:no.5/6 (1943:Jan.)-v.1:no.10 (1943:Dec.)
Jazz Digest
v.1 (1972)-v.3 (1974)
Jazz Information
v.1 (1939)-v.2 (1941)
Jazz Magazine
no 1 (1954:déc.)-no 123 (1965:oct.)
no 125 (1965:déc.)-no 140 (1967:mars)
no 142 (1967:mai)-no 148 (1967:nov.)
no 196/206 (1972)-no 229/239 (1975)
no 251/260 (1977)-no 279/388 (1989)
Jazz Quarterly
v.1 (1942)-v.2 (1946)
The Jazz Record
no.1 (1943)-no.60 (1947)
Jazz Session
no.1 (1944)-no.13 (1946)
Matrix
no.1-no. 16, no.21-68, no.70, no.72-no.76, no.89, no.96-no.107/108
Music and Rhythm
v.1 (1940)-v.3 (1942)
NAJE Educator
v.1 (1968)-v.9 (1977)
The Needle
v.1(1944)-v.2 (1945)
Playback
v.1 (1948)-v.4 (1952)
Ragtime Review
v.1 (1914)-v.4 (1918)
The Second Line
v.1 (1950:Apr.)-v.28 (1976:fall)
Newspapers
Newspapers are often the best place to trace jazz performances in local venues and read reviews. Find out about McGill's newspaper collections, historical and current, online and on microfilm.
Selected Internet sites
Other resources