Occupation du sol is a geospatial file produced by the Communuaté Urbaine de Montréal depicting different general landuse types.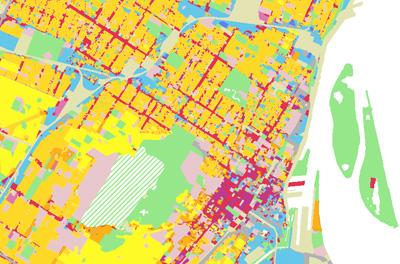 Metadata
Title (Official)
Occupation du Sol [Communuaté Urbaine de Montréal]
Format
Arcview Shape (1996)
MapInfo (1996)
PDF (2001)
Language
French
Projection
Modified Transverse Mercator Zone 8
Datum
NAD 83
Coverage
Island of Montreal
Scale
1:20 000
Year
1996 and 2001
Landuse Categories
(Fr./Eng.)
habitation faible densité / low density residential
habitation moyenne densité / medium density residential
habitation haute densité / high density residential
commerce de détail / commercial area
centre commerciel / commercial centre (mall)
édifice à bureaux / business district
équipement et service communautaire / public and education institutions
service d'utilité publique / service utility areas (ex. road catchments, hydro corridors)
industrie légère/ light industry
industrie lourde / heavy industry
carrière / quarry
site d'enfouissement / landfill
parcs urbains / city parks
parcs régionaux / regional parks
reserves naturelles / nature reserves
golfs / golf course
cimietière / cemetery
rural / rural area
espace vacant / vacant area
Access
Members of the McGill Community can obtain copies of the data by filling out the Geospatial Data Request Form.