Upcoming/Current Events
---

Exhibit: We will remember them: The No. 3 Canadian General Hospital (McGill) in The First World War, 1915-1919
runs February - June 15, 2015
Humanities & Social Sciences Library, McLennan Library Building, main flr lobby, 3459 McTavish Street
This exhibition celebrates the contribution of McGIll University to healing the broken bodies that were the casualties of the First World War. A handwritten copy of John McCrae's poem In Flanders Fields is amongst the items on display.
When the First World War began, Dr. Herbert Stanley Birkett, Dean of McGill's Faculty of Medicine, organized a general hospital to serve in France. The No. 3 Canadian General Hospital (McGill), was a 1040-bed unit located behind the front lines. The officers were made up of faculty members, who were assisted by medical students and other volunteers. The nurses were drawn from women trained at the Royal Victoria and Montreal General hospitals' schools of nursing. Other universities in the empire, such as the University of Toronto, Queen's and Laval, followed McGill's lead and organised their own hospitals. The No. 3 C.G.H. left Canada in 1915 for England before establishing itself in Dannes-Camiers, France, in August 1915. From 1916-1919, the hospital was located in Boulogne, France. From 1915-1919, the hospital admitted 143,762 sick and wounded patients, and performed 11,395 operations.
Free admission. For opening hours click here.
---
Exhibit: The Lighthalls: A McGill Family at War
runs February - June 15, 2015
Humanities & Social Sciences Library, McLennan Library Building, 4th flr lobby, 3459 McTavish Street
The Lighthalls were a typical Montreal and McGill family whose members participated in the First World War in different ways. William D. Lighthall (B.A. 1879, B.C.L. 1881, L.L.D. 1921) was one of the founders of the Great War Veteran's Association and was active in supporting the war effort in Montreal. His inaugural address as president of the Royal Society of Canada was on "Canadian Poets of the Great War" (1918). He was also a member of the Montreal Branch of the Armenian relief Fund Association of Canada. William S. Lighthall (Arts 1916, B.C.L. 1922) enlisted in September 1914 and later joined the Royal Flying Corps and served in Palestine and Mesopotamia. He was awarded a D.F.C in1919. Alice Lighthall (B.A. 1913) joined the Volunteer Aid Detachment (V.A.D) and nursed at the No. 5 General Hospital in Rouen, 1916-1918 and her sister, Cybel (B.A. 1914), was a V.A.D. in Canada, 1916-1918. Finally, Mrs. Lighthall (Cybel Wilkes) was one of the early workers in developing and providing rehabilitation for wound soldiers.
The exhibition will use letters, photographs and diaries in the Lighthall Papers held in Rare Books and Special Collections and other contemporary documents. 
Free admission. For opening hours click here.
---
Exhibit: The Patriotism of Death: Propaganda posters from WWI
runs November 11, 2014, to March 29, 2015
Montreal Museum of Fine Arts, Graphic Arts Centre
Jean-Noël Desmarais Pavilion – Level S2
1380 Sherbrooke Street West
Opening on Remembrance Day of the hundredth anniversary of the War to End All Wars – in which 37 million were injured and 8.5 million lost their lives – this exhibition of war posters produced during World War I by Canada, France, Germany, England and the United States will be presented in connection with From Van Gogh to Kandinsky: Expressionism in Germany and France, 1900-1914. The twenty large sheets selected from the collections of McGill University Library and the Museum show the distinctive dramatic approaches and types of graphic media used by opposing national governments to encourage their citizens to enlist, raise funds and contribute to the war effort. Lest we forget…
For more information click here.
---
Past Events
---
Monday November 10, 2014: Friends AGM & 25th Anniversary Celebration

McGill Library staff members were collectively honoured as the 2014 Friend of the Year. From L to R: Representing librarians Christopher Lyons (Head, Osler Library of the History of Medicine), the Hon. John Gomery (presented award on behalf of the Friends), representing management staff members Elizabeth Gibson (Lending & Access Services Supervisor, Humanities & Social Sciences Library), representing administrative and support staff members Lucy Frenette (Administrative Coordinator, Macdonald Campus Library)
---
Monday, October 20, 2014: Jeffrey Simpson delivered 2014 F.R. Scott Lecture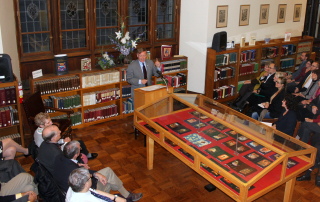 The Friends of the McGill Library presented the annual F.R. Scott Lecture featuring award-winning journalist and author   Jeffrey Simpson on Monday, October 20, 2014 at 6pm.  
About Jeffrey Simpson: Jeffrey Simpson is The Globe and Mail's national affairs columnist. Simpson has won all three of Canada's leading literary prizes -- the Governor-General's award for non-fiction book writing, the National Magazine Award for political writing, and the National Newspaper Award for column writing (twice). He has also won the Hyman Solomon Award for excellence in public policy journalism. In January, 2000, he became an Officer of the Order of Canada. Jeffrey has published eight books -- including Discipline of Power (1980); Spoils of Power (1988); Faultlines, Struggling for a Canadian Vision (1993); The Anxious Years (1996); Star-Spangled Canadians (2000); The Friendly Dictatorship: Reflections on Canadian Democracy (2001); and Hot Air: Meeting Canada's Climate Change Challenge (2007). His latest book, published in 2012, is Chronic Condition, Why Canada's Health-Care System Needs to be Dragged into the twenty-First Century, which won the $50,000 Donner Prize for the best book on Canadian public policy. – Excerpt from The Globe & Mail
---
Tuesday, November 4, 2014: 2014 Shakespeare Lecture - A conversation with theatre icon Martha Henry
The Friends of the McGill Library in partnership with the Stratford Festival presented the annual Shakespeare Lecture featuring acclaimed actress and director Martha Henry on Tuesday, November 4, 2014 at 5:30pm. Lecture sponsored by Michael Sabia and Hilary Pearson
About Martha Henry: 40th season with Stratford Festival. Director of Mother Courage and Her Children. Lady Bountiful in The Beaux' Stratagem. Director of the Birmingham Conservatory for Classical Theatre. For Stratford: Director of Brief Lives (Douglas Rain), Richard II (Geordie Johnson), Richard III (Tom McCamus), Antony and Cleopatra (Peter Donaldson, Diane D'Aquila), Of Mice and Men (Graham Greene), An Enemy of the People (David Fox), Three Sisters (Lucy Peacock, Tom McCamus), Timothy Findley's Elizabeth Rex (Diane D'Aquila, Brent Carver, Peter Hutt). Elsewhere: Artistic Director of London's Grand Theatre, 1988-1994. For the Shaw Festival: The Royal Family (Goldie Semple, Patricia Hamilton), Autumn Garden (Sharry Flett, Jim Mezon) and Hedda Gabler (Moya O'Connell). She has also directed at the Globe in Regina, Toronto Free Theatre, Canadian Stage and the Manitoba Theatre Centre. For the Segal Centre in Montreal: Red (Randy Hughson). Ms. Henry has a Governor General's Lifetime Achievement Award and is a Companion of the Order of Canada.
---
Message from Colleen Cook, Trenholme Dean of Libraries
Re-imaging the McGill Library: The hub of teaching, learning, and research
Walk into any of McGill's libraries – morning, noon, or night – and you will experience a hive of activity. From undergraduates gathering to research group assignments, to graduate students accessing digital journals, to professors availing themselves of some of the finest rare books collections in the country, the Library is McGill's beating heart: a home away from home for students, a physical and virtual repository for generations of accumulated knowledge; and the centre of the teaching and learning enterprise that is at the core of McGill's mission and social compact.
McGill's Library truly exemplifies the age-old mission of all great libraries: to acquire, preserve and make accessible the recorded knowledge of humankind.
As we enter the second decade of the 21st century, the University's Library is in a period of rapid and fundamental evolution. Technological innovations are radically changing the ways that students learn, as well as their expectations for how and where they interact with information, their professors and with each other. Digitization offers exciting new opportunities for sharing knowledge, and for preserving and housing documents to ensure their conservation, and their wide availability to students and scholars within McGill and around the world. Research aimed at exploring the most effective uses of technologies, new and old, to improve teaching and learning is opening up exciting new avenues for professors and students.
Such changes offer extraordinary possibilities; possibilities on which McGill—Canada's top-ranked medical-doctoral university and an established pedagogical innovator—is well-positioned to capitalize. McGill's Library embraces this opportunity to lead the way in taking full advantage of new tools and technologies to further deliver on its core mission.
Through numerous assessment tools, we know that our library facilities are no longer adequate for providing 21st century library services. Several library spaces already exceed 100% space capacity and at peak periods (mid-terms, examination time), the libraries are severely overcrowded – all seats are taken. Stack space is also at 100% capacity. To add to this space crunch, last year McGill University Archives moved under the jurisdiction of the Library.
Going forward: A re-envisioning of the Library
In 2014, McGill Library & Archives is undertaking a Concept/Feasibility Study to renew the library structure at the University in terms of 21st century research librarianship and the role of the library in hosting spaces for transformational pedagogy. Phase I will explore alternatives for addressing the needs of the Library in terms of both collections (stack space) and user space. A feasibility study is the first step in the planning and approval process for large building construction projects mandated by the province.
We envision the library at the vanguard of an even larger evolution: one that will lead to fully redeveloped facilities and a leading-edge vision of teaching and learning that will allow us to serve our students even more fully, preparing them to be leaders in tomorrow's world.
I look forward to keeping you informed of our plans through this newsletter and other means.
---
Shakespeare Lecture Roundup
by Cecil Rabinovitch
Seana McKenna, a long-time member of the Stratford Festival Company, gave the 2013 Shakespeare Lecture in the Moot Court in November. It was a tour-de-force - her audience was riveted! A master class in classical technique, she described the different steps in the long process of delving into her characters and bringing them to life on the stage. She also demonstrated how she developed and used Richard III's deformity. She talked of her exploration of his face of evil and her features transformed before our very eyes. Ms. McKenna held all of us, rapt, for 45 minutes.
---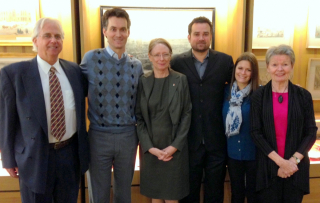 Friend of the Year 2013
by Steven Spodek
The Friends of the Library recently honoured the late David Edwards BSc.'69, MSc.'71 as the Library's Friend of the Year. David, a retired McGill employee, passed away suddenly in April 2008 at the age of 59.
After close consultation during the last few years with members of the Edwards family, the Office of the Dean of Libraries and other senior university administrators a decision was taken to allocate the generous proceeds of David Edward's estate to the McGill Library. The gift will be used to create The David Edwards Endowment for Digitization and the David Edwards Endowment for Rare and Special Collections. Both these funds will benefit generations of students and scholars for many years to come.
According to his brother, John Edwards, it was while working on his Bachelor of Science degree at McGill that David caught the "computer bug". Upon graduation, David accepted an offer to join McGill's Computer Systems Department. He immediately became part of the MUSIC (McGill University System for Interactive Computing) group. This group became the cornerstones of his life for the next 30 years.
A very important study space in the Library has been renamed The David Edwards E-Classroom in memory of David's thoughtfulness, generosity and his commitment to lifelong learning. 
---