Upcoming events
---
Lecture | Marriage: Is it All or Nothing?
February 5, 2018 at 5:30pm
Colgate Room, Rare Books and Special Collections
McLennan Library Building, 4th floor
3459 McTavish Street, Montreal, QC, H3A 0C9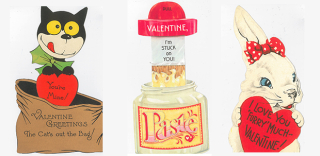 With  Valentine's Day almost upon us, the Friends of the McGill Library presents a talk by Professor John Lydon, Chair of the McGill Psychology Department. Using the book, The All or Nothing Marriage as a starting point, he will discuss the complex subjects of love and marriage in 2018. Did earlier generations enjoy happier marriages because they had lower expectations? Does just the thought of marriage today leave people gasping for air? Join us as Professor Lydon digs into these and other tough questions on the eve of a holiday which celebrates love in all its many forms.
(Images courtesy of McGill Rare Books and Special Collections' Valentine card collection, uncatalogued.)
---
Recent events
---
Annual General Meeting
December 6, 2017
Event summary by Cecily Lawson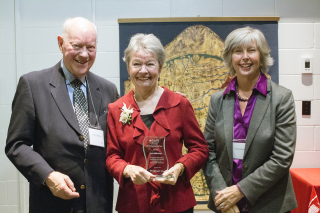 The Friends 17th Annual General Meeting was held in the Colgate Room of the McLennan Library Building presided over by Friends Chair Ann Vroom. Following a review of the year's activities and an explanation of the group's expanding role in fundraising as well as advocacy, the Treasurer's Report was presented by Don Walcot. This was followed by the slate of directors for 2018, which was approved by those in attendance.
The highlight of the evening was the presentation of the Friend of the Year Award to Cecil Rabinovitch, past Chair of the Friends of the McGill Library. In conferring the award, Honorary Board Member John Gomery remarked on Cecil's outstanding leadership abilities, her longtime devotion to building cultural institutions in Canada, her passionate championship of the role of the modern library, and her deep appreciation of books and learning. Describing her as loyal, direct, honest, smart, witty and not afraid of a challenge, he noted her critical importance in making the Friends the vibrant organization that it is today and in attracting so many of the outstanding speakers to the Friends lecture series.
Trenholme Dean of Libraries Colleen Cook and Principal and Vice- Chancellor Suzanne Fortier added their plaudits on Cecil's accomplishments and thanked her for her support of the Library. The evening finished with a lively reception to honour our award winner, celebrate a successful year for the Friends and welcome in the holiday season.
---
Lecture | Christmas Ain't What it Used to Be with Judith Flanders
November 15, 2017
Event summary by Frances Groen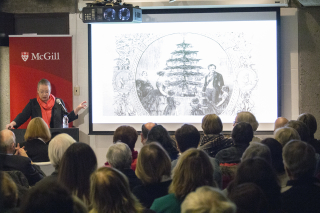 The venerable Colgate Room of Rare Books and Special Collections was aglow in anticipation of the arrival of author Judith Flanders. A Londoner by choice, Flanders established her career as a journalist and editor, but then chose to ignore the cautious advice of a publisher not to quit her day job. Instead she launched a career as a writer of popular, scholarly histories on Victorian England. Creative fiction has not been ignored by Flanders who has also written a series of murder mysteries with Sam Clair as her sleuth. Flanders is well known for her knowledge of both violent crime and sanitation, or lack thereof, in nineteenth century London, so the audience was not certain how this special knowledge might fit into a talk on a Victorian Christmas.
The speaker did not disappoint!  We were treated to an original examination of Christmas traditions that supported the speaker's view that Christmas has very little to do with Christianity or the Middle East. Christmas, as we know it, probably began as a Northern European tradition that developed over the centuries into feelings of nostalgia for a Christmas that never existed. Flanders offered ample evidence of this view by detailed examination of the many conventions that surround Christmas celebrations. She looked at food, drink, music, gifts and gift wrapping that began in nineteenth century. Drawing on her broad knowledge, she explained the development of gift wrapping as the result of the increased availability of commercially available gifts. When gifts were no longer hand made, at least the wrapping was done by hand!
The enthusiastic audience that filled the Colgate Room concurred with Chris Lyons, Head of Rare Books and Special Collections when he thanked the speaker for a fascinating evening. Guests moved to the reception and were enthusiastic to buy the Ms Flanders's book Christmas, A Biography, that is just released. 
---
​​Annual Shakespeare Lecture
 | "Julius Caesar" Before The Rehearsal Room with Scott Wentworth
November 7, 2017
Watch a video recording of the lecture by clicking here
Event summary by Alyssa Hamilton
Theatre artist Scott Wentworth gave the Friends of the McGill Library audience a glimpse into the life of a director on November 7 with his lecture "Julius Caesar: Before the Rehearsal Room." The Stratford Festival production of Julius Caesar goes into rehearsal in June of next season.
Wentworth has had an enviable career as a Tony and Olivier-nominated actor, director, and playwright, and a 30-year veteran of the Stratford Festival with. As a director, his work is a balancing act. To coordinate a large production, he needs to provide answers to practical questions early on. At the same time, he wants to ask questions, and to never stop asking questions.
Among other things, Wentworth asks what the play has to say about men and women. The Stratford theatre has experimented with gender in recent years, but this year's cast for Julius Caesar will be split evenly between men and women. With gender parity, Wentworth disputes the idea that Shakespeare's work can only be understood within the tradition of Realism. After all, it is well-known that all early performances had actors in the roles of female characters. "Jonathan Goad recently played Hamlet," he added. "He's not Danish."
Wentworth reads and rereads the text to ask what is really there, and what we assume is there. A four-hundred-year old text comes with a lot of baggage. At the same time, putting tradition aside to see the play with fresh eyes is itself traditional. Orson Welles's 1937 adaptation saw Caesar in the context of fascism. This summer's controversial New York production drew inspiration from the recent U.S. election.
"That, to me, is how poetry continues to speak to us, and to gather meaning that in many cases the original writer, poet, playwright couldn't foresee," Wentworth explained. "We have to listen to it with the ears of our time without necessarily imposing the values of our time on it."
His balancing act extends to set design. Elizabethan theatres allowed a story to be told both as a linear narrative and as a metaphorical one. Stratford's Festival stage, minimal and intimate, is designed to access both stories. "In the presence of acting, the space gets populated with the scenery that Shakespeare creates with his language, and that we create mutually between actor and audience."
He makes sure that costumes don't get in the way of this interaction. Functional clothing, with buttons that work and sleeves that can be pushed up, reminds the audience that the characters are real people. The audience meets the characters as nuanced individuals rather than broad types, and hears the play anew.
Tradition has asked whether Caesar was a monster or a saviour, and whether Brutus was an assassin or a hero. Wentworth asks how masculine and feminine voices are balanced in modern public discourse. As for Shakespeare's own answer to the questions of power, democracy and tyranny raised in Julius Caesar, "Typically," said Wentworth, "he just chooses to keep asking both sides of the question."
The McGill Library system has a wealth of material on Shakespeare. This includes some of the earliest editions of Shakespeare's plays: a copy of the second folio from 1632 and two copies of the fourth folio from 1685. Ann Vroom, Chair of the Friends of the McGill Library, welcomed the audience, Tomlinson Professor of Shakespeare Studies Paul Yachnin introduced the speaker and Joel Goldberg offered the concluding remarks. With the generosity of sponsors Hilary Pearson and Michael Sabia, the Shakespeare Lecture is one of three lectures hosted annually by the Friends of the McGill Library. It continues to benefit from a partnership with the Stratford Festival.
The Shakespeare Lecture is presented in partnership with the Stratford Festival and generously supported by Hilary Pearson and Michael Sabia.
---
Lecture | Foodways & fisticuffs: the larger than life personalities who shaped Quebec cuisine with Julian Armstrong & Nathalie Cooke
Wednesday, October 4 & 11, 2017
Event summary by Alyssa Hamilton 
Bear Pits, Nuns and Tortière: Julian Armstrong and Nathalie Cooke in Conversation about Montreal Foodways and Fisticuffs
The event "Foodways and fisticuffs: the larger than life personalities who shaped Quebec cuisine" was an evening of storytelling. Speakers Nathalie Cooke and Julian Armstrong led an intimate, informative, and above all entertaining talk in the first of this year's series of presentations organized by the Friends of the McGill Library on October 4, with an encore presentation on October 11.
The lecture explored the cultural significance of food, sitting at the intersection of history, geography, and function. It also highlighted the passionate defense of regional food varieties, whether tortière, pea soup, or maple pie, as local heritage.
Julian Armstrong and Nathalie Cooke told tales of larger than life Quebec characters, such as Joe Beef, known both for his generosity and for the bears he kept in the pit of his house.
The 19th century Montreal tavern owner welcomed customers of all backgrounds, and kept couches for those who overindulged or who didn't have a bed for the night. He also helped deescalate the 1878 conflict on the Lachine canal by breaking bread with both strikers and soldiers.
Amy the cow figured in another story, as the modern, quite photogenic descendent of a herd shipped from France to Quebec 1608. Known for their hardiness in the Canadian winter and the cheese made from their milk, La vache canadienne is now making a comeback after its displacement by British Holsteins.
The speakers discussed the heritage of many of today's foods, recipes, producers and culinary ground breakers, many of which the audience members could recognize as a community. The convent on Sherbrooke Street, for instance, had a cooking school run by nuns, where many Montreal women learned to cook early in their married lives.
These included Julian, known for her cookbooks and 50 years spent writing about food for the Montreal Gazette and the Montreal Star. Nathalie is also prominent as both a McGill Professor and the Associate Dean of the Library's ROAAr unit (Rare and Special Collections, Osler, Art and Archives).
Fittingly, the event was held in the historic Colgate Room of McGill's Rare Books and Special Collections Library. The venue was newly opened following renovation, thanks to a generous donation by the Joan and Clifford Hatch Family Foundation. Further renovation is planned for the McLennan/Redpath Library Complex. McGill's Canada150/Montreal 375 hosted a wine and cheese to end the evening.
---
See also: Past events