Full Professor
2001 McGill College Ave
Suite 750, room 17
Montreal, Quebec
Canada H3A 1G1

514-398-5509 [Office]
catherine [dot] walsh [at] mcgill [dot] ca (Email)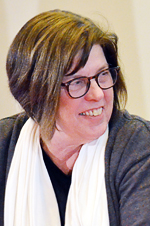 ---
Biography
Catherine Walsh teaches and writes principally in the areas of secured transactions and private international law. Formerly a professor in the Faculty of Law of the University of New Brunswick, her move to McGill in July 2001 reflects her strong interest in the comparative and international dimensions of these subjects.
She has a long standing commitment to law reform, and has been actively involved in a number of national and international reform initiatives, including two multilateral legal instruments developed by the United Nations Commission on International Trade Law.
She is the co-author, with Ronald Cuming (Saskatchewan) and Roderick Wood (Alberta), of Personal Property Security Law (Irwin Law, 1st ed. 2005, 2nd ed. 2012).
Before commencing her law studies, Catherine Walsh worked as a CUSO volunteer in Ghana, an experience that contributed to her ongoing interest in law and development.
Education
B.C.L. (Oxford) 1979
LL.B. (UNB) 1978
B.A. (Dalhousie) 1972
Employment
Full Professor, Faculty of Law, McGill University, 2001-
Associate Dean (Academic), Faculty of Law, McGill University, 2003-2005
Professor, Faculty of Law, University of New Brunswick, 1994-2001 (Assoc. Prof 1986-1994; Assist. Prof. 1981-1986)
Counsel, Stewart McKelvey Stirling Scales, 1999-2002
Associate Lawyer, McKelvey Macaulay Machum (now Stewart McKelvey Stirling Scales), Saint John, 1980-1981
Law Clerk to the Chief Justice, New Brunswick Court of Appeal, 1979-1980
Areas of Interest
Secured Transactions, Private International Law