Full Professor
Founding Director, Centre for Medicine, Ethics and Law
Samuel Gale Chair in Law
3690 Peel Street, Room 201
Montreal, Quebec
Canada H3A 1W9
514-398-7401 [Office]
margaret [dot] somerville [at] mcgill [dot] ca (Email)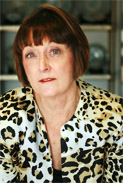 ---
List of selected publications.
---
Biography
Professor Somerville holds professorships in both the Faculty of Law - where she holds the Samuel Gale Chair - and the Faculty of Medicine. She was the founding director of the McGill Centre for Medicine, Ethics and Law.
Professor Somerville plays an active role in the development of applied ethics, in particular, the study of wider ethical and legal aspects of medicine and science.
Professor Somerville is a speaker, consultant and researcher on topics such as euthanasia, reproductive technologies, mental health, human rights in health care, the pharmaceutical industry, AIDS, abortion, and the role that scientific and medical research and technology play in the formation of societal values. Professor Somerville has consulted for international organizations such as the Global Programme on AIDS of the World Health Organization, UNAIDS, the United Nations Human Rights Commission in Geneva, and law reform commissions in Canada and Australia.
She is the author of "The Ethical Canary: Science, Society, and the Human Spirit" (2000), and "Death Talk: the Case Against Euthanasia and Physician-Assisted Suicide" (2001). She presented the 2006 CBC Massey Lectures, which were published as a book under the title "The Ethical Imagination: Journeys of the Human Spirit" (House of Anansi Press, 2006).
Professor Somerville has earned numerous distinctions. She is the recipient of the Order of Australia (1990) and she was elected a Fellow of the Royal Society of Canada in 1991. In 2004 she was named the first recipient of the UNESCO Avicenna Prize for Ethics in Science.
She has received Honorary Doctorates in Law from the University of Windsor (1992); Macquarie University, Australia (1993); St. Francis Xavier University (1996); and the University of Waterloo (2004); an Honorary Doctorate in Science from Ryerson University (2006); an Honorary Doctorate in Humane Letters from Mount Saint Vincent University (2009); and Honorary Doctorate of Sacred Letters, St. Mark's College, British Columbia (2010).
In February 2013, she was awarded a Queen Elizabeth II Diamond Jubilee Medal. In September 2014, she received the inaugural Jean Echlin Award for Ethics in Palliative Care.
In February 2015, she was invited as a thought leader at the inaugural BEINGS Biotech and the Ethical Imagination Global Summit
Margaret Somerville is a regular contributor to all forms of media.
Honours
Honorary doctorate, Royal Military College of Canada, Kingston, Ontario, May 2013.
Doctor of Sacred Letters (honoris causa), St. Mark's College, University of British Columbia, 2010.
L.H.D., Mount Saint Vincent University, 2009
LL.D. Honoris Causa – Windsor (1992); Macquarie, Aust. (1993); St. Francis Xavier (1996); Waterloo (2004)
D.Sc Honoris Causa - Ryerson (2006)
Fellow of the Royal Society of Canada, 1991
Order of Australia, 1990
Education
D.C.L., McGill University, 1978
LL.B. (Hons.), Sydney University, 1973
A.u.A. (Pharm.), University of Adelaide, 1963
Employment
Founding Director, McGill Centre for Medicine, Ethics and Law, 1986-1996
Samuel Gale Professor of Law, McGill University, 1989-
Full Professor, Faculty of Medicine, McGill University, 1984-
Associate Professor, Faculty of Medicine, McGill University, 1980-1984
Associate Professor, Faculty of Law, McGill University, 1979-1984
Assistant Professor, Faculty of Law, McGill University, 1978-1979
Areas of Interest
Medical law and ethics, comparative medical law, torts, criminal law