Full Professor
3644 Peel Street
Chancellor Day Hall
Room 40
Montreal, Quebec
Canada H3A 1W9
514-398-6637 [Office]
genevieve [dot] saumier [at] mcgill [dot] ca (Email)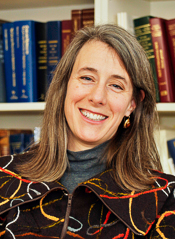 ---
Professor Saumier's

Curriculum vitae & publications
Focus online: Entrevue avec Geneviève Saumier (January 2011)
Talking Teaching Profiles: Building Confidence
Biography
A recognized expert in private international law, Professor Saumier's focuses on consumer law, the resolution of international disputes and cross-border class actions. Her papers on private international law and on consumer arbitration have been cited many times by the Supreme Court of Canada. Beyond these subjects, Professor Saumier also teaches law of civil liability and civil procedure.
She recently received an SSHRC grant to research the theory and practice of international jurisdiction in the judicial and arbitral settings.
An elected Member of the International Academy of Comparative Law and of the American Association of Private International Law, she is also a member of the board of the Office de la protection du consommateur since 2012.
Education
Ph.D., Univ. of Cambridge, 1997
B.C.L., LL.B., McGill, 1991
B.Comm. (Finance & Int'l Business), McGill, 1987
Employment
Full Professor, Faculty of Law, McGill University (2014-)
Associate Dean (Academic), Faculty of Law, McGill University (2005-2008)
Visiting Professor, Scuola Superiore Sant'Anna, Pisa, Italy (2004-2005)
Associate Professor, Faculty of Law, McGill University (2003-2014)
Lecturer, Summer Law Program, Penn State (2006), Tulane (2003-2004)
Assistant Professor, Faculty of Law, McGill University (1996-2003)
Deputy Director, Quebec Centre for Private and Comparative Law (1998-1999)
Law Clerk to the late Justice J. Sopinka, Supreme Court of Canada (1995-1996)
Visiting Research Fellow, Faculty of Law, University of New Brunswick (1994-1995)
Areas of Interest
Private international law, comparative law, international commercial law & litigation, consumer law, international aspects of family law and uniform law.