Associate Professor
2001 McGill College Ave
Suite 750, room 4
Montreal, Quebec
Canada H3A 1G1
514-398-3041 [Office]
rosalie [dot] jukier [at] mcgill [dot] ca (Email)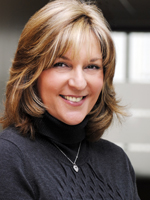 ---
Talking Teaching Profiles: Varying paths
McGill Teaching Snapshots: Rosalie Jukier
Download: Professor Rosalie Jukier's publications [.pdf] (updated November 2011)
Academic papers on SSRN at ssrn.com/author=372715
---
Biography
Since 1985, Rosalie Jukier has been a professor in McGill's Faculty of Law where she teaches in both the civil and common law legal traditions, primarily in the areas of Contractual Obligations and Judicial Institutions and Civil Procedure. 
Professor Jukier's research focuses on comparative Contract Law (particularly the remedy of Specific Performance and the intersection of religious rights and private contract law), the impact of legal traditions and mixed legal systems on Procedural Law and Judicial Methodology, as well as on Legal Pedagogy.
In 2004, Professor Jukier was recognized with the John W. Durnford Teaching Excellence Award and in 2010 with the Principal's Prize for Excellence in Teaching. Principal's Teaching Excellence Award.
Professor Jukier held the position of McGill University's Dean of Students from 1995-2001 and has served the Faculty of Law as Associate Dean, Admissions (1991-1995), Associate Dean Strategic Planning (2003-2005) and Associate Dean Graduate Studies (2010-2013).   In addition, from 2005-2007, she was a Senior Advisor to the National Judicial Institute in Ottawa, an organization dedicated to the development and delivery of legal education for judges.
Professor Rosalie Jukier is a graduate of McGill University's Faculty of Law where, in 1983, she obtained her B.C.L. and LL.B. degrees graduating with the Elizabeth Torrence Gold Medal and the Aimé Geoffrion National Programme Gold Medal.  She went on to pursue graduate studies in law at Oxford University and became a member of the Quebec Bar in 1986.
Education
B.C.L. (Oxon.) 1985
B.C.L., LL.B. (McGill) 1983
Employment
Associate Dean, Graduate Studies, Faculty of Law, McGill University, 2010-2013
Senior Advisor, National Judicial Institute, 2005-2007
Associate Dean, Strategic Planning, Faculty of Law, McGill University, 2003-2005
Dean of Students, McGill University, 1995-2001
Associate Professor, Faculty of Law, McGill University, 1993-
Associate Dean, Admissions and Placement, Faculty of Law, McGill University, 1991-1994
Assistant Professor, Faculty of Law, McGill University, 1985-1993
Member of the Quebec Bar since 1986
Areas of Interest
Comparative Private Law, Mixed Legal Systems, Contract Law and Remedies, Judicial Law, Judicial Methodology, Legal Pedagogy.