From Quebec law faculties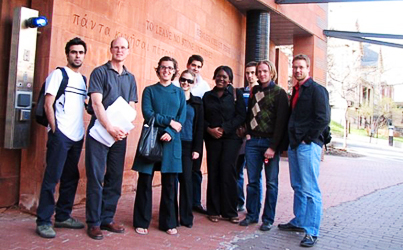 « Le véritable voyage de découverte ne consiste pas à chercher de nouveaux paysages, mais à avoir de nouveaux yeux. » (Proust)
So close and yet so distinct: McGill Law offers you the unique opportunity to immerse yourself in the study of law at a graduate level in English in a bilingual community that welcomes oral and written work in French. The constant interaction of legal traditions, systems and methodologies in every substantive inquiry and exploration, contributes to the special character of McGill. At McGill, you can both stay home and travel far – with the professors and students who together create a special, world-famous Faculty of Law with a solid history in the city and province it calls home.
From law faculties across Canada
Bienvenue à Montréal! Take on the challenge of graduate studies far from where you first studied law…without leaving the country. McGill's Faculty of Law is unique in the world: in its stimulating mélange of languages, legal traditions, and perspectives on the development and critique of sources of law.
This is a place where the study of human rights is mixed with the insights of legal pluralism, where intellectual property scholars work across legal systems and jurisdictions, where you can explore an air and space law specialization, where the cutting-edge study of private law is always imbued with a comparative flavour. Meet graduate students from around the world, study in a dynamic bilingual environment, and engage in research and writing inspired by theory and practice à la McGill!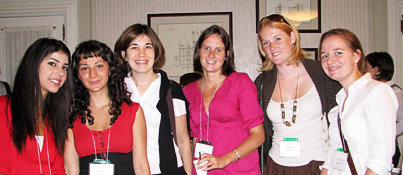 From the Americas
Montreal and McGill: Pourquoi pas? Benvenido and welcome to the Faculty of Law that brings together English, French and now Spanish-speaking graduate students. McGill's Faculty of Law sits at the centre of the great city of Montreal, at the crossroads of common law and civil law traditions in North America. Our law students study, research, discuss and write in Canada's two official languages… and, with our recent Spanish Law Initiative, have added the third major language of the Americas to the mix.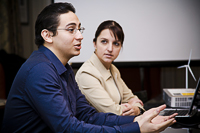 Coming from all over the world, and particularly from all corners of the Americas, graduate students in law share ideas, approaches, and enthusiasm with professors whose comparative research expertise and pedagogical innovation are renowned. Join the unique multilingual and multijuridical graduate student community at McGill's Faculty of Law!
***
Montreal and McGill: ¿Pourquoi pas? Welcome y bienvenido a la Facultad de Derecho que une estudiantes de postgrado Anglo, Franco y ahora Hispano hablantes. La Universidad de McGill se encuentra en el centro de la gran ciudad de Montréal, punto de encuentro de las tradiciones de derecho civilista y común en norteamérica. Nuestros estudiantes investigan discuten y aprenden en las dos lenguas oficiales de Canadá... y con la reciente adición de la Iniciativa Hispanófona, hemos sumado una de las lengua más habladas del continente. Estudiantes de todo el mundo, y especialmente de América, comparten ideas, perspectivas y entusiasmo con un equipo de profesores cuya experiencia en investigación y enseñanza comparativa goza de fama mundial. ¡Únete ya a la comunidad multilingue y multijurídica de estudiantes de postgrado en la Facultad de Derecho de McGill!
From all around the world
Meet Catherine Doldirina
Ma Place au Québec: « Les universités au Québec sont reconnues internationalement et les frais de scolarité sont abordables. »
McGill: a name that signals international reputation, outstanding quality and graduate programs of the very highest caliber. Come to Montreal to find a group of students from around the world, professors profoundly engaged in every area of law and an environment that brings together – and celebrates the mix of - legal traditions.
Whether you return to your country with a McGill graduate degree in hand, or continue your exploration of the world guided by your studies and supervising professors at McGill, you can count on having been challenged to rethink your approach to law, legal scholarship, and governance. At McGill, graduate law students reach far and succeed in getting there! Choose Canada, choose Montreal and choose the University with the world-renowned name it deserves.