The Student Graduate Ambassador Program connects admitted and prospective candidates to the LL.M. and D.C.L. programs with current McGill Law graduate students.
Our student ambassadors are keen to share their own perspectives with future McGill Law graduate students. They can answer your questions, show you around the Faculty, and are uniquely placed to tell you about the advantages of doing your graduate studies at McGill.
---
In their own words
| | | |
| --- | --- | --- |
| Daniel Clarry, an LLM student from Australia, talks about his legal background, his research interests, and why he came to McGill to do a master's degree. |     | Kate Glover, a DCL candidate from Canada, shares with us her research interests and what led her to undertake a doctoral degree in law at McGill. |
---
To contact one of our Graduate Student Ambassadors, gradadmissions [dot] law [at] mcgill [dot] ca (send us an email) and we'll put you in touch.
Dia Dabby
A native Montrealer, Dia has attended universities on both sides of the mountain. She is currently a D.C.L. Candidate at the Faculty of Law, examining children's rights and freedom of religion in a comparative legal context.
Her research interests also include constitutional law more broadly, legal theory, social context education and legal education. She is currently affiliated with both the Centre for Human Rights and Legal Pluralism, where she was an Aisenstadt Fellow and works as a research assistant, and the Institute for Comparative Law.
She obtained her law degrees from the Université de Montréal and previously completed a bachelor's degree in political science and sociology at McGill University. Dia is a member of the Québec Bar and is fluent in English and French.
Isabelle Deschamps
A Montreal native, Isabelle completed her LL.B. at Université de Montréal in 2002. In the fall of 2001, she participated in an exchange program at Université Panthéon-Assas Paris II. After completing Bar School in 2003 she did a Masters in International Relations in Madrid.
Isabelle articled and practiced litigation at Fasken Martineau in Montreal and London (UK). In 2009, she taught French and volunteered in a school in rural Benin, then travelled through Benin, Burkina Faso, Mali and Senegal. She returned to Benin in 2010 to volunteer in a local health and education NGO. She is currently doing an LL.M. (thesis) within the Institute of Comparative Law. Her research interests lie in development in Africa, commercial law reform, and culture, entrepreneurship and women's rights in Africa.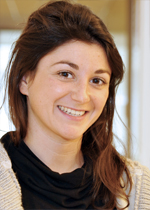 Laure Fouin
Laure comes from Paris, France, where she studied at Université Paris II Panthéon-Assas, obtaining both obtaining a Master in Business Law and a Master in Banking and Finance.
She obtained her LL.M. (non-thesis) at McGill in 2009, where she focused in Secured Transactions.
She is now in the first year of her D.C.L. and is focusing on financial derivatives contracts and their regulation under the supervision of Catherine Walsh.