---
FALL 2013/WINTER 2014
---
IGSF's Welcome Reception
---
Consenting Sexualities: Teens, Social Media and Anti-Violence Activism
Organized by the Institute for Gender, Sexuality, and Feminist Studies (IGSF) at McGill University and Canadian Women's Foundation with support from the Department of English, the School of Social Work, the McGill Institute for the Study of Canada (MISC), the Dean of Arts Development Fund, Claudia Mitchell, James McGill Professor on Youth, Participation and Social Change and Prof. Carrie Rentschler, William Dawson Scholar of Feminist Media Studies
'Teen Sexting: The Criminalization of Sexual/ized 'Selfies' by Prof. Lara Karaian, Carleton University
'Consent Culture: Mobilizing Youth-led, Sex Positive, Anti-Violence Movements Through an Anti-Oppressive Framework' by Elicia Loiselle and youth facilitators from Project Respect
Sexuality, Anti-Violence Activism and Social Media: Challenges and Opportunities
with Elicia Loiselle from Project Respect; Kira Poirier from Hollaback, Montreal; Jeff Perera from the White Ribbon Campaign; and Steph Guthrie from Women in Toronto Politics
'Blueprints for Change: Engaging Men Online and In Person' by Jeff Perera and Ron Couchman from the White Ribbon Campaign
'Defining The Lines between Free Expression, Privacy, Safety and Regulation' by Prof. Shaheen Shariff from McGill University and Define the Line
---
"Living the Revolution: Recovering the Lost Histories of Italian Immigrant Women's Anarchist Feminism in the United States"
A History and Classical Studies Graduate Student Initiative along with the Montreal History Group and IGSF
Dr. Jennifer Guglielmo, Associate Professor of History, Smith College
Co-sponsored by the Montreal History Group and the Institute for Gender, Sexuality, and Feminist Studies
---
Time Forms: The Temporalities of Aesthetic Experience
for more information click
---
Create Dangerously
2013 Congress of Black Writers and Artists
The first international Congress of Black Writers and Artists was held in 1956 at Sorbonne University in Paris, bringing together Black intellectuals representing three different continents to examine, discuss and debate Black culture and identity in all its diversity. The Congress was initiated by Alioune Diop, founder of the the journal and publishing house Présence Africaine. Participants included Aimé Césaire, Léopold Sédar Senghor, Jean Price- Mars, Richard Wright and James Baldwin, Amadou Hampaté Bâ and George Lamming, Mercer Cook and James Ivy, Frantz Fanon, Edouard Glissant and René Depestre, Cheikh Anta Diop, Abdoulaye Wadé and Josephine Baker.
Following in this tradition and developing out of the intellectual activities of the Caribbean Conference Committee, the 1968 Congress of Black Writers at McGill University brought together well-known Black thinkers and activists from Canada, the United States, Africa, and the Caribbean, including C.L.R. James, Stokely Carmichael, Miriam Makeba, Rocky Jones, and Walter Rodney. As had the first Congress, the event took place during a historic moment of transnational social and political change and featured rigorous debates about Black culture, politics and identity.
This fall marks the 45th anniversary of the 1968 Black Writers Congress held at McGill. Community-University Talks (C-Uni-T) and the Black Canadian Studies Association (BCSA) will be marking the occasion by welcoming Black writers and artists to Montreal for the first Congress of Black Writers and Artists of the 21st century from Friday, October 18th- Sunday, October 20th. The theme of the 2013 Congress, "Create Dangerously" is inspired by Haitian-American writer Edwidge Danticat's Create Dangerously: The Immigrant Artist at Work (Princeton University Press, 2010). Danticat took her title from the last public lecture given by Albert Camus, "Create Dangerously," in which Camus declared, "For the person with creative potential there is no wholeness except in using it."
---
The Participatory Condition: #pcond
An international colloquium hosted by Media@McGill and co-sponsored by IGSF
---
Réflexion sur l'utilisation des méthodologies participatives féministes dans un contexte développemental
Workshop organized by femSTEP; le formulaire d'inscription
---
"Taboo Yardies" film screening at IGSF
In collaboration with Massimadi en Ville and the Massimadi Film Festival
---
Isabel Arredondo
Brown Bag Lunch Seminar
While feminist film criticism has paid critical attention to classical Hollywood films and more recently to silent films made by women, the feminist films of the 1970s and 1980s have often been overlooked. Motherhood in Mexican Cinema (2014) fills in this gap by examining third-wave Mexican films. Dr. Arredondo will introduce her book on the representation of mothers in feminist Mexican films, written in part during her sabbatical at IGSF.
Dr. Isabel Arredondo is a full professor of Spanish at the State University of New York at Plattsburgh, where she teaches Latin American film. She has published In Our Own Image: An Oral History of Mexican Women Filmmakers (1988-1994), a book of interviews with Mexican women filmmakers available in translation at Digital Commons
---
"Settler Common Sense"
Mark Rifkin, Associate Professor, English and Women's and Gender Studies, University of North Carolina, Greensboro
How do varied administrative projects of settler colonialism and accompanying legal categories, geographies, and subjectivities come to serve as the background for ordinary non-native perception?  Conceptions of property and personhood that emerge out of ongoing histories of settler-Indigenous confrontation, negotiation, and struggle help shape non-natives' lived sensations, including the routine experience of place.  This paper addresses such feelings and explores the ways settlement is woven through everyday life, illustrating these dynamics through an engagement with Henry David Thoreau's Walden (1854).
Organized by the Department of English, together with the Institute for Gender, Sexuality, and Feminist Studies, and with the generous support of the Mini Beatty Memorial Fund
---
"After IVF: Is the Future of Reproduction Technological?"
Sarah Franklin, Department of Sociology, University of Cambridge
This talk looks both forward and back at what is meant by the phrase 'reproductive technology' and examines how 'new reproductive technologies' might be related to older technologies of kinship, gender, sex. Examining in particular the transformation of the human embryo into a tool, and the wider technologization of reproductive substance at the IVF-stem cell interface, this talk explores the changing relationship between the biological and the technical in contemporary bioscience.
Cosponsored by the department of Social Studies of Medicine, the Institute for Gender, Sexuality, and Feminist Studies, and the Situating Science cluster.
---
"The Global Politics of Migrant Labor, Gender, and Everyday Life"
Nicole Constable, Department of Anthropology, University of Pittsburgh
This talk focuses on the everyday challenges faced by temporary migrant workers, especially migrant women from the Philippines and Indonesia who become pregnant in Hong Kong. Various factors – especially the migratory status of their partners – deeply color their own and their children's opportunities and vulnerabilities. Migrant mothers' stories point not only to their creative tactics for survival, but also to ever-growing global patterns of economic inequality and to the wider politics of privilege and precarity that define and limit their life choices. The stories of migrant mothers and their babies in Hong Kong may seem unique, but they echo many contemporary problems and vulnerabilities faced by temporary migrants the world over. This talk draws from recent anthropological and ethnographic fieldwork, and from my forthcoming book entitled: Born Out of Place: Migrant Mothers and the Politics of International Labor (University of California Press, 2014).
Organized by the Department of Geography, and co-sponsored by the Department of Sociology and the Institute for Gender, Sexuality, and Feminist Studies.
ESQUISSES
A lunch-time series of works-in-progress by McGill faculty
Fall 2013
Postcolonial Constitutionalism: Complexities and Contradictions
Vrinda Narain
Assistant Professor, Institute for Gender, Sexuality, and Feminist Studies (IGSF), Faculty of Law
Got Gay Organs? Analyzing Health Policies Through a Queer Bioethics Lens
Jason Behrmann
CIHR Postdoctoral Fellow, Institute for Gender, Sexuality, and Feminist Studies (IGSF)
Rethinking Sexual Self-Objectification in Contemporary Art
Julie Lavigne
Professor, Department of Sexology, UQAM, IGSF Visiting Professor
Winter 2014
The Matrix: Beyond the 'Gendered History of the Welfare State'
Felicia Kornbluh
Associate Professor, History, Director of Gender, Sexuality, and Women's Studies, University of Vermont, IGSF Muriel Gold Visiting Professor
Pussy Riot: Feminist Reverberations and Dispersions
Elizabeth Groeneveld
Faculty Lecturer and Chair, Women's Studies Program
The Queer Afterlife of the Postcolonial City: Dictatorship Architecture, Transgender Performance, and the Place of the Dead
Roberto Benedicto
Andrew W. Mellon Postdoctoral Fellow, Art History and Communication Studies
---
FALL/WINTER 2012-2013
---
IGSF Welcome Reception
---
GIRLHOOD STUDIES AND THE POLITICS OF PLACE: NEW PARADIGMS OF RESEARCH
Symposium and public lecture by the celebrated Prof. Catherine Driscoll from the University of Sydney (Australia) and one of the founders of the international field of Girlhood Studies. Conference schedule: click here.
Fall 2013
Girls Action Foundation e-newletter
Girls Action Foundation photos
Marnina Gonick
Voices in Longitude and Latitude
Kicking off the symposium, Dr. Marnina Gonick gave a moving talk on a video art installation she has co-produced with film maker/installation artist, Noam Gonick. Combining critical ethnography with contemporary art, Gonick posed a series of new questions about how the diversity of Canadian national identity might be interpreted through the voices of young women and woman identified youth. In presenting images and voices of diverse girls from each region of the country, this project asks: What would it mean to think of the national community with a new vision?

Am I Pretty or Ugly? Girls, Digital Media, and the Economy of VisibilitySarah Banet-Weiser
Dr. Sarah Banet-Weiser delivered an insightful critique of the growing internet DIY video confessional trend "(Am I) Pretty or Ugly?" in which girls publicly display their bodies as products to be evaluated and commented on. The idea of girls using the Web more as a site for creative production is already bound by conventional notions of what, and who, girls are (e.g., fashionistas, make-up artists, stylists, and bodily objects). Through an examination of digital productions by girls, such as blogs and videos, Banet-Weiser outlined the ways in which these artifacts have implications for women and girls within 21st century postfeminist consumer culture; where "putting oneself out there" and the quest for visibility and "self-esteem" is an ever more normative practice for young women interested and invested (either explicitly or implicitly) in the branding and promotion of the self.
Claudia Mitchell
Charting Girlhoods
Dr. Claudia Mitchell's presentation drew on a range of visual studies to endorse a "focused revisit" of the debates surrounding the budding field of girlhood studies using charting and mapping tools. Mitchell calls not only for a reflexive, strategic, and comprehensive charting of girlhoods and girlhood studies within and across nations and disciplines. She also calls for an interrogation of the visual evidence that girls themselves have created to broaden the terms of debate about their lives, and to trouble how "the voices of girls" can too easily become something of a cliché in the context of participatory methodologies if we don't take full enough account of what girls do, make, and say.

Nowhere to Go, Nothing to Do: Place, Desire, and Country GirlhoodCatherine Driscoll
One of the symposium's key highlights was speaker Dr. Catherine Driscoll's enlightening keynote address which troubled the construct of the country girl in Australia and the ways development policy targets girls who live and are educated in country towns. Driscoll queried how the "country girl" is figured in political and popular discourse as a subject distant from modernity. Driscoll challenged the deficit model that has come to define rural life, drawing upon 10 years of field research she conducted in small country towns around Australia to demonstrate how girls participate in the kinds of cultural and economic exchange that exists between cities and country towns.
In closing, thanks to all who joined us at this special event! Without your participation this symposium could not have been the success that it was. Special thanks also go to our sponsors. The symposium was made possible by a Connection Grant from the Social Sciences and Humanities Research Council of Canada, the Mini Beatty Memorial Fund, the Dean of Arts Development Fund, Media@McGill, the McGill Institute for the Study of Canada (MISC), and the Departments of Art History and Communication Studies and English. Finally, a very big thank you to organizers Dr. Claudia Mitchell, James McGill Professor on Youth, Participation, and Social Change, and Dr. Carrie Rentschler, William Dawson Scholar of Feminist Media Studies.
Organized by the Institute for Gender, Sexuality, and Feminist Studies (IGSF) at McGill University, in collaboration with Girls Action Foundation and Justice for Girls. Funded by a SSHRC Connection Grant and with the generous support of the Dean of Arts Development Fund, the Mini Beatty Memorial Fund, the McGill Institute for the Study of Canada (MISC), Media@McGill, the Department of Art History and Communication Studies,  and the Department of English.
---
Is Feminism Dead in a Democratic Latin America?
Jane S. Jaquette, Emeritus Professor of Politics and of Diplomacy and World Affairs, at Occidental College
Organized by the Institute for the Study of International Development (ISID), with co-sponsorship from IGSF.
---
Reception with Raewyn Connell, sociologist and University Chair at the University of Sydney, and renowned scholar of gender, masculinity, sexuality and class
---
She Had a Laugh Like a Beefsteak
Susan Stilton, Los Angeles-based, multidisciplinary artist
Organized by the Department of Art History and Communication Studies, with co-sponsorship from IGSF, Media@McGill and the Department of English.
---
A day-long graduate and post-graduate conference organized with The HTMlles 10 and associated with the Feminist festival of media arts + digital culture "RISKY BUSINESS"
The conference "Whose Business is Risk?" seeks to critically respond to current deployments of risk, the notion of risk society, and the conceptualization of "at risk" populations.
Jointly organized by the Institute for Gender, Sexuality, and Feminist Studies (IGSF) at McGill University, Media@McGill, The HTMlles 10, and Studio XX, this day-long graduate and post-graduate interdisciplinary conference will explore the themes of the RISKY BUSINESS festival through panel presentations: Risking the Queer Body; Landscapes of Boom and Doom; Axes of Risk--Finance Capital, Waste, and the Gendering of Crisis; and The Carceral State and the Politics of Rebellion.
----
Talk and tour by Zach Blas
Visiting artist Zach Blas, who is an IGSF featured participant in the Risky Business festival, offers his installation work: The Facial Weaponization Suite. The Facial Weaponization Suite is a response to studies that link determining sexual orientation through facial recognition and a growing culture of technologically-driven identification calculation. The suite provides sets of masks for public intervention. One mask, the Fag Face Mask, is generated from the biometric facial data of many gay men's faces, attempting to evade detection by mechanisms of capture and recognition-control.
Zach Blas also leads a talk and tour of the 4001 Berri installations. Co-hosted by the Institute for Gender, Sexuality, and Feminist Studies (IGSF), Media@Mcgill, the Encounter is intended to create a contemplative space for personal reflection and facilitated discussion on the themes presented in the artworks.
----
IGSF and the international, interdisciplinary journal Feminist Theory present:
The Future of Feminist Theory
A symposium on current issues and trends within Women's Studies and Feminist Theory, with a focus on publishing, networking and conferences.
Details and Schedule:
Featuring:
"Feminist Theory and the Non-Human": Myra Hird, Professor, School of Environmental Studies, Queen's University North American Editor, Feminist Theory
"The Future of Feminist Theory: Publishing, Networks, and Conferences": Professors Ann Braithwaite (Women's Studies, University of Prince Edward Island), Anna Feigenbaum (The Media School, Bournemouth University, UK) and Stacy Gillis (English Literature, Newcastle University, UK; IGSF Muriel Gold Senior Visiting Scholar; Editor, Feminist Theory)
Panelists will discuss new developments in Women's and Gender Studies and current trajectories for publishing and career development with an eye toward both established and alternative publishing venues. The Q&A period will provide a significant opportunity for emerging scholars to pose questions directly to the panelists, based on their experience in feminist research and the publishing process.
Passion Pitchforks and Pinecones: Navigating academia in precarious times
For more information:
Feminist Theory: http://www.feminist-theory-journal.com/
Institute for Gender, Sexuality, and Feminist Studies (IGSF): http://www.mcgill.ca/igsf
"Tongues Untied" film screening
(African) American documentary by Marlon Riggs, followed by a Q&A period
In collaboration with: Arc en Ciel d'Afrique which presents MASSIMADI
5th Afro-Carribean LGBT international film festival
---
A Conversation With Natalie Zemon Davis
Panel discussion with Natalie Zemon Davis, Annmarie Adams, and Elizabeth Elbourne. Moderated by Brian Lewis

Organized by the Department of History and Classical Studies, in collaboration with IGSF, with support from the Mini Beatty Memorial Fund

---
Edgy Colloquium: Off-Side: The Edgy Women Colloquium/Hors de Jeu: Colloque Edgy
For the first time, Edgy Women invites academics, artists and other free-thinkers to participate in an afternoon of exchange in an unconventional setting. The Edgy Colloque invites featured guests into the ring of the Chat Bleu Boxing Club to lead a series of conversational, performative lectures about sport, art and gender politics. Among other presentations, competitive boxer, anti-oppression champion and genderqueer activist Janaya Khan will be discussing boxing and gendered expectations of competition. Kristin Grey/Justin Credible, a genderqueer artist and storyteller will deliver Out of Bounds, a performative lecture about sporting bodies in the media and public eye. Boxer and "theatre chick" Savoy Howe will combine her two vocational loves by performing The Flower Garden, a 10 minute performance piece about planting the seeds of female aggression. She is the head coach and owner of the Toronto Newsgirls Boxing Club, Canada's only all-female and trans-positive boxing association. The Colloquium is part of the week-long Edgy Women Festival (March 1-10). This year's theme is Art/Gender/Sports: We live in a world that promotes a rhetorical opposition between art (sensitivity/subculture/femininity) and sports (strength/mainstream/masculinity). Let's see what happens when we mix it up! For details about the colloquium and more information about the festival, check out http://www.edgywomen.ca .
Part of the Edgy Women Festival
---
RE: Framing Feminism
An Emerging Scholars Colloquium
'Engaging Citizens: Policies of Ethics and Empowerment'
'Sex, Love, and Philosophers'
'Fighters and Feminist: Exploring Representations in Media
 ---
Julia Serano
WHIPPING GIRL
WSSA (Women's Studies Students Association) in conjunction with the Concordia Council on Student Life (CCSL), Queer Concordia, the Simone de Beauvoir Institute, and McGill's Institute for Gender, Sexuality, and Feminist Studies (IGSF) is proud to announce that Julia Serano will be appearing at Concordia University.
Julia Serano is an Oakland, California-based writer, performer, trans activist, and biologist. She is the author of "Whipping Girl: A Transsexual Woman on Sexism and the Scapegoating of Femininity" (Seal Press, 2007), a collection of personal essays that reveal how misogyny frames popular assumptions about femininity and shapes many of the myths and misconceptions people have about transsexual women. Her other writings have appeared in various magazines, websites, anthologies, and academic journals, and have been used as teaching materials in gender studies, queer studies, social studies, human sexuality and psychology courses across North America.
---
You're Hired?: Understanding New Forms of Discrimination and Gaps in the Labor Market
This workshop will help to sift through some of the new problems that members of diverse minorities experience in the workplace. More specifically, it tackles the myth that "the glass ceilings" have been destroyed in organizations and that jobs are available to anyone who wants them. The event combines speakers on the topics of job segregation and office-place discrimination, followed by workshops on job interviewing and discrimination "spotting."
Carrie Rentschler,
Director, IGSF; Associate Professor and William Dawson Scholar of Feminist Media Studies, Communication Studies
Ruthanne Huising,
Assistant Professor, Organizational Behaviour at the Desautels Faculty of Management, McGill University
Matt Chisling,
BCom '13 Marketing and Communications, Desautels Faculty of Management, McGill University
Peg Brunelle,
BA, BCom Career Advisor, Marketing and International Management, Soutar Career Centre, McGill University
 ---
Radical Formations: Sex, Race, Trans
How do social movements resist and react to new measures for legal equality? This interdisciplinary panel tackles this question via resistance to intersectional state violence, transgender people's legal consciousness, and race-based critiques of rights.
Organized by Robert Leckey, William Dawson Scholar, Faculty of Law, in collaboration with IGSF, funded by a SSHRC Connection Grant.
Sharon Cowan, School of Law, University of Edinburgh
Roderick Ferguson, American Studies Department, University of Minnesota
Dean Spade, Seattle University School of Law
McGill Reporter Article: Four Burning Questions for Dean Spade, professor, lawyer, civil rights activist
Gazette Opinion piece by Robert Leckey: Opinion: More work to do on same-sex marriage issue
Gazette Blog post by Richard Burnett: International McGill University conference puts transgender civil rights front and centre
Gazette Blog post by Jillian Page: McGill Workshop: Radical Formations - Sex, Race, Trans
---
An Evening with Alison Bechdel

Alison Bechdel discusses her creative process and her latest graphic memoir, Are You My Mother?, in a visual presentation. A Q&A and book signing will follow.
Drawn and Quarterly Blog: An Evening with Alison Bechdel
Three Dollar Bill Blog post by Richard Burnett: Pop Icon Alison Bechdel Is Still A Dyke To Watch Out For
Presented by Librairie Drawn and Quarterly, in association with the Institute for Gender, Sexuality, and Feminist Studies at McGill University.
---
ESQUISSES
A lunch-time series of works-in-progress by McGill faculty
Fall 2012 semester:
Dangerous Geographies:  The Social Abandonment of Racialized Women and Containment Zones in Los Angeles and Vancouver
Jenny Burman
Associate Professor, Department of Art History and Communication Studies
Performing the Lost Generation: The Malleable Addict in China
Sandra Hyde
Associate Professor, Department of Anthropology
Policing Boundaries: Gender and Genre in Early British Detective Fiction
Stacy Gillis
Professor, Modern and Contemporary Literature, Newcastle University, UK
IGSF Muriel Gold Senior Visiting Scholar
Winter 2013 semester:
The Family Romance of the South African Revolution
Jon Soske, Assistant Professor
Department of History and Classical Studies
Laura Secord and the Body of Evidence
Elsbeth Heaman
Assistant Professor, Department of History and Classical Studies
Excessive Presences? Class, Gender, Sexuality and the 'Fit' to Place
Yvette Taylor
Professor, Social and Policy Studies, London South Bank University, UK
IGSF Visiting Scholar
Reception for Judith Butler
On the occasion of her receipt of a McGill Honorary Doctorate, at the May 30th convocation ceremonies, spring 2013
Huffington Post, article by Darin Barney: In defense of Judith Butler
Xtra! Canada's Gay and Lesbian News, article by Josh Mentanko: Judith Butler receives honorary doctorate from McGill

---
---
WINTER 2012
---
IGSF SPECIAL EVENTS
IGSF Welcome Reception
-----
Screening and Panel Discussion
MISREPRESENTATION:
WOMEN, GIRLS, POWER AND THE MEDIA
A panel discussion loosely based on issues raised in the film
MISS REPRESENTATION
For more information.
Misrepresentation: Women, Girls, Power and the Media
Judy Rebick - Journalist and Co-founder of rabble.ca, Winter-Eaken Visiting Scholar in Canadian Studies, MISC
Panelists:
Anne Lagacé-Dowson - Journalist and Radio talkshow host at CJAD
Francine Pelletier - Journalist and Founder of La Vie en Rose
Martine Vallée - Director, Social & Consumer Policy, CRTC
Event presented by Media@Mcgill and IGSF.
---
TALKS & SEMINARS
-----
"Gender Equality: The Face of Justice"
A Panel Discussion
For more information.
Keynote Speaker:
Almas Jiwani
- UN Women Canada NC President
Moderator:
Clare Beckton
- Executive Director of the Carleton University Centre for Women in Politics and Public Leadership
Panelists:
Laura Turquet - Writer for Women and Justice UN Report
Dr. Oxhorn - Head of Department of Internatinal Development
Karen Craggs - Senior Gender Advisor at PLAN Canada
-----
"Out of Work or Out of Time?
Rethinking Labour After the Financial Crisis"
---
Seminar by Lisa Adkins
Lisa Adkins is currently a visiting scholar at the IGSF. She is Professor of Sociology at the University of Newcastle, Australia and was previously Professor of Sociology at Goldsmiths, University of London. Her books include Gendered Work, Revisions: Gender and Sexuality in Late Modernity and Feminism After Bourdieu. She has most recently contributed to debates concerning the reconstruction of social science through the volumes What is the Empirical? (2009; co-edited with Celia Lury) and Measure and Value (2012; co-edited with Celia Lury).
Professor of Sociology, School of Humanities and Social Science
Newcastle University, Australia
IGSF Visiting Scholar, McGill University
For more information.
Prior to the recent global financial crisis and for neo-liberal economies, a consensus was emerging that the latter ushered in a new form of sexual contract, one characterised not by exclusion and containment, but by the prospecting for potential, a prospecting which positioned women's labour not as a site of surplus for capital, but as a site of vitality and possibility. Yet this new sexual contract has been and continues to be understood as undone or disassembled by the recent 'crisis' of financial capitalism and subsequent ongoing recession, not least because these events are widely perceived to threaten the return of an exclusionary sexual contract. In the words of one commentator from the UK, the financial crisis and ensuing recession threatens to 'send women back to the kitchen'. But in this paper I suggest that this position is one which thoroughly misunderstands the processes of the production of value in post-Fordism. Specifically, this position brackets the marginalization of wage labour in contemporary capitalism as well as the thoroughgoing externalization of value production. The latter reveal that the idea of any simple 'return' to an exclusionary sexual contract is out of time with the contemporary present. Traditional indicators of exclusion or containment such as job losses and unemployment rates, for example, have little - if any - traction when value production is externalized. In short, I argue that the recessionary tendencies associated with this moment should not be understood as undercutting and disassembling a new sexual contract, but understood through the logic of the folding of the economy into society.
-----
Talk and Exhibit by Cynthia Hammond
Associate Professor in the Department of Art History, Concordia University, Montreal, where she teaches architectural history. In addition to publishing on women, architecture, public space, and landscapes, Hammond maintains a studio practice and is one of the founding members of the art/design firm, pouf! art + architecture.
Architects, Angels, Activists:
Interdisciplinary Feminist Research as Urban Intervention
Exhibit & Vernissage:
Suffragettes in Bath: Activism in an Edwardian Arboretum
For more information.
Suffragettes in Bath: Activism in an Edwardian Arboretum is an exhibition curated by Hammond and one of her Bath collaborators, Dan Brown, shown for the first time in Bath in 2011. For the first time in Canada, this exhibition presents a selection of photographs that survive the arboretum, featuring such famous figures as Annie Kenney and Adela Pankhurst central to the feminist cause. Suffragettes in Bath offers a window onto the social context of the suffrage movement within a cultural landscape the suffragettes created with shrubs, trees, and flowers in pre-WWI Somerset. A 40-page, illustrated exhibition catalogue will be available at the vernissage, 5-7pm, IGSF.
---
WORKSHOPS
-----
"The Ethical (Un)Imaginary?:
Challenges in our Teaching, Learning, Research and Scholarship"
Discussion Leader: Prof. Karen Houle
Associate Professor in Philosophy
University of Guelph, Ontario
IGSF Muriel Gold Senior Visiting Scholar
For more information.
First: This informal session aims to bring together learners, scholars & teachers from different disciplines to discuss the ethical concerns we face in the various facets of our professional work: teaching, learning, research and scholarship. What are the main themes we share concern about? Are there some deep patterns here, or are disciplines and labours distinct?
Second: What tools do we have at our disposal for dealing with these challenges? Conceptual tools? Legal tools? Attitudinal ones? Concrete tools? Do these feel adequate or inadequate for the situations we find ourselves in? In which ways? Can we workshop what seems to be missing or what might aid us in our efforts to embody or produce, responsible teaching, learning and knowledge?
Houle will lead this discussion, and, where relevant, offer concrete and theoretical insights from her current book project: Complexity, Responsibility & Abortion: Toward a New Image of Ethical Thought.
-----
Media, Politics and Protest Camps in the Occupy Social Movement
organized by Media@Mcgill together with IGSF
-----
Archive + Feminism
The Institute for Gender, Sexuality and Feminist Studies was pleased to host the Archive + Feminism research workshop convened by Prof. Maryanne Dever, a scholar-in-residence at IGSF and professor of Film, Media and Cultural Studies at Newcastle University in Australia. The daylong workshop combined scholarly talks and in-depth discussion between faculty and graduate students about new theories and practices of archival research in gender, sexuality and feminist studies. Talks featured the work of Library and Archives Canada literary archivist Catherine Hobbs and professors Maryanne Dever, Christabelle Sethna of the University of Ottawa, Linda Morra of Bishop's University, and Sarah Parsons of York University, throwing light on a number of key cases that open up essential questions of archiving feminism: from how the RCMP spied upon the Canadian women's movement and kept archives now essential to movement scholars, to the archiving case of Merle Thornton, a noted figure in Australia's second wave women's movement known as one of the "Bar Room Suffragettes," emergent approaches to archiving the lives and personal effects of Canadian women writers such as Jane Rule and others (and how to cultivate an ethical orientation to them), and the complex negotiation of privacy, intimacy and sexual identity in the archive of Susan Sontag and Annie Leibovitz's 15-year relationship.
---
ESQUISSES
-----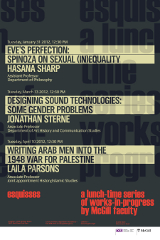 A lunch-time series of works-in-progress by McGill faculty
Eve's Perfection: Spinoza on Sexual (in)Equality
Hasana Sharp
Assistant Professor, Department of Philosophy
Designing Sound Technologies: Some Gender Problems
Jonathan Sterne
Associate Professor, Department of Art History and Communication Studies
Writing Arab Men into the 1948 War for Palestine
Laila Parsons
Associate Professor, Joint appointment History/Islamic Studies
---
FALL 2011
---
Public Lectures
Our Bodies Ourselves
Celebrated author, speaker and health advocate:
Executive Director, Judy Norsigian
"Preventing Violence in Women's Lives:
Curbing Sex Trafficking and Other Attacks on Women's Health and Well-Being"
Judy Norsigian is Executive Director of Our Bodies Ourselves and a leader in the women's health movement. She delivered an inspiring evening lecture to a packed audience of over 150 students, university and community members. Her talk focused on activist strategies for responding to violence against women within the context of transnational sex trafficking, and was followed by a lively Q & A session on how to mobilize those strategies.  The talk was supported by Montreal's own Women Inspiring Next Generations (WINGS), a community group that links women's education and charitable funding.  As a result of the event, funds were donated on behalf of WINGS to the Rescue India Foundation through Childcare International.  IGSF's first charitable event was a great success, and we look forward to working again with WINGS.
Organized by IGSF together with Women Inspiring Next Generations (WINGS)
-----
"Underdogs: Queer Theory and the Politics of the Outside"
Lecture by Heather K. Love
R. Jean Brownlee Term Associate Professor
Department of English, University of Pennsylvania
For more information.
Many accounts of queer studies date its emergence to the late 1980s, pointing to the mix of psychoanalysis, high theory, and close reading that informed several founding texts in the field. This talk traces an alternate genealogy, linking the pervasive concern with stigma and social marginality in the field to earlier formations in the social sciences, including Chicago School sociology, deviance studies, sexology, and urban studies. Love considers the coincidence between empirical and theoretical traditions in sexuality studies, focusing on mid-century accounts of the social construction of gender and sexuality, the dramaturgical self, and stigma as formative of both identity and community. A return to the framework of social problems can help to reanimate the stigma-centric politics of coalition which queer once named. Such an "underdog" politics is useful in mapping the rapidly shifting terrain of power and privilege in the era of gay normalization.
Organized by Media@McGill, the Department of Art History and Communications Studies, the Department of English and IGSF
---
Conferences
The Body: New Paradigms, Perspectives, and Practices
For more conference information.
The Institute for Gender, Sexuality, and Feminist Studies (IGSF) is pleased to hold an interdisciplinary graduate student conference on "The Body: New Paradigms, Perspectives, and Practices". The conference will bring together the many graduate students at McGill University working in this realm, from corporeality and the visual arts, body and performance art, architecture, music, and dance, to research on aging, scientific and medical approaches, plastic surgery, HIV-AIDS, food and nutrition, philosophies of beauty and fitness, literary and textual treatments of the body, queer space, disability studies, histories of the senses, geographies of sexuality and new media studies. "The Body" conference shares a keynote speaker, Prof. Roderick A. Ferguson and events with the Canadian Association of Cultural Studies (CACS) conference which McGill is hosting November 4-6.
For IGSF this is the first in a series of planned events to explore the intersections of our five research axes: Health and Wellness; Equity and Justice; Representation, Performance, Culture; Historical Perspectives; and Policy and Practices. These wide-ranging areas of expertise emerge out of a variety of disciplines in the humanities, social sciences, law, medicine, science, engineering and music as well as from interdisciplinary studies across these areas. Thanks to Prof. Annmarie Adams, Director of the School of Architecture, for midwifing the conference into being, to Professors Jennifer Fishman, Myriam Gervais, Eric Lewis, Nathan Grant Smith and Alanna Thain for serving on the organizing committee and to Professors Annmarie Adams, Lisa Barg, Jennifer Fishman, Karen Houle, Amelia Jones, Carrie Rentschler, and Alanna Thain for their critical responses to the conference talks. We also thank members of the audience, who packed the house for every panel!
---
Organizing committee: Annmarie Adams, School of Architecture and IGSF; Jennifer Fishman, Biomedical Ethics Unit and the Department of the Social Studies of Medicine; Myriam Gervais, IGSF; Eric Lewis, Department of Philosophy; Nathan Grant Smith, Department of Education and Counselling Psychology; Alanna Thain, Department of English.
---
Roderick A. Ferguson
Joint Keynote Speaker for the Body Conference and CACS conference
For more information.
Prof. Roderick A. Ferguson
Department of American Studies, University of Minnesota
---
Seminars
"Immigration and Women's Health – an overview of theory and research"
Seminar by Julie Cwikel
Social Epidemiologist and Founder and Director of Ben Gurion University of the Negev's Center for Women's Health Studies and Promotion
For more information.
Immigration is a universal human phenomenon as people migrate in search of better job and living opportunities.  This presentation reviews the unique aspects of women's roles and highlights the ways in which biology and gender put women at risk of adverse outcomes in the migration process.  The characteristics of Canada's immigration policy shape the types of immigrants that seek to become citizens and thus the health care issues and problems of Canadian immigrant women.  Results from over 20 years of research on women immigrants are presented in order to illustrate some of the changes that occur in risk factors, health behavior and health status among immigrant women.  Implications of these findings for future research are discussed.
-----
"Female Genital Mutilation: A Case Study from Ethiopia"
Seminar by Asresash Demissie
Director of Women's Affairs Office
Jimma University, Jimma Ethiopia
-----
"From Periphery to Centre:
An Exploratory Study of One Black Lesbian's Intersections of Identity and Experiences of Discrimination in the Workplace"
Seminar with Tomee Soujourner
For more information.
Tomee will present her M.A. thesis, an exploratory study focused on the impact of intersectional oppression on the professional and personal journeys of 'Crystal', a Black butch lesbian social worker in her 30s working in an LGBT-inclusive program in the health care sector.
This short presentation will be followed by a question and answer period. Light snacks and juice will be provided.
Organized by The McGill Equity Subcommittee on Queer People, together with the Social Equity and Diversity Education Office (SEDE),
Institute for Gender, Sexuality, and Feminist Studies (IGSF), and McGill Career Planning Service (CaPS)
-----
"Queer of Colour @ McGill:
Let's Talk About It!
A facilitated discussion with Sarah Malik and Edward Ou Jin Lee
For more information.
Student discussion based on the following topics will follow:
a) Specific challenges racialized queer students are facing at McGill and in general
b) Resources for students within and outside of the University
c) Survival strategies for everyday living
Pizza will be provided. This session is open to McGill students who self-identify as racialized and LGBTT2SIQQ.
Organized by The McGill Equity Subcommittee on Queer People, together with the Social Equity and Diversity Education Office (SEDE),
Institute for Gender, Sexuality, and Feminist Studies (IGSF), and McGill Career Planning Service (CaPS)
-----
"So You Think You Can Dance Straight? Same-Sex Ballroom and Reality Television"
Seminar by J. Ellen Gainor
Professor, Department of Theatre, Film and Dance, Cornell University
Associate Dean for Academic and Student Affairs
http://theatrefilmdance.cornell.edu/people/gainor.cfm
Organized with the Department of English
-----
---
Esquisses
A lunch-time series of works-in-progress by McGill faculty
Julia, Jehane & Nigella — the self-fashioning of female food celebrities in the 20th century
Natalie Cooke
Associate Provost (Academic Staff and Priority Initiatives) & Professor, Department of English
Correcting Gender Behaviour through Ovary and Testicle Transplants 1900-1930
Thomas Schlich
Professor and Canada Research Chair in History of Medicine, Department of Social Studies of Medicine
What Makes a Case? A Feminist Intervention into the Kitty Genovese Murder and the Construction of the Bystander Problem
Carrie Rentschler
Interim Director, Institute for Gender, Sexuality and Feminist Studies
Associate Professor and William Dawson Scholar of Feminist Media Studies, Department of Art History and Communication Studies
---
---
WINTER 2011
SEMINARS
Round Table:
Ethnocultural Diversity, Religion and Public Policy: Respecting Women's Rights in 21st Century Quebec
A panel discussion with Alexa Conradi, Présidente, Fédération des Femmes du Québec, Patricia Rimok, présidente, Conseil des Relations interculturelles
For more information see: Round Table [.pdf]
Sexual Rights by Covert Means: Advancing the Right to Sexual Orientation in Africa through Public Health Narratives
Marc Epprecht
Graduate Chair of Global Development Studies
Department of History, Queen's University
For more information: Epprecht Seminar [.pdf]
To hear Marc Epprecht interviewed by CKUT
go to CKUT's Health On Earth
February: Black History Month 2011
As part of Black History Month, SEDE is hosting a conference called "Black Histories, Black Futures" that will highlight the diversity and complex realities of Montreal's Black communities by convening community representatives, researchers, workers, and students from across the community and university sectors to share and build knowledge.
Organized by the Social Equity and Diversity Education Office (SEDE) and IGSF.
Jews and Gender in Contemporary German Literature
Agnes Mueller
Department of German Studies and Comparative Literature, University of South Carolina
For seminar abstract click: Agnes Mueller [.pdf]
Organized by the Department of Jewish Studies with the Department of German Studies and IGSF
The Girl Child of Today is The Woman of Tomorrow – Fantasizing the Adolescent Girl as the Future Hope in Post-Tsunami Reconstruction Efforts in Aceh, Indonesia
Dr. Marjaana Jauhola
Department of Political and Economic Studies, University of Helsinki, Finland
For more info. and lecture summary: Marjaana Jauhola lecture [.pdf]
---
Public Lecture
Excavations: Creating Black Gay History on Film
and Screening of Films Billy and Aaron and Brother to Brother
by film writer/director/producer Rodney Evans
Department of Film and Media Arts, Temple University
See poster: Evans [.pdf]
This event is made possible by a grant from the Beatty Memorial Lectures Committee and in cooperation with Queer McGill, the Schulich School of Music, the Department of Art History and Communications Studies, and the Improvisation, Community, and Social Practice research project.
IGSF VISITING SCHOLAR SEMINARS
The Female Whirling Dervish:
Challenging UNESCO's Intangible Heritage on YouTube
The Female Whirling Dervish [.pdf]
Sheenagh Pietrobruno
Fatih University, Istanbul, Turkey and IGSF Visiting Scholar
Love and other Catastrophes:
Girls, Erotic Capital and the Young Adult novel as Pedagogy
LoveandotherCatastrophes [.pdf]
Elizabeth Bullen
Deakin University, Melbourne, Australia and IGSF Visiting Scholar
ESQUISSES
a lunch-time series of works-in-progress by McGill faculty
 Esquisses Winter 2011 [.pdf]
Seeing Differently: Thoughts on 'Post-identity' Discourse
Amelia Jones
Professor and Grierson Chair in Visual Culture
Department of Art History & Communication Studies
The Sexual History of Slavery in Comparative Perspective:
Can It Be Done?
Elizabeth Elbourne
Associate Professor, Department of History
Queer Time in a Developmental State:
Family, Futurity and Global City Singapore
Natalie Oswin
Assistant Professor, Department of Geography
---
Inanna Publications, Dawn-Rafh Canada and
McGill's Institute for Gender, Sexuality and Feminist Studies
invite you to the launch of
Living the Edges: A Disabled Women's Reader
edited by Diane Driedger
---
FALL 2010
SEMINARS
Sex and Secularity
Michael Warner
English Literature and American Studies, Yale University
Jointly sponsored with Making Publics 1500-1700: Media, Markets and Association in Early Modern Europe (SSHRC-MCRI), the Institute for the Public Life of Arts and Ideas, and the Department of English.
---
Masculinity and the Mic:
Confronting the Uneven Spatiality in Hip-Hop
Dr Rashad Shabazz
Department of Geography, University of Vermont
Jointly sponsored with the Department of Geography.
---
Maxwell Cummings Lecture & British Queer History Conference
BQH poster [.pdf]
Maxwell Cummings Lecture
Queer(y)ing the 'Modern Homosexual'
Jeffrey Weeks
Emeritus Professor, London South Bank University
Renowned historian, sociologist and gay activist
Sponsored by the Faculty of Arts, McGill University.
British Queer History Conference
Presented by the Department of History and the
Institute for Gender, Sexuality, and Feminist Studies
For further information:
http://www.mcgill.ca/files/history/BQHConference.pdf
---
Feminist Theory and Phenomenology of Race
Shannon Sullivan
Professor of Philosophy, Women's Studies, and African and African American Studies, Philosophy Department Head, Penn State University
Jointly sponsored with the Department of Philosophy
---
Diversity: Difference, Identity and the Botanical Encounter
Kristina Huneault
Research Chair in Art History, Concordia University
Jointly sponsored with the Department of Art History and Communication Studies. This lecture is open to the public and all are welcome. The lecture series would like to thank the Dean of Arts Development Fund at McGill and a generous anonymous donor for contributing to the series.
Kristina Huneault poster [.pdf]
IGSF VISITING SCHOLAR SEMINARS
Factory "Nuns": Sexuality and Migration in Contemporary Lhasa
Tracy Y. Zhang
The School of Communication, Simon Fraser University
and IGSF Visiting Scholar
ESQUISSES
a lunch-time series of works-in-progress by McGill faculty
Esquisse poster [.pdf]
Law Reform and Lesbian Parenting:
Scrutinizing the Reflective Claim
Robert Leckey
Assistant Professor, Faculty of Law
The Power of Pink: Gender Variant Children at Home
Annmarie Adams
William C. Macdonald Professor, School of Architecture/IGSF
The Future According to Ivy Compton-Burnett
Allan Hepburn
Professor, Department of English
IGSF FILM EVENINGS

She is the Matador
http://www.pbs.org/pov/matador/
Lioness
http://www.lionessthefilm.com/
Queer China
http://dgeneratefilms.com/catalog/queer-china-zhi-tong-zhi/
---
Seminar by Caroline L. Tait, Departments of Native Studies, and Women and Gender Studies, University of Saskatchewan
"Risk and Morality in Prevention Programs for Indigenous Women in Canada"
With the Department of Anthropology
---
Dr. Heidi Epstein, Department of Religion and Culture, University of Saskatchewan and IGSF Visiting Scholar.
"Penderecki's Iron Maiden: Intimacy and Other Anomalies in the Canticum canticorum Salomonis"
With the Graduate Colloquium Series, Department of Music Research, Schulich School of Music
How might 'reading' musical treatments of biblical texts enrich biblical hermeneutics? As a case study in such cross-fertilisation, this paper engages the fields of New Musicology, queer biblical criticism, and feminist theory to analyse Krzysztof Penderecki's jarring 'deconstruction' of the Song of Solomon. New Musicologists reject formalistic, 'score-driven' analysis of musical works and approach music as a forcefield of competing social energies that modulates human subjectivity. For example, Susan McClary's designation of western erotic music, from Monteverdi to Prince, as erotic mappings in this forcefield offers a useful interpretive lens through which to articulate the discursive power and significance of the biblical Song's musical afterlives, especially Penderecki's enigmatic Canticum canticorum Salomonis (1970-73). Read with these interpretive keys, Penderecki's musical exegesis becomes a set of performative practices that actually anticipates biblical scholars' more recent attempts to develop "carnal allegories" of this text. Carnal allegories do not spiritualise the Song's sexual content but re-present it in new ways that can unsettle heteronormative pleasures and relational dynamics. Biblical critics Fiona Black, Stephen Moore, Virginia Burrus, and Roland Boer all caution readers against assuming that standard interpretations of this canonical, heteronormative love story have been accurate. As a parallel caveat, if we understand the composer's craft as arousing, manipulating and channeling our desires such that cultural norms of sexuality and of gendered behaviours are transgressed or reinforced through music, Penderecki's anomalous erotic codes similarly warn readers and auditors against thinking they know how the song should sound--what range of sonorities are appropriate for its dissemination. After discussing the sonic contours of Penderecki's 'deviant' erotic mapping, I shall propose and construct three beguiling dimensions of this particular carnal allegory: 1) the Canticum as erotic "counter-pleasure" (MacKendrick); 2) as counter-cultural love story; 3) as a musical body optimally explored through queerer listening postures that have been developed by lesbian musicologist Suzanne Cusick who, contra the dictates of musicological orthodoxy, makes the body the pivotal, non-phallogocentric matrix of musical understanding.
---
Karen Kedrowski, Chair, Department of Political Science at Winthrop University, South Carolina.
"Human Rights and Breastfeeding: Applications of the International Code of Marketing of Breast Milk Substitutes:
With the McGill Institute for the Study of Canada (MISC)
---
"The World was Never Flat: Early Global Encounters and the Messiness of Empire"
Lecture by Mona Domosh, a historical-feminist geographer at Dartmouth College.
In her own words, Domosh is "interested in four main areas:
Exploring the cultural processes and practices of early (pre 1920) United States-based globalization.
Examining in what ways ideas of femininity, masculinity, consumption, and "whiteness" played into the crucial shift from American nation-building to empire-building during the late 19th and early 20th centuries.
Understanding the connections between gender, class and the cultural formation of large American cities in the 19th century, particularly in regard to such critical but vexing distinctions as consumption/production, public/private, masculine/feminine.
Exploring feminist perspectives, theory, and methodology in relationship to matters of space and place."
This is a mini-Beatty lecture sponsored by the Departments of Geography and Sociology, the Faculty of Science, and the Institute for Gender, Sexuality and Feminist Studies.
---
Seminar
Rethinking Power in World Politics: the empowering potential of media monitoring and gender-based advocacy networks. Reflections on the Global Media Monitoring Project
Claudia Padovani, Department of Historical and Political Studies, University of Padova, (Italy) and Media@McGill visiting research fellow
With the Department of Art History and Communication Studies
---
"The 'Millennials' Mystique: Notes from the Pedagogical Trenches"
Seminar on teaching, open to students and junior faculty
Visiting Scholar Dr. Heidi Epstein shares tips, stats, and mantras that helped her make the transition from teaching sessionally at McGill University—with its particularly diverse student demographics—to a full-time position in the relatively homogeneous setting of the University of Saskatchewan. Her reflections will include: 1) a profile of the so-called "Millennial" student; 2) useful guidelines and ideals from the pedagogical models of bell hooks, Ken Bain, and Parker Palmer; all of which allow responsiveness to students' and administrators' expectations, without the compromise of one's unique pedagogical gifts and values
---
"Seeking Equality in Criminal Law: Continuing Challenges, Renewed Purpose."
Lecture by: Juanita Westmoreland-Traoré, j.c.Q.
Judge, Court of Quebec
In cooperation with the Black Law Students Association of McGill (BLSAM), the McGill Law Women's Caucus, The Patricia Allen Memorial Lecture, Annie MacDonald Langstaff Workshop, the Faculty of Law, and the McGill Institute for Gender, Sexuality, and Feminist Studies.
---
IGSF Film Evening
Second in the series: "Out of Phoenix Bridge." China, 1997.
---
Symposium on the History of Sexuality
DRAFT: History of Sexuality Schedule [.doc]
Participants include:
Joan Cadden, Department of History, University of California Davis
"Sharing the Marks of Gender in Medieval Europe: Sodomites and Women"
Sebastian Matzner, Department of Classics, King's College, London
"The Myth is Out There. Diachronicity and Synchronicity in Essentialist Models of 'Homosexual' Identity: Plato, Ulrichs - and Us"
Ara Osterweil, Department of English, McGill University
"Depression Darlings: Adolescent Attractions in Child Bride and The Wizard of Oz"
Valerie Traub, Departments of English and Women's Studies, University of Michigan
"Making Sexual Knowledge"
With the Departments of History and English. Organized by members of the IGSF research axis, "Historical Perspectives".
---
Colm Tóibín
Prize-winning Irish writer and journalist
Public Lecture:
"Oscar Wilde in Prison"
With the Department of English. Made possible by a grant from the Beatty Memorial Lectures Committee
---
Watch the live webcast Colm Toibin: "Oscar Wilde in Prison"
---
Elisabeth Engebretsen
McGill Institute for Gender, Sexuality, and Feminist Studies
"Women and Sexual Citizenship in Contemporary Urban China"
---
Making Contact: A Symposium on Affect, Sexuality and Power
The McGill Institute for Gender, Sexuality, and Feminist Studies and Media@McGill, a research hub in the Department of Art History and Communication Studies, are planning to jointly sponsor a symposium on affect, sexuality and power.
Invited Speakers:
 "Imagining Networks, Imagining Contact"
Wendy H.K. Chun, Associate Professor of Modern Culture and Media, Brown University
"Plausible Optimism: The Cultural Politics of Friendship"
Lisa Henderson, Associate Professor of Communication, U-Mass Amherst
"Augmenting Reality: Difference and Dwelling in Late Liberalism"
Elizabeth A. Povinelli, Professor of Anthropology and Gender Studies, Columbia University
The last 15 years have witnessed great experimentation in the ways scholars of gender studies, sexuality studies and postcolonial studies interrogate the sociality and power of contact----contact that ranges in scale from the interpersonal to the transnational to the technologically mediated forms and registers in-between. "Making Contact" brings together three renowned scholars whose prominent voices in their fields sound the importance of understanding the affiliative parts of social life and the structures of social power that too often disappear under the radar of cultural criticism. Each of them de-centralizes the identitarian subject---as authors, speakers and hearers---and turns a critical eye toward issues of form and dissemination, exchange and circulation: the very conditions of making contact.
---
Moderated discussion with:
Tracey Deer
Award-winning documentary filmmaker (Mohawk Girls, Club Native)
Deer will discuss the importance of contemporary documentary practices for issues of social justice, first nations identity and politics, and contemporary culture. This event is part two of a three part series, "Here Now: Contemporary First Nations Culture and Media"; part three will feature filmmakers Norman Cohn and Marie-Helene Cousineau of Isuma Productions (Atanarjuat: The Fast Runner and Before Tomorrow) on Nov. 25.
Information: Professor Alanna Thain (Alanna [dot] Thain [at] mcgill [dot] ca). This event is made possible by the generous support of the Departments of English and Art History and Communications, Media@McGill, the Institute for Gender, Sexuality and Feminist Studies, and the McGill Institute for the Study of Canada.
---
October 23, 2009
Pearl Eliadis
Human rights lawyer
"Women's Rights as Human Rights:
How Are We Doing Today?"
With the Annie Macdonald Langstaff series
and the Centre for Centre for Human Rights and Legal Pluralism

---
October 1, 2009
The Department of Geography's Geospectives speaker series, in concert with the Institute for Gender, Sexuality and Feminist Studies present:
'American girlhood: Sexuality, sociality and first generation parents'
Mary Thomas
Women's Studies and Geography, Ohio State University
For talk abstract and speaker bio, click here
---
la version française suit
September 25, 2009
 Workshop: "Feminist Visual Methodologies for Social Action"
Preliminary PROGRAM: Program (draft) [.pdf]
The McGill Institute for Gender, Sexuality, and Feminist Studies together with Myriam Gervais and Claudia Mitchell, members of its Equity and Justice research axis are hosting this one-day workshop (by invitation only) on the study and use of visual methodologies in participatory feminist research. Feminist visual methodologies are openly political approaches with multiple aims: to understand, give voice to, and validate women and girls -- their needs, strategic interests, values, and their own prescriptions for their lives. This workshop will focus on photovoice and participatory video. We are particularly interested in the following features of these methodologies:
(i) the interpretive process
(ii) the technical and ethical challenges posed by the use of visual data
(iii) the potential for social action and empowerment and
(iv) methodological concerns related to the participatory process.
We will invite speakers and panelists to reflect on:
honoring voice and difference through participatory research;
how research and action might interact;
forms of action and political implications.
Starting off with a participatory session with Brinton Lykes of Boston University, and including a panel of visual participatory work at McGill, this workshop will close with a public screening of David Ebert's new documentary "Where the Water Meets the Sky". This documentary focuses on working with girls in Zambia to produce their own visual images as a way to speak out about their lives.
Narrated by Morgan Freeman, Where the Water Meets the Sky is the story of a remarkable group of women in a remote region of northern Zambia, who are given a unique opportunity: to learn how to make a film, as a way to speak out about their lives and to challenge the local traditions which have, until now, kept them silent.
Many in the group can't read or write, most are desperately poor, and few have been exposed to film or television. But with the help of two teachers, this class of 23 women learn to shoot a film that portrays a subject of their own choosing. It involves an issue that is traumatic for them all, and rarely spoken about: the plight of young women orphaned by AIDS.
Their film recounts the real-life experiences of Penelop, an 18-year-old orphan, and her struggle to provide for herself and her siblings in the wake of her parents' deaths.
What begins as a workshop about film making, and a quest to tell Penelop's story, becomes a journey in empowerment as the women rise to the challenge of pressing their community to change.
Uplifting and poignant, Where the Water Meets the Sky is the story of an unforgettable group of women who defy long traditions of silence and who demonstrate with courage, humor and resilience that their futures are once again something of promise.
---
version francaise
Séminaire: « Méthodologies visuelles féministes et action sociale »
PROGRAMME préliminaire: Program (draft) [.pdf]
L'Institut Genre, sexualité et féminisme en collaboration avec Myriam Gervais et Claudia Mitchell, membres de son axe de recherche Équité et Justice, organisent un séminaire d'une journée, sur invitation seulement, dans le but de se pencher sur les méthodologies visuelles participatives dans la recherche féministe. Les méthodologies visuelles utilisées dans les approches participatives féministes en cherchant à comprendre et à permettre aux jeunes filles et aux femmes de s'exprimer sur leurs besoins et intérêts stratégiques, leurs valeurs et leurs solutions s'inscrivent d'emblée dans une démarche politique. Retenant le photovoice et le vidéo participatif comme exemples de méthodologies visuelles, nous sommes particulièrement intéressées lors du séminaire à discuter et réfléchir sur le processus itératif qui sous-tend ces méthodes, les questions d'éthique que soulèvent l'utilisation de données visuelles, les défis méthodologiques qui leur sont associés, ainsi que sur leur potentialité en terme d'habilitation et d'instrument d'action sociale.
La conférencière et les panelistes invitées sont appelées à faire part de leur réflexion sur les questions suivantes : 1) dans quelle mesure la recherche participative reflète les positions exprimées et tient compte des divergences; 2) quels sont les défis encourus par l'utilisation de méthodologies visuelles dans le cadre d'une recherche-action; 3) quelles en sont les principales implications politiques.
Le séminaire débutera par une session participative conduite par Brinton Lykes (Université de Boston) pour ensuite faire place à un panel composé de chercheures qui nous proposerons, sur la base de leurs travaux, leur réflexion sur les méthodologies visuelles féministes. La journée se terminera avec la présentation publique du documentaire "Where the Water Meets the Sky" en présence de son réalisateur, David Ebert. Ce documentaire a été produit avec des jeunes filles de la Zambie qui, sur la base de leurs propres images visuelles, y relatent leurs conditions de vie et expriment leurs espoirs et leurs attentes.
Cet événement fait parti d'un projet de recherche plus large, femSTEP. Pour des renseignements sur femSTEP veuillez suivre ce lien.
---
IGSF Winter Term 2009 Events
MINI BEATTY LECTURE 2008-2009

 "SECULARISM AND WOMEN'S EQUALITY" Joan Wallach Scott
School of Social Science, Institute for Advanced Study, Princeton, N.J.
Joan Scott will look at the current popular assumption that there is a relationship between secularism and gender equality. According to Prof. Scott this secular versus religion argument has been revived as a way of talking about the unacceptability of Muslims, especially in Western European states where they constitute large immigrant populations. Prof. Scott will argue that historically there is no relationship between processes of secularization (separation of church and state) and rights/equality for women; indeed, that the public/private separation (politics/religion) parallels the political/domestic split that consigns women to childbearing and child rearing; the problem of how to address sexual difference plagues secularists still. If there has been a growing flexibility in the realm of sex and sexuality in some areas of the West, it's questionable whether it is a product of secularism.
Made possible by a grant from the Beatty Memorial Lectures Committee and in cooperation with the History Department.
---
 The McGill Centre for Research and Teaching on Women (IGSF) in collaboration with Media@McGill present:
"Killing Joy: Feminism and the History of Happiness"
Sara Ahmed, Department of Media and Communications
Goldsmiths, University of London.
This paper examines the history of happiness through a feminist lens. The paper proceeds by suspending belief that happiness is a good thing, and explores feminist histories as struggles against happiness. Happiness is how social norms become social goods. Reflecting on feminist critiques of the happy housewife, the paper suggests we can revitalize feminist languages of raising consciousness and false consciousness, thinking of feminist consciousness as a reorientation to the causes of unhappiness. Consciousness of unhappiness is not necessarily a form of self-consciousness but a world consciousness in which unhappiness can disturb the happiness of the familiar. The paper reflects specifically on Black feminist consciousness as a consciousness of what does not get noticed when happiness provides a horizon of experience. It calls for a feminist ethics and politics of killing joy.
Suggested readings: Ahmed_article 1_Multiculturism [.pdf] and Sara Ahmed article 2 Happiness [.pdf]
---
Friday, February 13, 9am - 5pm

A Symposium on Improvisation and Interdisciplinary Collaboration
Click on the following link for the event poster: POSTER [.pdf]
For PROGRAM details: Program [.pdf]
For program SCHEDULE AT A GLANCE: Program-at-a-glance [.pdf]
Presentations, Panel Discussions, Open Forum and Deep Listening Session by Pauline Oliveros
Today's interdisciplinary scholarship requires new approaches to collaboration that promote understanding and inclusiveness instead of territorialism and authority. "Listening Bodies" brings together an international and interdisciplinary group of scholars and artists who are exploring ways in which creative improvisation (an artistic practice based on listening and responding) can help us to learn how to be more receptive, adaptive, and risk-taking collaborators.
Participants in alphabetical order:
Lisa Barg, McGill U.
David Brackett, McGill U.
Jean Fineberg, Mills College (via skype)
Michelle Heffner Hayes, U. Kansas (via skype)
Kathy Kennedy, musician, Montreal
Cynthia Leive, McGill U.
Eric Lewis, McGill U.
Andra McCartney, Concordia U.
Tracy McMullen, U. California, Berkeley (via skype)
Kevin McNeilly, U. British Columbia (via skype)
Sorouja Moll, Concordia U.
Pauline Oliveros, Rensselaer Polytechnic Institute
Sara Ramshaw, Queens U. Belfast, CREUM
Matana Roberts, musician, New York
Ellen Seeling, Mills College (via skype)
Gillian Siddall, Lakehead U.
Julie Smith, U. British Columbia, Coastal Jazz and Blues Society
Eleanor Stubley, McGill U.
Sherrie Tucker, U. Kansas
Ellen Waterman, U. Guelph, IGSF
Lloyd Whitesell, McGill U.
Deborah Wong, U.C. Riverside
Musicians from Mills College (via skype): Danishta Rivero, Zeina Nasr, Gretchen Jude, Zina v. Bozzay


In Collaboration with the Improvisation, Community, and Social Practice. Project funded by SSHRC-MCRI.

___
THE HEALTH AND WELLNESS RESEARCH AXIS OF THE MCGILL CENTRE FOR RESEARCH AND TEACHING ON WOMEN PRESENTS:
Health, Gender, and Sexuality: A Forum Across Disciplines
Jennifer Fishman, PhD
Assistant Professor, Biomedical Ethics Unit
McGill University
Gender, Aging, and Lifestyle:
Using Qualitative Methods to Explore Anti-Aging Medicine
The series is intended for those working on topics related to health, gender and sexuality, within and across disciplinary boundaries at McGill. Informal workshops will highlight the variety of methods employed by researchers in these fields, and provide an opportunity for graduate students and faculty to get to know one another.
___
Averted Eyes: Abu Ghraib and the Politics of Shame
Lisa Guenther
2008-2009 Visiting Scholar Assistant Professor of Philosophy, Vanderbilt University  
Wednesday, January 14, 12 – 2 PM
Representation, Performance, Culture Axis
Eric Lewis
---
SYMPOSIUM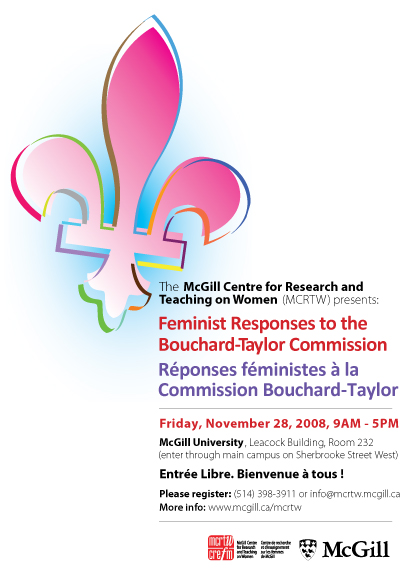 FEMINIST RESPONSES TO THE
BOUCHARD-TAYLOR COMMISSION
RÉPONSES FÉMINISTES À LA COMMISSION BOUCHARD-TAYLOR
The symposium brings together scholars and representatives of immigrant and women's groups in Québec in order to examine, from a variety of feminist perspectives, the issues that led to the debate around "reasonable accommodation" and the effects of the Bouchard-Taylor Commission.
Le symposium se propose non seulement de réexaminer les travaux et le rapport de la commission, mais aussi de susciter une discussion critique quant à la place à réserver aux prises de position féministes dans le débat sur les accommodements raisonnables.
Alia Al-Saji, McGill University
Nancy Burrows, Fédération des femmes du Québec
Emilie Connolly and Robyn Maynard, Accommodate This!
Samaa Elibyari, Canadian Council of Muslim Women
Louise Langevin, Université Laval
Gada Mahrouse, Concordia University
Tess Tesalona, Immigrant Workers Center
Daniel Weinstock, Université de Montréal
Click on the following link for the event poster:
Bouchard-Taylor 
---
SEMINARS
"Naked Intimacy: Improvisation, Eroticism and Gender"
Ellen Waterman, School of Fine Art and Music, University of Guelph.
"The Gendered Prison Experience: Male and Female Inmate Graffiti"
Jaqueline Z. Wilson School of Education, University of Ballarat, Victoria, Australia
---
PEDAGOGY WORKSHOP
Trans in the University Classroom: Issues of Pedagogical Strategy and Practice
---
SEMINAR
"Beyond Belief: Pragmatics in Pornography and Hate Speech"
Abstract: Pornography and hate speech arguably count as speech. Philosophers interested in speech have said that our pragmatic framework should connect speech with its purposes, a paradigm purpose being the communication of belief, via 'conversational score' (Lewis) or 'common ground' (Stalnaker). This paradigm ill fits the speech of pornography and racial vilification. Can pragmatics none the less shed some light on what's going on? Perhaps so. On the assumption that pornography and hate speech change attitudes, I consider five non-exclusive models of how it might do so: (i) a political speech model; (ii) a conditioning model; (iii) an imitation model; (iv) a speech act model; and (v) the pragmatic model. And I explore the prospects for the pragmatic model in making sense of speech whose purpose is not just getting people to know things they didn't know before, but getting people to want things, and feel things, they didn't want or feel before. This is part of an on-going effort to bring philosophy and political theory into a closer conversation, in this case, about what speech does, and why it matters. In cooperation with the Department of Philosophy
---
SYMPOSIUM
In Dialogue: Italian and Canadian Feminists
The McGill Centre for Research and Teaching on Women in collaboration with the Italian Cultural Institute
Adriana Cavarero, Lorraine Code, Yolande Cohen, Ida Dominijanni, Elizabeth Elbourne, Manuela Fraire, Amy Mullin, Aurora P. Caredda, Mariella Pandolfi, Marguerite Deslauriers, Eugenio Bolongaro, Giovanni Pillonca
Article du Devoir le 9 aout au sujet du Symposium [.pdf]
Poster [.pdf]
ABSTRACTS
Panel: Politics & History
Italian feminist movement and thought from the 70s to the present day: an introduction
Aurora Caredda
This paper aims at outlining the main features of the Italian neo-feminist movement such as started in the early 70s and its transformation over time. In particular , I would focus on part of the itineraries of three cardinal thinkers: Carla Lonzi, Luisa Muraro and Adriana Cavarero.
By so doing I will also reconstruct the story of the movement, a heterogeneous assembly made of different parts and intellectual traditions which have in common some specific political practices, such as the organization in small groups, separatism (relation among women), and the experience of selfconsciousness (autocoscienza). By way of Carla Lonzi it is possible to deal with one of its most influential group - Rivolta Femminista - which, in 1970, publishes its Manifesto, now considered as the most relevant text of Italian neo-feminism.
Carla Lonzi is the precursor of the Italian sexual difference thought. Parity, for her, doesn't revoke feminine oppression but rather hides it better. Equality, she says, is a "juridical principle": difference is an existential concept.
Through Luisa Muraro we have the chance to concentrate on two other central places of theoretical elaboration and political practice, i.e. the Libreria delle donne in Milan and Diotima in Verona. Muraro's book, L'ordine simbolico della madre (92), shatters the patriarchal construction that assigns only to the father the symbolic linguistic order.
Finally, this paper will tackle Adriana Cavarero's achievement. She is the philosopher who gives consistency to the theory of sexual difference. According to her (Per una teoria della differenza sessuale, 87), the sexual difference thought is born out of the necessity for the woman to set herself up as the subject of her own thought. With Cavarero, sexual difference becomes a hermeneutic category whereby one re-reads the past and interprets the present.
---