---
Events are typically free and open to the public, but seating may be limited. For most events we ask that you please register. Pratique du bilinguisme passif dans les échanges.
---
FALL 2016
Please check this page regularly as we update our schedule of events for Fall 2016 - Winter 2017.
September
IGSF faculty and student opening wine and cheese
When: Wednesday, September 21, 4;30-6:30
Where: TNC, Morrice Hall (Islamic Studies building, across from the Redpath Museum)
Sight + Sound Festival @ Eastern Bloc
IGSF is pleased to be co-sponsoring the 2016 edition of Sight & Sound, an annual festival bringing together Canadian and international new media artists. Currently in its ninth year, the festival presents hybrid, interactive, networked, and process-driven approaches, offering a privileged dissemination platform for emerging digital artists, alongside internationally established artists. Throughout the festival, artists are encouraged to take risks and transcend their usual modes of production, finding them the means to generate projects that engage viewers through provocative and challenging content. Sight + Sound takes place from September 28th - October 2nd, 2016. For the full schedule and more information, please see here.
Q&A on the proposed Sexual Assault Policy with Associate Provost Angela Campbell
When: September 27, 2016, 11:30 - 12:30 pm
Where: Wilson Hall 105
Esquisses talk by Prof. Brian Bergstrom  - The Gender of the Écriture Feminine in Nuclear Japan
Esquisses is a lunch-time series of works-in-progress by researchers at McGill
When: Wednesday, September 28, 2016, 12:30 - 2:00 pm
Where: IGSF Seminar Room, 3487 Peel Str, 2nd Floor (seeking alt.)
Register here.
The Gender of the Emergency: Écriture Feminine in Nuclear Japan
The nuclear is often written about as the endpoint of representation, the limit of knowledge and narrative.  In this sense, it is often phrased as a "sublime."  The incommensurability of words and images to the enormity of the nuclear coexists uneasily with the imperative to do something to address it, the way that the existential nature of the threat demands action even as it defies conceptualization. This paper examines works exploring this paradox by two Japanese women, one writing before the March 11, 2011 triple catastrophe in Fukushima and one writing after, Kashimada Maki and Kobayashi Erika. In both women's work, there is an attempt to rethink representation itself in the face of the sublime represented by the nuclear, but also a refusal to pursue this rethinking in a way that brackets gendered embodiment.  Rather than addressing the nuclear through supposedly universal, yet implicitly male, abstraction, Kashimada and Kobayashi take the predicaments of gendered embodiment as the ground for rethinking representation itself in face of nuclear annihilation and lingering radiation.  Reading their work through the lens of écriture féminine, this presentation seeks to examine the potential that literature holds to address the problem of the nuclear in ways that are actually new, that can address the imperative to think futurity not as repetition of that which came before but, as Elizabeth Grosz has put it, "what endures, not as it is in itself, but as an opening up to becoming, to something other." ("Thinking the New," 2000) 
Brian Bergstrom is a course lecturer in the East Asian Studies Department at McGill. His articles have appeared in Mechademia, positions: asia critique and Japan Forum, and his translations have appeared in Granta, Aperture, and Digital Geishas and Talking Frogs: The Best 21st Century Short Stories from Japan. He is the editor and principal translator of We, the Children of Cats by Tomoyuki Hoshino (PM Press, 2012), longlisted for the 2013 Best Translated Book Award.
Panel Discussion: ART + FEMINISM + McGILL
.
When: Friday, September 30th, 3:30pm
Where: Redpath Commons, Room A (enter through McLennan Library Building)
Over 2,500 people at more than 175 events around the world participated in the 2016 Art+Feminism Wikipedia Edit-a-thon, resulting in over 3,500 new and improved articles. A collective campaign to improve the representation of and increasing the participation of women on Wikipedia, the project emerged in the fall of 2013 as a response to the well-known gaps in the online encyclopedia. Siân Evans (Class of 2005), Jacqueline Mabey (Class of 2006) and Michael Mandiberg, the lead co-organizers of the Art+Feminism project, will discuss the origins of the project, its growth (and growing pains), and why the collective writing of history matters. Co- presented by the Institute for Gender, Sexuality and Feminist Studies, Art History & Communication Studies and the McGill Library.
https://www.mcgill.ca/library/channels/event/panel-discussion-art-femini...
October
"Hey! How'd you get that?"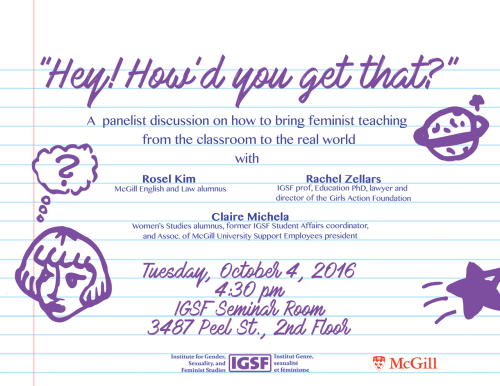 This year we are launching a new event called "Hey! How'd you get that?" where we bring back students who worked in gender, sexuality and feminist studies at McGill to talk about how they incorporate what they learned into their professional lives. It's both a "what do you do with your degree" discussion, but also asking how you can bring this knowledge to a workplace that doesn't always make space for it.

We have three panelists working in issues of law, social justice and institutional activism for our first version:
Rosel Kim who has degrees in English and Law from McGill
Rachel Zellars, IGSF prof, PhD student in Education, Lawyer and director of the Girls Action Foundation
Claire Michela, Women's Studies Graduate, former Student Affairs coordinator at IGSF and currently President of the Association of McGill University Support Employees
This event will take place on Tuesday, October 4th at 4:30pm in the IGSF seminar room, 3487 Peel (second floor).

Our panelists will talk about their experience in bringing together their academic and work experience, professionalization issues and more, and there will be a discussion period afterwards. Come on out to get a first-hand account of how to take the classroom out into the wider world!
Montreal Feminist Studies Grad Student Mingle (open to all Montreal-based graduate students working in feminism)
When: Thursday, October 6, 5:00-7:00
Where: IGSF Seminar Room, 3487 Peel St., 2nd Floor
In order to facilitate community building and research sharing, the Institute of Gender, Sexuality, and Feminist Studies at McGill University will be hosting a Graduate Students of Montreal engaged in Feminist Research and Feminist Studies Wine and Cheese. 

Feminist/Gender/Sexuality/Queer Studies graduate students from all universities in Montreal are welcome! The address is 3487 Peel St., 2nd Floor (we apologize that the space is inaccessible for those with mobility issues).
Dans le but de renouveler et/ou de consolider les liens entre les chercheurs.euses en études féministes de l'île de Montréal, l'Institut du genre, de la sexualité, et des études féministes de l'Université McGill vous convie à un vins et fromages. 

Les étudiants des cycles supérieurs en études féministes/du genre/de la sexualité/des femmes de toutes les universités montréalaises sont les bienvenu.e.s! L'adresse est le 3487 rue Peel, au deuxième étage. Nous nous excusons sincèrement du fait que l'établissement n'est pas accessible aux personnes à mobilité réduite.
Esquisses talk by Prof. Marguerite Waller - Unsettling Settler Logics in the World Courts of Women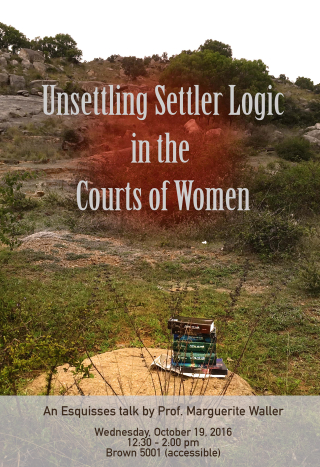 Esquisses is a lunch-time series of works-in-progress by researchers at McGill
When: Wednesday, October 19, 2016, 12:30 - 2:00 pm
Where: Brown 5001 (accessible)
Register here.
Marguerite Waller's current interests include gender and colonialism, decolonial film and media, and eco-aesthetics. Originally trained in early modern comparative literature, she has published on Dante, Petrarch, Wyatt, Surrey, and Shakespeare. More recently she has worked in the overlapping areas of dialogue between Western and nonWestern feminisms, the impact of neoliberal policies on women's poverty, and Italian, transnational, and postcolonial media studies.
She is the author of Petrarch's Poetics and Literary History (University of Massachusetts 1980) and co-editor of Federico Fellini: Contemporary Perspectives (Toronto 2002). Over the course of three co-edited volumes—Frontline Feminisms: Women, War, and Resistance (Routledge 2000), Dialogue and Difference: Feminisms Challenge Globalization (Palgrave 2005), The Wages of Empire: Neoliberal Policies, Resistance, and Women's Poverty (Paradigm 2007), and a special issue of Social Identities (2006), she has been committed to facilitating communication and collaboration among feminist projects rooted in different epistemes. Also committed to engaging visual media in these dialogues, she co-edited, with Sandra Ponzanesi, the volume Postcolonial Cinema Studies (Routledge 2012).
More information about Professor Waller's research can be found on our Visiting  Scholar's page.
Feminist Pedagogy Workshop
Are you a graduate student interested in bringing feminist practices to your pedagogy?
On Saturday, October 22 from 12-5 pm the Institute for Gender, Sexuality, and Feminist Studies will be hosting a hands-on, Feminist Pedagogy Workshop. 
 
We will be dividing into small groups to address practical needs in the classroom. Some of the topics we will address are how do our feminist pedagogies influence: creating a syllabus, designing activities, dealing with classroom conflicts, the role of technology in the classroom/ outside of the classroom, and embodied pedagogies. Other topics will include the role of emotional labour, questions of unpaid labour, and the precarious role of the lecturer/ adjunct professor. We will wrap up the day with wine and pizza.
 
To register, please fill out this form.
If you have any questions, please email the IGSF graduate representative, alexandra [dot] ketchum [at] mail [dot] mcgill [dot] ca (Alex Ketchum). 
Medical Regimes of Truth, Biopolitics, and the Crisis of Democracy
​Gundula Ludwig, recipient of an APART Fellowship of the Austrian Academy of Sciences at the Department of Political Science at the University of Vienna, will be presenting "Politics is Nothing but Medicine on a Larger Scale".
On Wednesday, October 26 from 4-5:30 pm in the IGSF seminar room, 3487 Peel, 2nd floor (please note this space is not accessible).
This event is sponsored by Critical Social Theory at McGill with support from the Yan P. Lin Centre's Research Group on Constitutional Studies (for more information, please contact critsoctheory [dot] arts [at] mcgill [dot] ca) and co-sponsored by the Institute for Gender, Sexuality, and Feminist Studies (IGSF).
Table Setting #1 at Articule
Following Articule's Montreal Monochrome IV: Study Hall, members of the Fabulous Committee present Table Setting, a dinner conversation series seeking to create more spaces for Indigenous and people of colour artists, educators, activists, and community members to speak with each other.
Table Setting will take place in two parts: the first will be an open table discussion moderated by a special guest, a porous centre table of conversation where participants come to and away from as the conversation shifts. Dinner will be served as the second part of the evening. In the hopes of recreating the safety and intimacy of shared meals, participants will share food in smaller groups. This will provide the time for honest conversations that stay attentive to the theme of the evening but grow organically, without the structure of the facilitated discussion.
Table Setting, as it incorporates elements of mediated discussion with community gathering, is one way Articule is attempting to practice the suggestions for a safer space that arose out of the centre's ongoing consultation in relation to anti-oppression. The first event will be held on Thursday, October 27, at 6 pm , facilitated by independent curator, Cheyanne Turions.
All are welcome. Bring your own plate and utensils (BYOP). Donations appreciated.
Cheyanne Turions is an independent curator currently based in Toronto. From the farmlands of Treaty 8, she is of settler and Indigenous ancestry. Her work approaches the space of exhibition as alive—the gallery is a place of dialogue where the propositions of artists come into contact with publics, questioning ways of seeing and being in relation. She sits on the Board of Directors for Kunstverein Toronto, the Editorial Advisory Committee for C Magazine and the Education and Community Engagement Committee at the Art Gallery of Ontario. She is the director of No Reading After the Internet (Toronto) and the Artistic Director at Trinity Square Video.
Please click here to be redirected to the FB event page.
November
Terms of Privacy / ​Conditions de Confidentialité
When/Quand: Nov. 4-5, 2016
Where/Où: McGill University (Leacock 232)
Register here/ Inscrirez ici
"Terms of Privacy" is a collaboration with Studio XX, a bilingual, feminist artist-run centre for technological exploration, creation, and critique, founded in 1996. It runs in parallel with Studio XX's biennial feminist festival of media arts + digital culture, The HTMlles 12: Terms of Privacy, Nov. 3-6, 2016. Since 1997, The HTMlles brings together artists, scholars, and activists passionate about critically engaging new technologies from a feminist perspective.
////////
 ​«Conditions de Confidentialité» est organisée en collaboration avec la 12e édition du festival féministe d'arts médiatiques + culture numérique, les HTMlles, qui se tiendra du 3 au 6 novembre 2016, avec pour thématique ​«Conditions de Confidentialité.» Basé à Montréal, Les HTMlles est un festival biennal international qui rassemble des artistes, des théoricien-ne-s et des activistes passionné-e-s par la réflexion critique en nouvelles technologies sous une perspective féministe.
Links:
https://secure.studioxx.org/splash.html
Schedule/Programme click here
Accomodations/Hébergement click here
Check out our Facebook / Voyez-vous notre Facebook
Esquisses talk by Prof. Rachel Hurst - Settler Fantasies and Colonial 'Before and After' Photography
Esquisses is a lunch-time series of works-in-progress by researchers at McGill
When: Wednesday, November 23, 2016, 12:30 - 2:00 pm
Where: Brown 3001 (accessible)
Register here.
Rachel Hurst is Associate Professor of Women's and Gender Studies at St. Francis Xavier University in Antigonish, Nova Scotia.  Rachel's research is broadly concerned with the relationships between (visual) culture, embodiment, and power, from the perspectives of psychoanalysis, feminist theory, and decolonial thought.  She is the author of Surface Imaginations: Cosmetic Surgery, Photography, and Skin (McGill-Queen's University Press, 2015), which Kathy Davis reviewed as "a poetic, strong, and innovative study that develops and elaborates on issues of fantasy, photography, and the limitations of the skin."  Rachel is also co-editor of Skin, Culture and Psychoanalysis (Palgrave, 2013).  She teaches courses on historical and contemporary feminist theories, cultural studies, and embodiment.  Rachel's teaching is infused with passion for integrating creative expression and community engagement as a central component of intellectual work, combined with an ongoing reflective practice through research on pedagogy; an example of this work is the Doing Feminist Theory Through Digital Video project.
As the Muriel Gold Visiting Professor, Rachel will be working on a book manuscript, currently titled Settler Fantasies and Colonial 'Before and After' Photography.  Focusing how colonial violence was legitimized as a part of nation-formation and the construction of citizenship in Canada from the mid-19th to the mid-20th centuries, this research looks at parallel processes within visual culture that uphold the legality of settler violence in order to 'unsettle' settler lawfulness.
More information on Rachel's work can be found on her website:http://www.rachelhurst.ca.
---
Please check our past events page to know more about events from previous years.
---