Every year, the Institute of Air and Space Law (IASL) and Centre for Research in Air and Space Law (CRASL) organise various events, seminars and conferences to promote the study and research in air and space law.
These events are well-attended  by academics, practitioners, government officials, subject-matter and students, and function as excellent platforms for open discussion, exchange of ideas and professional networking. We invite you to take a look at our events in the past (left hand side) and look forward to welcoming you at our upcoming event(s) listed below:
IASL students visit Air Canada Headquarters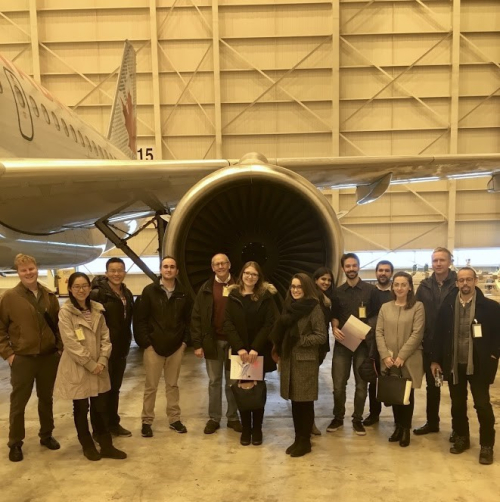 On 20 November 2017, a group of 30 students enjoyed the unique opportunity to visit the headquarters of Air Canada located in Montreal airport. Under the hospitality and guidance of employees at Air Canada, they were given a special tour of the crew training facilities, the maintenance hangar, and enjoyed lectures by seasoned professionals at the legal and regulatory affairs department and the network planning department of Canada's flag carrier.
The visit was a special occasion to learn about the fascinating issues and challenges of operating in the competitive airline industry. There, students  gained first-hand understanding on how, through a variety of innovative business practices and careful management and planning, Air Canada is recognised as one of the top air carriers in North America. The visit was made possible with the kind assistance of IASL alumna and Adjunct Professor Martine de Serres, who teaches Government Regulation of Air Transport on offer in the Winter semester.
---
Annual American Bar Association (ABA) Forum on Air & Space Law Meeting and Conference
14-15 September 2017
On September 14-15, 2017, the American Bar Association's Forum on Air and Space Law will hold its 2017 Annual Meeting and Conference at the elegant Omni Mont Royal in Montreal. This Annual Conference will once again be co-hosted by McGill University's Institute of Air and Space Law.
This year's Conference will feature a series of panels that will provide valuable overviews about hot issues concerning matters of critical importance to the aviation and aerospace industries. The
ten panel topics will include consumer rights, labor law issues, international aviation traffic and ownership and control rights, space law developments, liability matters, and global competition law
issues. Each panel will feature leading authorities and industry experts, including preeminent aviation and aerospace lawyers, senior airline executives, and key government decision makers.
For more information, please refer to the programme brochure.
For registration, please visit the dedicated registration site.