Emilie Conway - International Court of Justice - 2014-2015
Emilie Conway, BCL/LLB'13, was selected by the International Court of Justice (ICJ) to participate in the Court's 2014-2015 Judicial Assistants Programme.
Ms Conway was selected to work directly with the President of the Court, Judge Peter Tomka. She will begin work in September 2014. Following that, Ms. Conway started work as a law clerk at the same Court in July 2015.
---
Sophie Poirier - Permanent Court of Arbitration - 2014-2015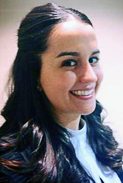 Sophie is a member of the Quebec bar. She completed an LL.M. in International Dispute Settlement (MIDS) in Geneva and obtained her LL.B., J.D., and LL.M degrees from the Université de Sherbrooke.
Before commencing a fellowship at the PCA, Sophie was working as a research assistant with McGill's Private Justice and the Rule of Law research team and was assisting international arbitral tribunals chaired by Professor Fabien Gélinas.
She has previously interned at a boutique law firm focusing on international arbitration in Brussels, at the German Institution of Arbitration (DIS) in Cologne, and at the United Nations High Commissioner for Refugees (UNHCR) in Geneva. During her studies, Sophie was a clerk at the Superior Court of Quebec.
---
Jean-Paul Saucier Calderón - International Court of Justice (2013-2014)
Jean-Paul Saucier Calderón, BCL/LLB 2013, is also a graduate in Political science and philosophy (BA, summa cum laude, with honours) from University of Ottawa. During his studies at the Faculty of Law, he was awarded the Hans Hermann Oppenheimer Scholarship in International Law (2011-2012), the Nowak Weil Award (2011) and the Alexandra Dodgers Award for Social Justice (2012-2013). He was a senior editor for the McGill Journal of Law and Health, and served as Teaching Assistant in advanced civil law obligations and in legal methodology and ethics.
He conducted research and wrote numerous term essays under the supervision of professors in the field of international law of human rights, legal pluralism, obligations and legal education. Before and while at the Faculty he undertook international journalism projects in Haiti, Panama and Venezuela. In Venezuela, he investigated the human rights situation in the Venezuelan jails and the interaction between different normative orders in force in such institutions.
In 2012, he served as Clerk to the Court at the Inter-American Court of Human rights where, among others, he drafted parts of the draft judgement of the Contreras v. El Salvador decision, a case involving forced disappearance of children during the internal conflict in El Salvador. He also acted as a consultant for the Peruvian Congress and led a team of researchers to assist the Congress in determining the international legality of a projected legislative Bill related to terrorism and freedom of expression. During 2013 and 2014, as a Research Fellow at the Netherlands Institute of Human Rights (SIM) (Utrecht University) he directed a research team working on an amicus curiae brief on the Cruz Sánchez et al. Vs. Perú (Chavin de Huántar) case, which relates to the alleged extrajudicial executions of members of a terrorist group during the 1997 hostage crisis in the Japanese Embassy in Lima. The Brief was submitted to the Inter-American Court of Human Rights.
He is presently undertaking cross-cutting research on how legal pluralism can account for popular support to authoritarianism, and on the theoretical foundations of extinctive institutions such as prescription and amnesty laws. Furthermore, he has a particular interest in the interrelation between human rights and criminal law, human rights and private law, and obligations. He is clerking for Judges Cançado Trindade and Bhandari at the International Court of Justice.
---
Evgéniya Goriatcheva - Permanent Court of Arbitration (2011-2012)
Evgéniya Goriatcheva, BCL/LLB'10 (Dean's Honour List) had previously completed the Dawson College Liberal Arts program with the highest standing before coming to McGill.
Evgéniya first came into contact with international arbitration while attending the intensive Penn State-McGill summer arbitration seminar. She subsequently acted as sole editor for the publication of three John E.C. Brierley Memorial Lectures on international arbitration. During her years at McGill Law, she was an editor at the McGill Law Journal and led legal methodology tutorials.
Evgéniya has a passion for world history and politics, and a keen interest in individual people and places. She has spent most of the year since graduation satisfying these appetites through travel – from Israel to Patagonia. She also dedicated four months to attending the Quebec Bar School, where she participated in an international arbitration simulation. She speaks French, English, Russian and Spanish.
In September 2011, Evgéniya will begin a one-year internship at the Permanent Court of Arbitration in the Hague.
---
Hinda Rabkin - Permanent Court of Arbitration (2011-2012)
Hinda Rabkin, BCL/LLB'09, graduated with great distinction, was on the Dean's Honour List and was awarded the Stanley Kandestin Q.C. prize. Hinda obtained an LLM (First Class) from the University of Cambridge in 2011, receiving Magdalene College's Prize for Law.
While at Cambridge, Hinda wrote a thesis on the relationship of North American courts to investment arbitration, under the supervision of Mr. Zachary Douglas. She also studied the history & philosophy of international law and European Union trade law, and participated in the Oxford French Law Moot, placing in the semi-finals.
Having completed a clerkship at the Secretariat of the ICC International Court of Arbitration in 2009, Hinda is looking forward to clerking at the Permanent Court of Arbitration in order to gain in-depth experience working on arbitration disputes involving a State party. A native of Montreal, Hinda speaks five languages and is admitted to the New York bar.
---
Daniel Drabkin - Permanent Court of Arbitration (2009-2010)
Daniel is a recent graduate of McGill's trans-systemic and bilingual legal program. Prior to law school, Daniel studied philosophy, political science and history, also at McGill. He graduates law school with great distinction, on the Dean's Honour List, and is recipient of the Selma and Jak Almaleh Award. During his studies, Daniel clerked for the Honourable Justice Joseph Nuss at the Quebec Court of Appeal in Montreal and was a member of the Editorial Board of the McGill Law Journal. Daniel is excited to be leaving for The Hague in September and to be clerking at the Permanent Court of Arbitration. He looks forward to participating in the challenging international disputes with which the PCA is charged to resolve, and anticipates that the international community at The Hague will be rich with culture and perspective.
---
Kyle Gervais - International Court of Justice (2008-2009)
Kyle Gervais, BCL/LLB'08, received his BA with Distinction in Political Science from Concordia University in 2004. At the law faculty, Kyle graduated with a Major in International Development and Governance and was awarded the Law Students Association's Graduating Student Award. During his studies Mr. Gervais was a member of McGill's Concours de Plaidoiries en droit international Charles Rousseau mooting team in 2006 and contributed to the memorials which placed 4th at the international competition and was an English-language editor at la Revue Quebecoise de droit international.
Mr. Gervais spent the summer of 2007 at the International Criminal Tribunal for Rwanda, interning with Trial Chamber III and the Office of the President. For his work, he won the Students for Development award from the Association of Universities and Colleges of Canada.
Upon graduation, Mr. Gervais worked for McGill's Centre for Intellectual Property Policy on a project studying the Access to Medicine Campaign. Presently, he is a Legal Assistant to a defence team at the ICTR.
---
Catherine Quinn - Permanent Court of Arbitration
I graduated from Dawson College in May 2004 (Social Sciences, Law and Society) and after went directly to McGill Law. I graduated in May 2008. My time at the Permanent Court of Arbitration has been the experience of my life. The PCA is a small organisation that puts a lot of trust in their interns and gives them immense and exciting responsibilities. Working as an intern at the PCA is not like interning for most international organisations: there is work to do, and a lot of it!
I had the chance of being involved in the public arbitration between the Government of Sudan and the Sudan People's Liberation Movement/Army concerning the delimitation of the Abyei area, in preparation of a referendum that will be held in 2011 regarding the possible secession between the north and the south. The unique opportunity to participate in a peace process and the possible creation of a new state is the dream of any law student! I also had the chance to be involved in this case from beginning to end, for which I am most grateful given the usual deadlines of international case.
I also provided legal assistance and research for investment and commercial disputes. Not only was the job fascinating, the people I met also contributed to the greatness of the experience. The Hague is the centre of international law, and I had the chance to meet with the most interesting international legal practitioners. Multiple conferences are held in The Hague, and the proximity of other international institutions, such as the International Court of Justice, allows for opportunities of dialogue with members of other organisations.
I intend to do a LL.M in September 2010.
---
Vincent-Joel Proulx - International Court of Justice
Vincent-Joël Proulx obtained his LL.L. and LL.B. degrees from the University of Ottawa before completing an LL.M. in International Legal Studies at New York University School of Law. While at NYU, he wrote his thesis under the supervision of Professor Joseph H.H. Weiler. A recipient of the Canadian Council on International Law's John Peters Humphrey Fellowship in International Human Rights Law and Organization, the Department of National Defence's Security and Defence Forum PHD Scholarship, the Social Sciences and Humanities Research Council of Canada's Canadian Graduate Scholarship and the McGill Graduate Studies Fellowship, Vincent-Joël is currently pursuing a doctoral degree in international law at McGill University under the supervision of Professor René Provost. His dissertation explores the relationship between international state responsibility and terrorism, with particular emphasis on the broader implications for human rights, compliance and international relations.
Vincent-Joël has a diverse set of research interests, including international law, human rights, international trade law, international relations, legal theory, intellectual property and cyberspace law. His contributions have appeared in various publications, including the European Journal of International Law, the Canadian Journal of Political Science, the Berkeley Journal of International Law, the Hastings Law Journal and Les Cahiers de propriété intellectuelle. He was the Coordinator of the McGill Centre for Human Rights and Legal Pluralism's International Judicial Internships Programme from 2005-2008 and has held various positions at the Department of Foreign Affairs and International Trade, Industry Canada and the Office of the General Counsel of the Information Commissioner of Canada. He has also taught several classes as a guest lecturer in McGill University Faculty of Law's Public International Law, International Environmental Law and Theoretical Approaches to Law courses. In 2008-2009, Vincent-Joël clerked for His Excellency Judge Bennouna at the International Court of Justice in The Hague, Netherlands. In 2009-2010, he will be clerking at the Court of Appeal for Ontario in Toronto. He was also selected as the 2009 Quebec Junior Scholar at the Woodrow Wilson International Center for Scholars in Washington, D.C., where he is carrying out policy work on international affairs both at the Canada Institute and the Division of International Security Studies.