Jenny Andrea Buitrago Carranza - Inter-American Court of Human Rights
Jenny Andrea Buitrago Carranza (BCL/LLB 2016) also holds a Master in Public Administration (with concentration in Global Governance) from Queen's University and an Honours in Political Science from Bishop's University. Originally from Colombia, Andrea decided to study law with the desire to one day be able to contribute to the protection and advancement of human rights locally and abroad.
During her law studies and given her fluency in English, French and Spanish, Andrea had the opportunity to gain experience in private practice in other jurisdictions. During a summer internship at the Bogota office of Norton Rose Fulbright, she performed a variety of legal tasks including legal research, issue analysis and memo drafting. As the office handles both local and Latin American issues, the topics she was exposed to transcended jurisdictions.
At McGill, Andrea was co-founder of the Inter-Gentes Journal of International Law and Legal Pluralism at McGill. Both as part of a research team and individually, she wrote and presented at conferences papers relating to different ways to enforce human rights at the international level.
Shortly after the completion of her BCL/LLB at McGill, Andrea joined the legal office of Food and Agriculture Organization of the United Nations (FAO) as legal intern. During this internship Andrea assisted the Legal Officers in advising technical units, regional and field offices of FAO on a wide range of legal and constitutional aspects of its activities, including drafting and reviewing agreements, communications concerning the relations with the Host Governments and other governments and international organizations.
---
Portia Karegeya – International Court of Justice
Portia Karegeya (LLM 2013) is a 2015 graduate of UCLA Law, where she earned an LL.M. degree with honors, received the UCLA-Sonke Health and Human Rights Fellowship, and worked with the Health and Human Rights Law Project at UCLA Law.
Prior to this, Ms. Karegeya earned a Master of Laws from McGill University in 2013 and an LL.B. from the University of Cape Town in 2011, where she also graduated with a Bachelor of Economics and Law. A lawyer born in Rwanda, raised in Uganda, and educated in South Africa, Canada, and the U.S., Ms. Karegeya's research interests span the globe, and have focused on human rights, gender, global health, sexual violence, access to affordable medicines, and freedom of expression and information.
She is currently a Junior Fellow in the Office of the Rector at the United Nations University in Tokyo and a researcher for Global Freedom of Expression and Information @Columbia.
Ms. Karegeya has a forthcoming publication with Lara Stemple and Sofia Gruskin in Human Rights Quarterly entitled "Human Rights, Gender, and Infectious Disease: From HIV/AIDS to Ebola."
---
Iñaki Navarrete - Inter-American Court of Human Rights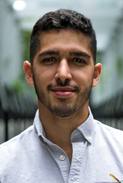 Iñaki Navarrete recently completed the B.C.L./LL.B. program at McGill University's Faculty of Law. During his years at McGill Law, he was awarded a Junior Fellowship in Disability and the Law and First Prize at the Paul-André Crépeau Center for Private and Comparative Law's Research Poster Contest. In 2015, Iñaki represented McGill at the Charles-Rousseau International Law Moot Competition, where his team's factum was ranked third overall.
He was a senior editor for the McGill Journal of Law and Health, an Aisenstadt Student Researcher and a Rathlyn Disability and the Law Student Coordinator at the Faculty. He also served as Teaching Assistant in Advanced Civil Law Obligations for Professor Vincent Forray.
Iñaki first came into contact with the Inter-American system of human rights in 2014 thanks to a Rathlyn Foundation Bursary. After spending a summer with Disability Rights International (DRI) in Mexico, he drafted and filed a case with DRI before the Inter-American Commission of Human Rights, in Washington D.C., on behalf of 350 people with disability detained in Guatemala's "Federico Mora" psychiatric institution. He hopes that this case will set a new precedent in challenging the segregation faced by people with disability in Latin America. 
His research interests include cross-cutting cyber security, public international law and disability rights issues. Iñaki presented his work on cyber espionage and cyber attacks at the Law Faculty's Maxwell Cohen Seminar on International Law and has two forthcoming publications in Canadian Yearbook of International Law (entitled "L'espionnage en temps de paix en droit international public") and Revue québécoise de droit international (entitled "Breaking Disabling Barriers: Mental Disability and Enabling Remedies at the Inter-American Court of Human Rights").
He is currently a Student-at-Law at Fasken Martineau in Montreal. In September 2016, he will begin a clerkship at the Inter-American Court of Human Rights in Costa Rica.
---
Nadir Pracha - Permanent Court of Arbitration
Nadir Pracha (BCL/LLB'16) is also a graduate in Economics and International studies. During his time at the Faculty of Law he was also a Research Assistant for the Centre for Intellectual Property Policy, worked with Pro Bono Students Canada and the McGill Legal Information Clinic.
Nadir was a member of the McGill team at the Vis International Arbitration moot in 2015, placing in the final rounds and winning an honourable mention for its written submission.
He is currently a student-at-law at McCarthy Tétrault in Montreal. In September 2016, he will begin a clerkship at the Permanent Court of Arbitration in The Hague.