Maria Rodriguez – Inter-American Court of Human Rights (2017-2018)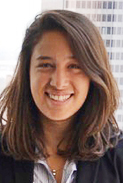 Maria Rodriguez (BCL/LLB'17) has successfully completed the Quebec Bar. Before going to law school, Maria received a D.E.C from Dawson College's social sciences profile Law, Society and Justice.
Maria has always been interested in using the law as a tool to effect social change. After her second year of law school, she was selected for a human rights internship with the NGO The Equality Effect in Meru, Kenya where she worked for the protection of girls who were victims of sexual assault and violence. During her third year, Maria was the research assistant of Professor Angela Campbell and contributed to her research about the role of Canadian Universities in addressing sexual assault and harassment on campus. As a member of the McGill team for the Wilson Moot of 2016, Maria worked extensively on the Canadian Charter and Canadian Constitutional law issues, two of her favorite subjects.
During her time at McGill, Maria was an active leader within the faculty. She was VP Internal of the Law Student Association and she volunteered at the Legal Information Clinic at McGill where she provided legal information and gained practical skills. Maria was also an editor of Inter Gentes, the McGill Journal of International Law and Legal Pluralism, where she engaged with a variety of current legal issues. Beyond the law, Maria enjoys sports, in particular track and field and soccer, and she loves dancing as well as travelling the world. She speaks fluent Spanish, English, French, and Italian.
Maria's interest for the protection of human rights and its intersection with international law have been the constant pillars through her professional development, and thus now she is extremely excited to join the Inter-American Court of Human Rights in Costa Rica for a nine-month clerkship (Sept 2017-May 2018). Being originally from Colombia, she hopes this work will allow her to learn more about human rights issues in Latin American as she would love to contribute more to the region in the future.
---
Fortunat Nadima Nadima – Permanent Court of Arbitration (2017-2018)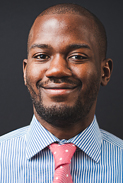 Fortunat Nadima Nadima (BCL/LLB'17) also holds an Honours B.Sc. (summa cum laude) in Biopharmaceutical Science from the University of Ottawa. At McGill, Fortunat served as an editor of the McGill Law Journal, and as a co-editor-in-chief and layout editor of the Quid Novi. He also volunteered at the Legal Information Clinic at McGill.
Fortunat was a member of the McGill Team at the Willem C. Vis International Commercial Arbitration Moot in 2016, placing in the final rounds. He also received an honourable mention for the 2016 Nappert Prize in International Arbitration. Fortunat completed the final semester of his law degree at the National University of Singapore before attending Québec's Bar School.
He is currently a student-at-law at the Montreal office of Norton Rose Fulbright. In late August 2017, he will begin a clerkship at the Permanent Court of Arbitration in The Hague.
---
Rachel Zuroff - International Court of Justice (November 2017-June 2018)
Rachel Zuroff (BCL/LLB'16) has always been interested in the power of law to resolve disputes and secure rights, especially around access to land, food and other productive resources. Before beginning her studies in law, Rachel earned a B.A. in philosophy from McGill University where she focused on ethics, particularly the relationship between free will and individual responsibility to the Other.
During her studies at the McGill Faculty of Law, Rachel pursued her fascination with legal pluralism and studied the myriad shapes the law can take to resolve disputes and secure rights, from domestic to international and customary law. In doing so, Rachel had the opportunity to work as a research assistant for a variety of professors and to be actively involved in the Centre for Human Rights and Legal Pluralism
Since completing her law degree, Rachel articled with the Food and Agriculture Organization of the United Nations (FAO) in Rome. At the FAO, Rachel worked in the Development Law Service of the Legal Office, a unique center of international expertise and research committed to achieving sustainable agricultural development and effective natural resource management through the design of workable and appropriate legal frameworks. During her placement, Rachel contributed to a number of projects around the right to food, notably developing a legal guide to school meal programs. She joined the Barreau du Québec in the autumn of 2017.