Maria Rodriguez – Inter-American Court of Human Rights (2017-2018)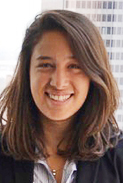 Maria Rodriguez (BCL/LLB 2017) has successfully completed the Quebec Bar. Before going to law school, Maria received a D.E.C from Dawson College's social sciences profile Law, Society and Justice.
Maria has always been interested in using the law as a tool to effect social change. After her second year of law school, she was selected for a human rights internship with the NGO The Equality Effect in Meru, Kenya where she worked for the protection of girls who were victims of sexual assault and violence. During her third year, Maria was the research assistant of Professor Angela Campbell and contributed to her research about the role of Canadian Universities in addressing sexual assault and harassment on campus. As a member of the McGill team for the Wilson Moot of 2016, Maria worked extensively on the Canadian Charter and Canadian Constitutional law issues, two of her favorite subjects.
During her time at McGill, Maria was an active leader within the faculty. She was VP Internal of the Law Student Association and she volunteered at the Legal Information Clinic at McGill where she provided legal information and gained practical skills. Maria was also an editor of Inter Gentes, the McGill Journal of International Law and Legal Pluralism, where she engaged with a variety of current legal issues. Beyond the law, Maria enjoys sports, in particular track and field and soccer, and she loves dancing as well as travelling the world. She speaks fluent Spanish, English, French, and Italian.
Maria's interest for the protection of human rights and its intersection with international law have been the constant pillars through her professional development, and thus now she is extremely excited to join the Inter-American Court of Human Rights in Costa Rica for a nine-month clerkship (Sept 2017-May 2018). Being originally from Colombia, she hopes this work will allow her to learn more about human rights issues in Latin American as she would love to contribute more to the region in the future.
---
Fortunat Nadima Nadima – Permanent Court of Arbitration (2017-2018)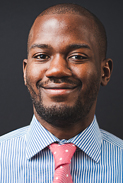 Fortunat Nadima Nadima (BCL/LLB'17) also holds an Honours B.Sc. (summa cum laude) in Biopharmaceutical Science from the University of Ottawa. At McGill, Fortunat served as an editor of the McGill Law Journal, and as a co-editor-in-chief and layout editor of the Quid Novi. He also volunteered at the Legal Information Clinic at McGill.
Fortunat was a member of the McGill Team at the Willem C. Vis International Commercial Arbitration Moot in 2016, placing in the final rounds. He also received an honourable mention for the 2016 Nappert Prize in International Arbitration. Fortunat completed the final semester of his law degree at the National University of Singapore before attending Québec's Bar School.
He is currently a student-at-law at the Montreal office of Norton Rose Fulbright. In late August 2017, he will begin a clerkship at the Permanent Court of Arbitration in The Hague.
---
Jenny Andrea Buitrago Carranza - Inter-American Court of Human Rights (2017-2018)
Jenny Andrea Buitrago Carranza (BCL/LLB 2016) also holds a Master in Public Administration (with a concentration in Global Governance) from Queen's University and an Honours in Political Science from Bishop's University. Originally from Colombia, Andrea decided to study law with the desire to one day be able to contribute to the protection and advancement of human rights locally and abroad.
During her law studies and given her fluency in English, French and Spanish, Andrea had the opportunity to gain experience in private practice in other jurisdictions. During a summer internship at the Bogota office of Norton Rose Fulbright, she performed a variety of legal tasks including legal research, issue analysis and memo drafting. As the office handles both local and Latin American issues, the topics she was exposed to transcended jurisdictions.
At McGill, Andrea was co-founder of the Inter-Gentes Journal of International Law and Legal Pluralism at McGill. Both as part of a research team and individually, she wrote and presented at conferences papers relating to different ways to enforce human rights at the international level.
Shortly after the completion of her BCL/LLB at McGill, Andrea joined the legal office of Food and Agriculture Organization of the United Nations (FAO) as legal intern. During this internship Andrea assisted the Legal Officers in advising technical units, regional and field offices of FAO on a wide range of legal and constitutional aspects of its activities, including drafting and reviewing agreements, communications concerning the relations with the Host Governments and other governments and international organizations.
---
Justin Fisch - International Court of Justice (2017-2018)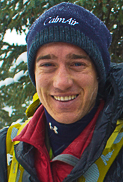 Justin Fisch (BCL/LLB 2016) is a young jurist and adventurer hailing from Nova Scotia, Canada. Prior to his legal studies at McGill, he earned a BA, magna cum laude, from the University of Florida in Geography, Sustainability Studies, and Political Science, with minors in Latin American Studies, International Relations, and Agriculture and Life Sciences. A global citizen by default, Justin is an avid absorber of languages, speaking native English and French, in addition to professional proficiency in Spanish and Portuguese. He dabbles in Mandarin Chinese, to the chagrin of anyone who's ever heard him butcher "你好" (ni hao/hello).
A lawyer by profession and an outdoor guide by passion, Justin is called to the State Bar of New York. His passion for environmental protection and protected area systems led him to work in environmental law and policy, where he previously served the Government of Canada as Parks Canada's national Youth Ambassador for the 2015-2016 term. In this role, he found novel ways to connect Canada's youth with their rich natural and cultural history, while engaging the new generation of environmental stewards. An avid learner and teacher, Justin lectures in environmental law at the University of Ottawa and on expeditions throughout the polar regions. Justin contributes to the Centre for International Sustainable Development Law as a member of the legal research team, edits for the Annals of Air & Space Law, and previously served as Editor-in-Chief of the McGill International Journal of Sustainable Development Law & Policy.