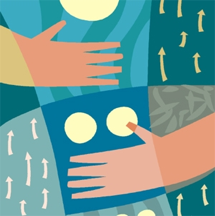 The Aisenstadt Equality and Community Initiative (ECI), supported by the Aisenstadt Family Foundation, is an exciting new initiative at the Centre. It is designed to enhance engagement and collaboration between universities and community-based organizations on issues relating to equality and access to fundamental social and economic rights. 
Si désiré, vous pouvez télécharger la version francophone de cette section [.docx]
Mission and goals
The primary objectives of the initiative include: (i) generating insights and new knowledge about the contextual realities of inequality, social and economic exclusion, and obstacles to effective access to justice within local communities; (ii) strengthening the capacity of community-based organizations to identify and contest the systemic and recurrent violations of equality and social and economic rights; and (iii) promoting transformative human rights education, which engages students, professors and community-based organizations.
The initiative brings together an interdisciplinary network of university researchers and students, as well as community-based advocates, working on issues related to the effective protection of equality and economic and social rights.  It provides a forum for exchange across diverse fields of expertise and different disciplinary backgrounds, including law, social work, education and community development.  The initiative is also designed to have a significant impact upon student training.  Students will also be involved with faculty researchers to model and explore the interplay between theory and practice. 
The initiative entails: (i) research on access to justice, equality rights and economic and social rights; (ii) the collaborative development of educational materials for identifying and remedying rights violations for use in community-based organizations; (iii) community-university workshops; and (iv) working papers (including legal and policy-based analysis) highlighting systemic and structural rights violations in local communities.  
The Equality and Community Initiative is spearheaded by Professor Colleen Sheppard, Director of the McGill Centre for Human Rights and Legal Pluralism. If you would like to know more about the Aisenstadt Equality and Community Initiative, please contact her.
The different projects and events organized are:
1. Research and community engagement
1.1 Community's needs assessment survey
1.2 Ongoing research and community projects
2. Knowledge transfer: workshops and conferences
2.1 Disability, human rights and the law
2.2 Civil society: democracy, dissent & the law
2.3 Rightswatch 2012 on civil liberties: people, power and protest
2.4 Social justice, law and equality: honouring Judge Juanita Westmoreland-Traoré
2.5 Equality rights and non-discrimination: legal developments and community realities