Associate Fellows
Éloge C. Butera
Éloge C. Butera (BCL/LLB 2012, McGill) is a human rights activist with an active involvement in Canadian public life, Éloge has worked in Parliament as a research and legislative assistant to Senator L.Gen. Roméo Dallaire (Ret'd) and as an articling student to Professor Irwin Cotler P.C., O.C., Member of Parliament (Mount Royal) and former Justice Minister and Attorney General of Canada. Éloge's research interests centre on international human rights law, transitional justice, conflict resolution, and truth and reconciliation processes around the world.
As an Honorary Witness to the Truth and Reconciliation Commission of Canada, Éloge bears witness to the harm inflicted by Canada's residential school system on generations of aboriginal Canadians. During his fellowship with the Centre, Éloge is focusing on the legacy of Canada's Truth and Reconciliation Commission, set to conclude its work in the fall of 2015.
As a survivor of the 1994 genocide against Tutsis in Rwanda, Éloge has spoken to dozens of audiences across Canada about his experience during the genocide and the role that an informed citizenry can play in preventing future mass atrocities and genocides. As an Associate Fellow, he will be working on recommendations to improve the United Nations' capacity for the prevention of genocide and mass atrocity crimes.
Edin Hodžić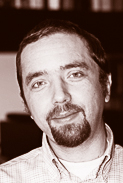 Edin Hodžić (DCL 2014) is co-founder, Director and Head of Public Law Program at Analitika – Center for Social Research from Sarajevo, a leading think-tank in Bosnia and Herzegovina. He holds a DCL from McGill University, LLM from the University of Oxford and BA in Law from the University of Sarajevo. Previously, among his several professional engagements, Edin worked on war crimes cases at the Prosecutor's Office of Bosnia and Herzegovina, and was Editor-in-Chief of The Pulse of Democracy (Puls demokratije), an online publication on legal and policy issues in BiH published by Open Society Fund Bosnia and Herzegovina. He worked on a number of research projects and published several books, papers and research reports in the broad field of public law, including a co-edited volume on media and minorities in South-East Europe, and a book on constitutional reform in Bosnia and Herzegovina. He acted as a consultant on numerous occasions, advising the government and international organizations alike. Recently, Edin advised UNDP and the BiH Council of Ministers in the course of drafting a comprehensive transitional justice strategy for Bosnia and Herzegovina.
Edin's research interests mostly lie in the fields of constitutional law and international human rights law, but he also remains committed to combining insights from political science and political theory. He is particularly focused on exploring the theory and practice of collective and minority rights and complexities of transitional justice.
Noam Schimmel
Noam Schimmel earned a PhD in Media and Communication from the London School of Economics and Political Science (LSE) in January, 2014. He has an MSc in Philosophy, Policy and Social Value from the LSE. His interdisciplinary doctoral research examined American Democratic presidential healthcare reform rhetoric, American healthcare reform policy and politics, and the human right to healthcare. Noam Schimmel was in residence September-December 2014, and remained as a visiting fellow until May 2015. Noam was awarded a Diplomacy and Diversity Fellowship by the Humanity in Action Foundation. The fellowship will take place in  June of 2015 and will examine human rights issues in the United States, France and Germany and how they impact national and international policy and diplomacy.
He served on the faculty of the School for International Training's comparative human rights study abroad program from January – April of 2014, teaching courses on human rights and facilitating discussion and experiential learning in the three countries in which the program takes place in addition to the United States: Nepal, Jordan, and Chile. 
He researches restorative justice post mass atrocity at the Center for Human Rights and Legal Pluralism, with emphasis on restorative justice for survivors of the Rwandan genocide against the Tutsi. He has published on a range of human rights topics including the rights of children, indigenous people, and genocide survivors as well as on development efforts to alleviate poverty and engender and sustain human security. His most recent articles have appeared in the Journal of Human Rights and Human Rights Review. He has also published in Development, Development in Practice, the International Journal of Children's Rights, the International Journal on Minority and Group Rights, and Vulnerable Children and Youth Studies, amongst others. 
Noam Schimmel has particular interests in the ethical dimensions of human rights law, the politics of human rights and humanitarian aid, and the role of rhetoric and communication in both advancing and limiting human rights. Schimmel was an O'Brien Fellow in Residence during the summer and fall of 2014 and a Visiting Fellow from January to May 2015.
---
O'Brien Fellows in Residence
Nora Ahmetaj - February 15 to June 30, 2017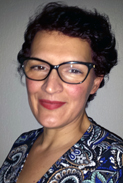 Nora Ahmetaj [nora.ahmetaj [at] gmail.com (email)] is a founder of the Centre for Research, Documentation and Publication (CRDP), which was established in 2010. Its foundation was inspired by a profound need to seek transitional justice, reconciliation and right to truth for victims and former adversaries of the Kosovo conflict. Prior to working at CRDP, she was engaged as a consultant for the European Commission, for a variety of international organizations such as UNDP, ICG, AI and HRW. During the armed conflict in Kosovo, she conducted investigations of war crimes and crimes against humanity for the Humanitarian Law Centre. From 2010-2012 she was a member of the Regional Coordination Council of Coalition for Regional Truth Commission (RECOM) for war crimes committed during the years 1991-2001 in Former Yugoslavia.
Her specialization has been human rights, conflict transformation, and transitional justice. She was trained in human rights and international relations at Harvard's Kennedy School, the Carr Center for Human Rights Policy from 1999-2000. She earned an MA in Peace and Conflict Transformation Studies from the University of Tromsø, Norway in 2005, and in 2008 she attended a Tufts University intensive course on Solving Non-violent Conflicts. In 2010, she attended an Advanced Learning Course for Professionals on Dealing with the Past in Switzerland. In fall 2015, as an AHDA fellow, Ms. Ahmetaj took up issues related to reparations, and developed a project that explored conceptual and practical applications regarding reconciliation.
Fayyaz Baqir - May 15 to December 31, 2017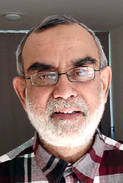 Fayyaz Baqir has just completed a stay as visiting scholar on Gender, State and Civil Society Relations at the Department of Cultural Sciences of the Gothenburg University, Sweden. During 2014/15, he taught and researched on human rights and informal justice at the School of European and International Public Law at Tilburg University, Netherlands. His practice and academic interests include participatory development, human rights, aid effectiveness, poverty alleviation, and social accountability.
He co-designed and taught cross-border videoconference-based courses in partnership with the American Institute of Pakistan Studies (AIPS) on themes relating to Justice and Peace, Social Change and Human Development in Pakistan for Georgetown University, Harvard University, Wellesley College and Fatima Jinnah University.
Earlier, he served as Senior Advisor on Civil Society for the United Nations in Pakistan. He received a Top Contributors Award from the UNDP's Global Poverty Reduction Network in 2007 and 2008. He served as National Coordinator of UNDP's flagship small grants programs LIFE, GEF/SGP and PTF from 1993-2005. Due to the extraordinary performance of these small grants programs, he received an Outstanding Performance Award by the UNDP Country Office in 2004, for creating a vibrant small grants program for low-income communities in Pakistan. 
Monica Moyo - January 30 to June 1, 2017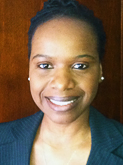 Monica Moyo [monica.moyo [at] mail.mcgill.ca (email)] has been involved in international human rights research and advocacy for a decade. Although her primary interest is human rights approaches to global poverty and economic justice, she has worked and volunteered with numerous organizations on a broad range of human rights issues. She has been a guest scholar in the foreign policy program at the Brookings Institution, human rights fellow at the Transitional Justice Institute in Northern Ireland, student-director of the human rights litigation clinic at the University of Minnesota, and fellow at the American Society of International Law. She has also participated in human rights advocacy before the United Nations Human Rights Committee in Geneva and, most recently, volunteered with NGOs in Israel, focusing on the economic challenges facing refugees and asylum seekers.
Ms. Moyo holds degrees from the universities of Oxford (MSt), Minnesota (JD), Zürich (MAS-LLM), Chicago (MA), Oral Roberts (MDiv) and California Lutheran (BSc). She is admitted to the New York Bar.
Olubayo Oluduro - January 15 to May 31, 2017
Olubayo Oluduro [olubayooluduro [at] yahoo.com (email)] is a Professor of Law at the Adekunle Ajasin University, Akungba-Akoko, Ondo State, Nigeria. He is currently a Visiting Professor with the Faculty of Law, University of Ibadan, Nigeria. He received a Bachelor of Laws (LL.B) degree of the University of Lagos in 1995, and he was called to the Nigerian Bar in 1996 with a Second Class (Upper Division). Oluduro won the Debo Akande best prize in Criminal Procedure in the Bar Final Examinations. He also received a Master of Laws (LL.M) degree of the University of Lagos in 1998 and a Master of Philosophy in Law (M.Phil.) degree of the Obafemi Awolowo University, Ile-Ife in 2009. He completed a Doctor of Law (Ph.D) degree of the University of Ghent, Belgium in 2012.
In addition to his legal education, he holds the Master of Business Administration (MBA) degree of the Ekiti State University in 2001. He is a Notary Public and a Fellow of the Chartered Institute of Arbitrators. He has published extensively both in local and international refereed journals on a wide range of legal and interdisciplinary subjects. He has consulted widely on environmental and human rights issues.
---
O'Brien Graduate Fellows
See our page on O'Brien Fellowships for Human Rights and Legal Pluralism for more information on the fellowships themselves, including on how to apply for one.
---
Post-doctoral Fellows
Hassan Razavi (See Bio on Graduate Students & Postdocs page)
Marina Sharpe (See Bio on Graduate Students & Postdocs page)
Aderomola Adeola (See Bio on Graduate Students & Postdocs page)
---
Visiting Fellows
Dia Dabby - January 2017 - January 2018
Dia Dabby is a visiting fellow at the Centre for Human Rights and Legal Pluralism. She holds a Doctorate in Civil Law from the Faculty of Law at McGill University (2016), where her dissertation explored the place of religion in public schools in Canada. She also holds degrees from Université de Montréal (LL.B, LL.M.) and McGill University (B.A.). She has been a member of the Québec Bar since 2008.
Dia's teaching and research interests focus on comparative constitutional law, religious diversity, education law, governance and legal methodology.
Her current research seeks to examine transnational religious practices and their place in public institutions.
Tetyana Krupiy - September 2016 - September 2017
Tanya's current research project focuses on determining under what circumstances corporation managers, corporate shareholders and Ministry of Defence officials may be held accountable when a lethal autonomous weapons system malfunctions and as a result triggers an international crime.
Previously, she worked on issues concerning the protection of vulnerable individuals.
Geneviève Renard Painter - September 2016 – August 2017
Geneviève Renard Painter is a post-doctoral fellow at McGill University's Faculty of Law, supported by the Fonds de recherche du Québec – Société et culture. She holds a PhD in Jurisprudence and Social Policy from the University of California Berkeley and degrees in common and civil law from McGill University. Admitted to practice law in Quebec, she has worked in aboriginal, constitutional, and human rights law. Her teaching and research interests focus on Indigeneity, legal history, feminist legal theory, international law, and constitutional law.
Geneviève's dissertation and book project explores the transformation of a hard political question into a problem of fundamental human rights. Starting from a Canadian law about Indigenous marriage, the dissertation tracks the gradual invention of a conflict between the equality rights of Indigenous women and the sovereignty of Indigenous nations. When this invented conflict moved from the political arena to litigation, the courts wrote an official version of history, and the law became a language for taming rival Indigenous sovereignties and declaring Canadian state sovereignty to be complete. Geneviève's post-doctoral project moves to the 19th century and to the role of competing understandings of temporality in the development of laws about belonging in Canada. She is currently researching the relationship between law, time, and language in a selection of 19th century Canadian legal processes about race, gender, sexuality, and land.
Thun Saray - 2016-2017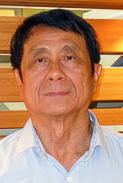 Thun Saray studied economics during the 1970s at the University of Phnom Penh and worked at the Sociology Institute during the following decade. He is founder and President of ADHOC, the first human rights advocacy NGO in Cambodia. ADHOC has been protecting and promoting human rights since its inception in 1992.
ADHOC is also a pioneer in opening the political space for civil society organizations in Cambodia, enabling new NGOs to emerge and flourish after the Khmer Rouge and communist regimes. He plays an integral role in Cambodian civil society. Indeed, Thun Saray is founder and Chair of the Board of Directors of the Cambodian Human Rights Action Committee (CHRAC, a coalition of Cambodian Human Rights NGOs), the Committee for Free and Fair Elections in Cambodia (COMFREL, a coalition of Cambodian electoral monitoring NGOs), and a former member of the Board of many other NGOs.
Every year, he coordinates and acts as an editor of many thematic reports on human rights published by his organization. Thun Saray has twice been a political prisoner in Cambodia (1975-1976; 1990-1991), including once under the Khmer Rouge regime. For more than 20 years, Thun Saray has been a tireless advocate for rights and civil liberties in Cambodia.
Cassandra Steer - September 2016 - September 2017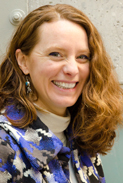 Dr. Cassandra Steer is the Executive Director of Women in International Security (WIIS) Canada, and a Wainwright Fellow at the McGill Faculty of Law. Formerly she was the Executive Director of the McGill Institute of Air and Space Law, and her current main research interest is the application of the law of armed conflict to military uses of outer space. Prior to coming to Canada at the beginning of 2015, Cassandra was a Junior Professor at the University of Amsterdam in the Netherlands for 8 years, teaching criminal law, international criminal law, public international law, and legal research methods.
She holds a B.A. (Philosophy) from the University of New South Wales, undergraduate and LLM degrees in Dutch Law and International Law from the University of Amsterdam, and a PhD in International Criminal Law. She has interned at the International Criminal Court under Judge Navi Pillay in 2004, and been a Visiting Researcher at universities in Argentina, Canada, Germany and the USA, where she was also a Fulbright Scholar.
Currently Cassandra Steer is the member for Canada on the International Law Association Space Law Committee, the Secretary of the IAF Space Security Committee, and a member of the International Institute of Space Law, Women in Aerospace, the Centre for International Peace and Security Studies, the NATO Association of Canada, and the International Society for Military Law and the Law of War.
---
Rathlyn Disability & the Law Program Coordinators
Simone Cavanaugh - 2016-2017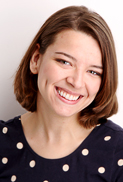 Simone is a fourth year law student completing a major in International Human Rights and Development at McGill University as a Loran Scholar. She has recently completed a human rights internship at the Disability Federation of Ireland and the Center for Disability Law and Policy at the National University of Ireland in Galway. Simone is also Equity Commissionner for the Student's Society of McGill University and a Coordinator of Women in House McGill, a program that seeks to encourage female participation in Canadian politics.
Simone has been a disability rights advocate since a very young age. She is a Childhood Arthritis spokesperson for the Arthritis Society, was the coordinator of the Kids on the Move Camp for children with rheumatological diseases and Viomax, a weekend activities program for children with special needs. Simone is also the founding director of Pivot International, a non-profit organization that provides adapted equipment and access to medical services for children with disabilities in Nicaragua with the goal of helping them achieve their full potential. Simone is eager to forge collaborations and plan an innovative and exciting year for the Disability and Human Rights Initiative.
Melissa Moor - 2016-2017
Melissa is a third year law student at McGill University. She previously studied education at Queen's University and political science at the University of Ottawa. Before beginning at McGill, Melissa worked for the House of Commons and participated in the Canadian Political Science Association's Parliamentary Internship Program. She has also worked in policy at Universities Canada. At the Faculty, Melissa is a member of the 2017 Wilson Moot team, a tutorial leader for first year students and a part of the Law Peer-to-Peer Support program.
Melissa has a long-standing interest in disability rights and has worked for the Canadian Autism Spectrum Disorder Alliance and the student-run Centre for Students with Disabilities at the University of Ottawa. She is a long-time Best Buddies volunteer and worked with youth with disabilities for several summers at Easter Seals Ontario's Camp Merrywood. Melissa looks forward to continuing to learn about disability law through the 2016-2017 Disability and Human Rights Initiative.