July 3-6, 2012: Meeting of the Réseau Innovations technologiques, incertitude des risques et droit de la responsabilité
The newly created international Réseau Innovations technologiques, incertitude des risques et droit de la responsabilité (Technological Innovations, Uncertainty and the Law of Liability Network) held its first meeting at the Faculty of Law of McGill University in early July, organized by Etienne Vergès (Université Grenoble 2) and Lara Khoury (McGill University).
The Network's objective is to collaboratively examine a fundamental issue at the intersection of law and technology: the necessary transformation of the law of civil liability in response to the uncertainty of the risks associated with modern technological developments. As part of this meeting, the network members delivered presentations on their area of expertise related to the network theme.
Presentations
Sébastien Pimont, Université de Savoie, France
Innovations technologiques, incertitudes et écriture doctrinale du droit de la responsabilité

Vincent Forray, Université McGill, Canada
L'incertitude du risque et les dialectiques de la responsabilité

Etienne Vergès, Université Pierre-Mendès-France (Grenoble 2), France
Les risques et incertitudes liés aux innovations scientifiques et le droit français de la responsabilité civile : entre rupture et continuité

Christophe Quezel-Ambrunaz, Université Pierre-Mendès-France (Grenoble 2), France
La doctrine face aux innovations juridiques consécutives aux innovations scientifiques

Ken Oliphant, Directeur, Institute for European Tort Law, Autriche
Tort Law, Risk, and Technological Change in England

Geneviève Schamps, Université catholique de Louvain, Belgique
Le Fonds des accidents médicaux et le risque lié aux évolutions de la biomédecine : perspectives d'indemnisation en droit belge

Marie-Ève Arbour, Université Laval, Canada
Le risque de développement sous l'éclairage du droit comparé/The Risk Development Defense through the Lenses of Comparative Law
Umberto Izzo, Université de Trento, Italie
Tort Law, Uncertainty, and the Concept of Precautionary Information. Accommodating the Operational Meanings  of the "Traditional Concepts" of Negligence and Strict Liability in the Reality of the Digital Information Era

Trudo Lemmens, Université de Toronto, Canada
L'accès à l'information et le droit à la santé : la transparence des essais cliniques comme une obligation dans le contexte des droits de l'homme

Ma'n H. Zawati, Université McGill, Canada
Biobanques populationnelles : incertitude, réciprocité et l'obligation de renseignement du médecin-chercheur

Philippe Brun, Université de Savoie, France
Exigence de causalité et incertitude scientifique: analyse critique des solutions du droit français

Lara Khoury, Université McGill, Canada
Le juge et l'incertitude causale en droit canadien, anglais et australien

Richard S. Goldberg, University of Aberdeen, Écosse
Scientific uncertainty, causation and drug product liability

Laurène Mazeau,  Université Pierre-Mendès-France (Grenoble 2), France
L'imputation de la responsabilité civile en contexte d'incertitude scientifique et technologique
---
Quatrième conférence annuelle en santé et droit -18 janvier 2012
Évolution du droit de la procréation assistée: La bioéthique à la française

G à D: Jean-Louis Beaudoin, Frédérique Dreifuss-Netter et Nicolas Kasirer avant la conférence.
La Conférence annuelle en santé et droit s'est avérée un plein succès cette année.
La présence de Madame Frédérique Dreifuss-Netter, conseiller à la première chambre civile de la Cour de cassation en France, a attiré une centaine de personnes, un public mixte composé d'étudiants, de professeurs, d'avocats et de membres de la Cour d'appel du Québec et de la Cour supérieure.
Madame Dreifuss-Netter, en charge aujourd'hui des affaires de responsabilité médicale de la Cour, est une bioéthicienne et spécialiste du droit médical renommée en France grâce à une longue carrière universitaire précédant sa nomination à la Cour.
Après le mot d'ouverture prononcé par L'Honorable Nicholas Kasirer, Madame Dreifuss-Netter a donné une conférence impressionnante et stimulante intitulée "Évolution du droit de la procréation assistée: La bioéthique à la française". Le mot de clôture a été prononcé par L'Honorable Jean-Louis Baudouin.
---
State Incentives to Promote Organ Donation: Can a System of Rewarded Gifting Ease the Organ Shortage? - November 9, 2011
Mélanie Mader, Postdoctoral Fellow, Research Group on Health and Law
Organ transplantation is a very successful medical procedure, which saves the lives of thousands of patients worldwide every year. However, this success is limited by a major problem: a chronic shortage of transplantable organs.
In this seminar, we consider the medical, social and economic issues raised by transplantation medicine and define organ shortage as a public health problem. Based on this premise, we present the idea of establishing a public policy to promote organ donation within the Swiss legal system.
As part of a public policy, the State can use incentives, i.e., regulatory instruments to reward organ donation. Considering legal and ethical constraints, we show how these incentives can be designed to increase organ donation rates without violating the prohibition of organ sales.
This argument leads us to envision several innovative incentives such as tax breaks for willing donors; priority status on the waiting list for a registered donor should he or she ever need an organ transplant; discounts on health insurance premiums; or a rebate on a donor's funeral costs. Finally, we discuss examples of States where some of these incentives have been adopted.
See also Focus online: The Laws of the Heart - Mélanie Mader on organ transplantation.
The Risks and Promises of Pharmacogenetics and Personalized Medicine: An Interdisciplinary Panel Discussion - October 5, 2011
This well-attended and enlightening panel discussion brought together four panelists hailing from different academic areas and professional settings to address various issues associated with pharmacogenetics and personalized medicine. Professor Richard Gold was the moderator.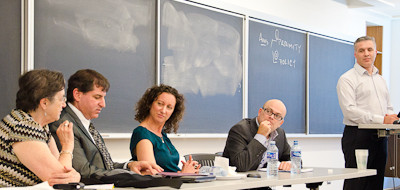 Panelists:
Jennifer Fishman, Assistant Professor, Biomedical Ethics Unit and Department of Social Studies of Medicine, McGill University
Yann Joly, Assistant Professor, Department of Human Genetics, Faculty of Medicine, McGill University
Agnes V. Klein, Director, Health Products & Food Branch, Health Canada
Michael Phillips, Associate Professor & Canada Research Chair in Translational Pharmacogenomics, Pharmacogenomics Centre, Université de Montréal
Time and place: 12h30-14h30, Room 312, New Chancellor Day Hall, 3644 Peel Street
Download: Pharmacogenetics Panel Poster
Lunch will be served. Space is limited. Kindly RSVP to rghl [dot] law [at] mcgill [dot] ca
Richard Goldberg on "The Rise and Fall of the Measles Mumps Rubella Litigation: An Anglo-American Comparison" - April 1, 2011
Dr. Richard Goldberg, King's College, University of Aberdeen, School of Law, gave an insightful, thought-provoking talk on the various legal implications surrounding the controversy of the MMR vaccine on autism, both in the United Kingdom and the USA. The lunchtime conference was well-attended and the Q&A session ranged across many ideas.
Dr. Goldberg is visiting the Faculty for part of the month of April. He is a specialist of product liability, medical and pharmaceutical law, IP, and tort and is widely published in these areas.
Full bio: www.abdn.ac.uk/law/staffmember.php?ID=56
Jocelyn Downie gives 3rd Annual Lecture on Health & Law - January 13, 2011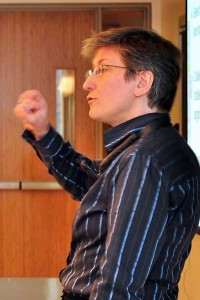 Jocelyn Downie, Canada Research Chair in Health Law & Policy and Professor in the Faculties of Law and Medicine at Dalhousie University, delivered a lecture on euthanasia, assisted suicide and the law on January 13, 2011.
In this talk, Jocelyn Downie reviewed the state of end of life law and policy in Canada and offered up a position on what Quebec (and other jurisdictions at various levels of government) could and should do in response to calls for the decriminalization of euthanasia and assisted suicide.
Read the article posted on Wednesday, January 26, 2011, in the McGill Reporter: Just Dying: A Discussion of Euthanasia, Assisted Suicide and the Law, by Pascal Zamprelli.
Calendar entry and abstract: "Just Dying: A Discussion of Euthanasia, Assisted Suicide and the Law."
Welcome to Postdoctoral Researcher Mélanie Mader
The McGill Research Group on Health and Law (RGHL) is pleased to announce that Dr. Mélanie Mader has joined the Faculty of Law as a Postdoctoral Researcher for one year, starting this January.
Dr. Mader brings to the RGHL an extensive background in public health, health law and ethics, and medical liability. Dr. Mader recently obtained her Ph.D. from University of Neuchâtel, Switzerland. Her dissertation, which focused on regimes governing compensation for organ donation, has very recently been published as a book (Collection neuchâteloise, Helbing Lichtenhahn, 2010).
Dr. Mader also holds an LL.M. from Cambridge University and a law degree from the University of Neuchâtel. Before joining McGill, she was a visiting researcher at the University of Montreal's Centre de recherche en droit public.
Mélanie Mader has also served as a member of municipal parliament in the Swiss municipality of Köniz, and is fluent in French, English and German.
She was interviewed in the Faculty's online magazine, Focus online, in February 2011.
The Kahnawake Schools Diabetes Prevention Project - 2 November 2010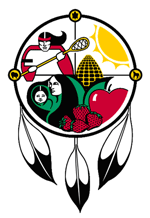 On November 2, 2010, Dr. Ann C. Macaulay, Professor of Family Medicine, McGill Department of Family Medicine, and Director of Participatory Research at McGill (PRAM), and Morgan Kahentonni Phillips, a community researcher in the Network for Aboriginal Mental Health Research, did a joint presentation on a health project that involved developing and maintaining research partnerships with Aboriginal communities and organizations in Kahnawake.
See the complete calendar entry.
Download the Presentation .
Lawrence Gostin gives 2nd Annual Lecture in Health and Law - 25 March 2010
The subject of his talk was "Meeting the Basic Survival Needs of the World's Least Healthy People: Toward a Framework Convention on Global Health."
This lecture was sponsored in part by the McGill Beatty Memorial Lecture Series. 
On March 25, 2010, the Research Group on Health and Law was proud to host Professor Lawrence Gostin (Georgetown U.), who delivered the 2nd Annual Lecture in Health and Law on how developped countries need to ensure the basic survival needs of the world's least healthy people.