Quelques défis de l'intégration des médecines non conventionnelles dans un système de soins cartésien
27 novembre 2014, 12h00-13h30, salle 316, Nouveau Pavillon Chancellor-Day
Venez assister à une conférence du Groupe de recherche en Santé et Droit avec le Professeur Olivier Guillod, Directeur de l'Institut de droit de la santé, Université de Neuchâtel, Suisse.
Un léger déjeuner sera servi à midi et la conférence débutera 15 minutes après. Le nombre de places est limité: merci de confirmer votre présence: rghl [dot] law [at] mcgill [dot] ca. La conférence sera en français.
Résumé
Dans les pays occidentaux, la population demande, et utilise, de plus en plus de diverses médecines dites non conventionnelles. Les uns y voient une ouverture bienvenue vers d'autres approches à la santé humaine. Les autres craignent un retour de l'obscurantisme.
Les juristes sont interpelés : quelle place aménager dans l'ordre juridique pour les médecines non conventionnelles ? Faut-il règlementer leur pratique ? Faut-il les rembourser par la sécurité sociale ?
Ces questions, et d'autres, seront explorées à partir de l'exemple de la Suisse, seul pays européen à avoir un article de sa Constitution consacré à ces médecines.
---
Past events
Moralism and Long Game Healthism in Public Health Ethics
September 11, 2014, 14:00-15:30, Institute for Health and Social Policy seminar room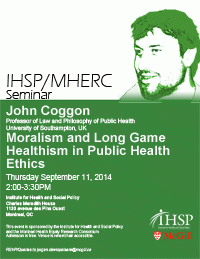 Join us for a talk by John Coggon, Professor of Law and the Philosophy of Public Health, University of Southampton.
Building on evidence concerning the social determinants of health, a growing body of works within public health ethics has developed that sees sound health policy as being founded on concepts of social justice. However, there are scholars who deny the validity of theories that recommend the redistribution of resources with the aim of improving population health. Such protagonists advance arguments on empirical, theoretical, and normative grounds. Within public and political arenas, furthermore, we can observe a dominant position given to individual liberty, and a resistance to coercive policies, which are viewed as 'nanny-statism'.
In parallel with the apparently irresolvable ideological debates, therefore, we find putative middle-way approaches to health policy, such as 'nudge'. These are given as a theoretically and ethically robust—and practically realisable—means of achieving better health, without offending apparent side-constraints on what constitutes legitimate government activity.
With a focus on strategy and practical developments in relation to tobacco regulation, this paper explores political morality in long game health policies. It compares, and draws parallels between, debates on legal moralism and health promotion, and questions why concerns about moralism seem less acute when a goal—say eradication of smoking—is aimed to be achieved over decades, rather than through near-term prohibition. See poster.
Organized by the Institute for Health and Social Policy, and co-sponsored by the Montreal Health Equity Research Consortium and the Research Group in Health Law.
Location: IHSP seminar room, Charles Meredith House, 1130 Pine Avenue West, Montreal
RSVP/Queries to jurgen [dot] dewispelaere [at] mcgill [dot] ca
Venue is wheelchair accessible.
---
Health as a social and academic priority
Health issues are at the forefront of modern social preoccupations in Canada. McGill's Faculty of Law offers an array of opportunities for those who seek to explore these issues through academic study and research.
Public health, aging, health and the environment, biotechnologies, global health, the growing prevalence of obesity and other chronic health conditions and illnesses, HIV/AIDS and the spread of infectious diseases, access to health care institutions and technology, the governance of health care institutions, human rights and health, clinical research and the protection of human research subjects, social diversity and health, and Aboriginal health exemplify topics of preeminence in the minds of Canadians that McGill's Faculty of Law has also identified as priorities.
A tradition
McGill's Faculty of Law has a strong tradition in health law. Emeritus Professor Paul-André Crépeau (1975-1994) published a seminal work titled La responsabilité civile du médecin et de l'établissement hospitalier in 1956, which contributed in a major way to the development of Medical Law in Quebec. It houses the Centre for Medicine, Ethics and Law, founded in 1986, whose founding director, Margaret A. Somerville, is a prominent scholar in Bioethics. The Crépeau Centre for Private & Comparative Law , founded in 1975, also demonstrates the Faculty's commitment to health law through, inter alia, the work of Me Pierre Deschamps C.M., Project Director - Medical Law and the Ethics of Research and Organisations.
Teaching and research in health law
McGill University and its Faculty of Law offer an exceptional and unique space for transsystemic, comparative and pluridisciplinary pedagogy and scholarship on health law matters. A number of courses that address health law and policy questions are offered to our undergraduate and graduate students. Several colleagues also act as supervisors to graduate students working on projects that deal with issues of health and medical law.
Health research initiatives underway at McGill's Faculty of Law investigate diverse themes of pressing importance within both academic and societal realms. The Law Faculty is also host to various research centres which oversee work bearing a direct impact on health issues. In recognition of the growing importance of this discipline, the McGill Research Group on Health and Law was formed with a view to advancing health law research within the Faculty of Law.
Vibrant student initiatives
Students at McGill Law are also at the core of the Faculty's commitment to teaching and research in the area of health law. The Faculty-wide enthusiasm for health law studies is demonstrated by student initiatives such as the McGill Journal of Law and Health.