Post-doctoral Fellow in Health & Law
The McGill Research Group on Health and Law (RGHL) at McGill University's Faculty of Law is seeking a post-doctoral fellow for a one-year period beginning in 2017 (start date flexible). Salary: $30,000 per annum. Apply by 13 January 2017. See the complete call for applications:

Call for RGHL Postdoctoral Fellow.
---
The RGHL at the 3rd Seminar of the Research Network on Technological Innovation, Uncertainty and Responsibility
Université de Bretagne Occidentale, Brest, France - 14-17 juin 2016
Prof. Lara Khoury presented on class actions law suits in environmental liability where health damages are at issue at the 3rd Seminar of the Research Network on Technological Innovation, Uncertainty and Responsibility. Consulter le

 programme [.pdf].
---
Séminaire doctoral international en droit de la santé
En collaboration avec la Chaire de recherche du Canada sur la culture collaborative en droit et politiques de la santé (Université de Montréal), le Groupe de recherche en santé et droit de McGill a reçu les 19 et 20 mai derniers des doctorants de l'Université de Neuchâtel, l'Université Paris Descartes et l'Université catholique de Louvain-la-Neuve le 19 mai 2016. Les candidats aux DCL de McGill Ma'n H. Zawati et Geoffrey Conrad ont présenté leurs travaux à cette occasion. Le programme peut être consulté ici. le RGHL participera au pochain séminaire doctoral qui aura lieu à Florence, Italie, en mai 2017 et sera organisé par la Faculté de droit de l'Université Paris Descartes.
---
Ottawa-McGill Graduate Students Colloquium in Health Law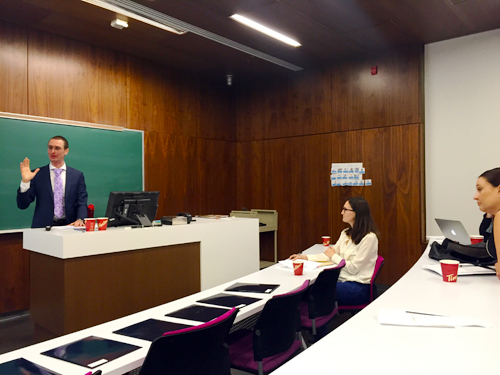 Le 6 mai 2016, Stefanie Carsley, candidate au DCL, ainsi que Matthew Ponsford et Patrick Garon-Sayegh, candidats au LLM, ont présenté leurs recherches à la Faculté de droit de l'Université d'Ottawa le 6 mai 2016 grâce à l'appui du GRSD.
The next graduate Ottawa-McGill Graduate Colloquium will be held at McGill in 2017.
---
Publication du livre Les grands conflits en droit de la santé
Le Groupe de recherche en santé et droit de McGill est fier d'annoncer la publication du livre Les grands conflits en droit de la santé auquel ont contribué les membres du Groupe : les professeurs Alana Klein, Antonia Maioni, Christopher Manfredi, Lara Khoury, et Me Nathalie Lecoq.
---
Designing Life: The Brave New World of Genome Editing
16 March 2016, 17:30, NCDH 312
The CRISPR-Cas9 method of genome editing has given researchers unprecedented power and ease in altering the building blocks of life. The uses of this technology for combatting disease appear obvious, but the implications of establishing control over the genome are also potentially staggering. A panel of expert observers engaged in a conversation about the meaning of this technology for all of us. This well attended discussion panel was hosted by Paul Kennedy of CBC's Ideas and was recorded for an upcoming show.
Mr. André Picard of the Globe and Mail is an acclaimed health reporter and columnist.
Prof. Alan Peterson (Faculty of Medicine, McGill) is a distinguished oncology researcher currently using CRISPR-Cas9 in his lab.
Prof. Richard Gold (Faculty of Law, McGill) is the lead author of the OECD Guidelines on Licensing Genetic Inventions.
Prof. Daniel Weinstock (Faculty of Law, McGill) is the Director of the McGill Institute for Health and Social Policy.
Prof. Margaret Somerville (Faculty of Law, McGill) is a world-renowned thinker on medical ethics.
---
Human Rights and the Contraceptive Imperative
Professor Joanna Erdman, MacBain Chair in Health Law and Policy, Schulich School of Law, Dalhousie University
(Co-sponsored with the IHSP and the Canada Research Chair in Collaborative Culture in Health Law and Policy)
Professor Erdman presented her work twice at McGill:
9 March 2016, 13h-14h30, IHSP, Charles Meredith House, 1130 ave des Pins Ouest
10 March 2016, 12h30-14h, NCDH 316, Faculty of Law
Abstract
This paper examines the upsurge in global advocacy on and for human rights in family planning, and claims that like so many other fields in human rights, family planning has become depoliticized. Its language of choice and access occludes primary causes of violations, the precarious conditions of the labor market, the sexual division of care work, and the gender dimensions of economic restructuring which structure peoples' lives and often leave pregnancy as the only source of social and economic security. The human rights agenda turns rather to more manageable projects in health service delivery, protecting the individual from harm versus offering a program of social justice. Human rights in family planning are defined by the guarantee of choice and access within socio-economic constraints, each individual empowered as a responsible agent and accountable for their own well-being. This is the same belief that sustains economic relations of social inequality, including the disparagement and disillusionment of the state and of public health systems as social institutions. Human rights in family planning have become estranged from political empowerment and collective action, delinking reproduction from economic resources, secure livelihoods and participation in public life.
Speaker
Joanna Erdman is an assistant professor and the inaugural MacBain Chair in Health Law and Policy at the Schulich School of Law, Dalhousie University. Her research focuses on sexual and reproductive health law in a transnational context. She has published in leading journals on harm reduction in safe abortion, the regulation of emergency contraception, and human papillomavirus vaccines policy, and she is the co-editor of the recent collection, Abortion Law in Transnational Perspective: Cases and Controversies (UPenn Press, 2014).
Joanna chairs the Global Health Advisory Committee of the Public Health Program, Open Society Foundations and the Gender and Rights Panel of the Human Reproduction Programme, World Health Organization.
Joanna received her BA and JD degrees from the University of Toronto and her LLM from Harvard, and completed a fellowship at Yale Law School.
---
Fetal Alcohol Spectrum Disorder and the Courts: a Failure of Access to Real Justice for People with Severe Disabilities
2 février 2016, 16h15-18h15, Salle du Tribunal-école Maxwell-Cohen (NCDH 100)
Le Groupe de recherche en santé et droit accueillait l'honourable Ian Binnie, qui nous a entretenu sur les préjugés juridiques rencontrés par les personnes souffrant de troubles causés par l'alcoolisation fœtale (ETCAF).
Abstract
Fetal Alcohol Spectrum Disorder (FASD) covers a range of disabilities caused by pre-natal exposure to alcohol. Its effects can include severe cognitive and behavioural deficits that surface not only in criminal proceedings but every judicial context from custody disputes to welfare and guardianship. FASD often manifests itself in the inability of victims to organize their lives, control their actions and learn from bad outcomes. Often associated in the media with some aboriginal populations, FASD is in fact estimated to affect 2% to 5% of all newborns in Europe and North America. Much more could be done to alleviate the legal prejudice created by this disability.
The speaker
The Honourable Ian Binnie served for nearly 14 years as a Justice of the Supreme Court of Canada, where he authored over 170 opinions, including leading cases in expert evidence, and many aspects of constitutional, criminal and administrative law.
Prior to his judicial appointment, he served as the Deputy Minister of Justice for the Government of Canada and spent many years in private practice, regularly appearing before the Supreme Court on a range of constitutional, civil and criminal matters. Mr. Binnie was appointed a Companion of the Order of Canada in 2012. He has received the CCLA Civil Liberties Award (2013), the Toronto Lawyers Association's Award of Distinction (2012), and the University of Toronto's Distinguished Alumnus Award (2011).
He is currently a Commissioner at the International Commission of Jurists, chairperson at the Internal Justice Council of the United Nations, and counsel at the Toronto firm Lenczner Slaght Royce Smith Griffin. In 2013, Mr. Binnie chaired the Institute of Health Economics' first-ever Consensus Development Conference on Legal Issues of Fetal Alcohol Spectrum Disorder (FASD).
---
Challenging state health policies in Europe under the right to private and family life
20 January 2016, 12:30-14:00, NCDH 316
The RGHL welcomed Dr. Ivana Isailovic for a talk on health policies in Europe.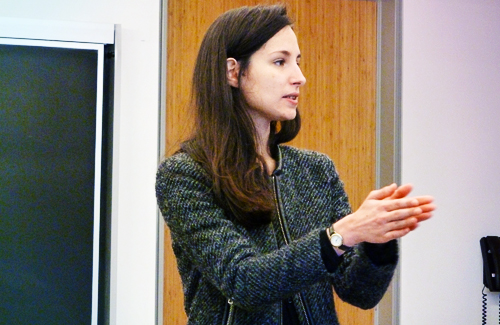 Abstract
In recent years, European state health measures have been challenged before the European Court of Human Rights under the right to private and family life, which is enshrined in article 8 of the European Human Rights Convention. This presentation will analyze how the Court's decisions have evolved, drawing on recent cases related to women's access to abortion and transgender individuals' demands for legal gender change. It will also highlight some of the consequences of this interpretation of the Convention, which may have unintended effects on these individuals' human rights.
The speaker
Ivana Isailovic is the Boulton Fellow at McGill University. She previously worked at the Equality Law Clinic at Université Libre de Bruxelles on human rights issues with abortion rights activists and transgender communities. She holds a PhD from Sciences Po Law School and a Master's degree in international law from Université Paris 1 Sorbonne.
---
Health as a social and academic priority
Health issues are at the forefront of modern social preoccupations in Canada. McGill's Faculty of Law offers an array of opportunities for those who seek to explore these issues through academic study and research.
Public health, aging, health and the environment, biotechnologies, global health, the growing prevalence of obesity and other chronic health conditions and illnesses, HIV/AIDS and the spread of infectious diseases, access to health care institutions and technology, the governance of health care institutions, human rights and health, clinical research and the protection of human research subjects, social diversity and health, and Aboriginal health exemplify topics of preeminence in the minds of Canadians that McGill's Faculty of Law has also identified as priorities.
A tradition
McGill's Faculty of Law has a strong tradition in health law. Emeritus Professor Paul-André Crépeau (1975-1994) published a seminal work titled La responsabilité civile du médecin et de l'établissement hospitalier in 1956, which contributed in a major way to the development of Medical Law in Quebec. It houses the Centre for Medicine, Ethics and Law, founded in 1986, whose founding director, Margaret A. Somerville, is a prominent scholar in Bioethics. The Crépeau Centre for Private & Comparative Law , founded in 1975, also demonstrates the Faculty's commitment to health law through, inter alia, the work of Me Pierre Deschamps C.M., Project Director - Medical Law and the Ethics of Research and Organisations.
Teaching and research in health law
McGill University and its Faculty of Law offer an exceptional and unique space for transsystemic, comparative and pluridisciplinary pedagogy and scholarship on health law matters. A number of courses that address health law and policy questions are offered to our undergraduate and graduate students. Several colleagues also act as supervisors to graduate students working on projects that deal with issues of health and medical law.
Health research initiatives underway at McGill's Faculty of Law investigate diverse themes of pressing importance within both academic and societal realms. The Law Faculty is also host to various research centres which oversee work bearing a direct impact on health issues. In recognition of the growing importance of this discipline, the McGill Research Group on Health and Law was formed with a view to advancing health law research within the Faculty of Law.
Vibrant student initiatives
Students at McGill Law are also at the core of the Faculty's commitment to teaching and research in the area of health law. The Faculty-wide enthusiasm for health law studies is demonstrated by student initiatives such as the McGill Journal of Law and Health.