---
CONFERENCE CO-CHAIRS
RIGHT HONOURABLE JOE CLARK
McGill Centre for Developing-Area Studies
The Right Honourable Joe Clark was Prime Minister, Foreign Minister and Minister of Constitutional Affairs of Canada, and was elected eight times to the House of Commons. He is Chairman of CSR Developments, an innovative Canadian company which is harvesting the forests trapped under Volta Lake in Ghana, and a board member of BDA (Fondation Biotechnologie pour le developpement durable en afrique). He is also Professor of Practice for Private-Public Sector Partnerships in the Centre for Developing-Area Studies at McGill University. He has led international Election Observation teams to Cameroon (2004), the Democratic Republic of Congo (2006) and Nigeria (2007) and, among other activities, is a member of the Global Leadership Foundation, the Inter-American Dialogue, and the International Advisory Board of Governors of the Canadian Institute of Governance Innovation (CIGI). He is married to the Canadian author and lawyer Maureen McTeer, and is a Companion of the Order of Canada, and a member of the Alberta Order of Excellence and l'Ordre de la Pleiade.
RICHARD POUND
Chancellor, McGill University
Richard W. Pound, OC, OQ, QC, LLD, is the 17th Chancellor of McGill University. As a former Olympic competitor, a lawyer and an international figure of renown, holding two McGill degrees, one from Sir George Williams University (now Concordia University), and two honorary doctorates, Richard Pound brings a diverse range of talents and experience to the role of Chancellor. Pound is perhaps best known for his work within the world of the Olympics. Initially the Secretary of the Canadian Olympic Association from 1968-1976, he was later elected President (1977-1982); he has also held numerous positions in the International olympic Committee (IOC). His investigation of the Salt Lake City scandal led to the creation of a new ethics watchdog to monitor future interaction between bidding cities and IOC members. He is also the Chair of the World Anti-Doping Agency, established on November 10, 1999, in Lausanne to promote and coordinate the international fight against doping in sport. Throughout the years, Pound has maintained close ties with McGill through his longstanding service on numerous boards and committees. Pound currently holds the position of Honorary Consul General of Norway in Montreal. He is a member of numerous associations, the Quebec and Ontario Bars, is a chartered accountant in both jurisdictions and has been appointed to the Federal Court Bench and Bar Liaison Committee. He is an arbitrator and mediator on the Court of Arbitration for Sport. Pound is a published author of two books: Five Rings Over Korea (1994), which deals with the political negotiations leading to the success of the 1988 Olympic Games, and Chief Justice W.R. Jackett: By the Law of the Land, a biography of the first Chief Justice of the Federal Court of Canada.
---
SPEAKERS AND PANELISTS
MOHAMED AIT KADI
President, General Council of Agricultural Development,
Rabat, Morocco
Mohamed Ait Kadi is presently President of the General Council of Agricultural Development. This Council is a high level policy think tank of the Ministry of Agriculture and Fishery in Morocco. He was also acting Secretary General of the Ministry. Previously as Director General of the Irrigation Department, he was in charge of the development and implementation of the National Irrigation Program. He was the Chief- agricultural negotiator of the free trade agreement between Morocco and the United States. Ait Kadi was Governor and founding member of the World Water Council and President of the organizing committee of the first World Water Forum held in Marrakech in 1997. He was also member of the Technical Advisory Committee and he is now Senior advisor of the Global Water Partnership. He is honorary vice-president of the International Commission on Irrigation and Drainage (ICID). He is a member of Hassan II Academy of Sciences and Technology. He serves as a member of the Board of Trustees of the International Food Policy Research Institute (IFPRI) and the Board of Advisors of the World Agricultural Forum. He was a member of the Scientific Committee of the International Center of Agronomic Studies in the Mediterranean. He is Professor at the Institut of Agronomy and Veterinary Medecine Hassan II, Rabat. He is author of numerous publications in the fields of agriculture and rural development, irrigation and water management.
SHERI ARNOTT
CHF-Partners in Rural Development
On behalf of the Canadian Food Security Policy Group
Sheri Arnott is CHF's Program Manager for Southern Africa and is currently based in Ottawa. Her experience is in agriculture development, social/gender analysis, biodiversity and natural resource management. Her work experience has been with donor agencies and non-governmental organizations, both in Canada and Eastern and Southern Africa. Sheri currently manages a project portfolio that encompass the water and sanitation sector, promoting information exchange and knowledge generation through information and communication technologies (ICTs), and strengthening the capacity of a leading HIV/AIDS service organizations in Zimbabwe, Mozambique and Kenya to mainstream Sustainable Livelihoods in their work with households and communities affected by HIV/AIDS. Sheri worked in Kenya for two years coordinating a home gardening and micro enterprise project for rural women. She also worked for two years in Botswana, working with a local NGO to support sustainable and equitable approaches food security and nutrition for local communities.
KEN ASH
Deputy Director, Trade and Agriculture,
Organisation for Economic Co-operation and Development
Ken Ash manages a comprehensive programme of economic and policy research and analysis relating to the domestic and international performance of trade, agriculture, food, and fisheries policies. The overall aim is to provide information and advice that would better enable countries to pursue further trade liberalization and to achieve sustainable economic growth and employment. Before joining the OECD in 1999 Ken was the Director General, Economic and Policy Analysis at Agriculture and Agri-food Canada. Ken's early work experience was in the private sector, and since 1978 he has worked at various levels of government in Canada and internationally. Ken has Bachelor of Commerce and Master of Business Administration degrees.
GORDON BACON
Chief Executive Officer
Pulse Canada, Canadian Special Crops Association
Gordon Bacon is CEO for Pulse Canada and is also CEO of the Canadian Special Crops Association, an organization that represents processors, exporters and brokers of all pulses and other crops like mustard. Pulse Canada is a national association funded by Canadian pulse growers and the pulse trade. Pulse Canada is investigating the role that pulses can play in addressing health and nutritional challenges faced in both developed and developing worlds. Pulse Canada is also interested in ensuring that the environmental contribution of pulse crops, legumes that require little or no additional nitrogen fertilizer, is recognized by consumers and government as part of a cropping and food system that reduces input use, and reduces production of greenhouse gases. Pulse Canada promotes pulses as part of a "Healthy People: Healthy Planet" strategy. Before joining Pulse Canada, Gordon was Director of Market Development at the Canadian Wheat Board (CWB). He has also served as Senior Policy Advisor to the Minister of State, Grains and Oilseeds in Ottawa; and in various roles with federal and provincial departments of agriculture. He has also been involved in the family farming operation in Saskatchewan.
Her Excellency JUDITH MBULA BAHEMUKA
Kenya High Commissioner to Canada
Judith Mbula Bahemuka is a trained sociologist whose specialization is rural development, focusing on poverty reduction through the utilization of farming systems to provide sustainable livelihoods for rural families. She has done sizeable work in the area of women and development, looking at the role of women in agricultural development. Her work with Agriculture Extension staff, producing training manuals in Post Harvest Systems for small-scale framers and linking farmers' knowledge to that of the Extension Personnel has been widely acknowledged. Mbula Bahemuka worked with the Kenya National Aids Secretariat, as a member of the Education and Information Committee since its inception. She supported the WHO 1992/93 Evaluation of HIV/AIDS in Kenya. In 1995/1997 Mbula Bahemuka participated in the preparation for the Sessional Paper in HIV/AIDS chairing the Committee on Women, Children and HIV/AIDS. Internationally, she has worked closely with the Global Partners Project which brings together the Great Lakes Colleges Association of USA, Associated Colleges from the South, and the Association of Colleges of the Midwest. She established the International Learning Centre at the University of Nairobi in 1998 where she was the founder Director. In 1997 she was honoured with the UNESCO Chair on Women Education, Health and Sustainable Development. She was the holder of the Chair until 2003, when she was appointed as the Kenya Permanent Representative and Ambassador to United Nations in New York. In 2000, Bahemuka, with funding from Andrew Mellon Foundation, and the support of Global Partners, established the International Learning Centre in Nairobi. The centre caters for scholars from the Region by facilitating Collaborative Research on Education, Social Change and Development. The centre has so far produced high quality scholarly work under the title "East Africa in Transition." Mbula Bahemuka holds a Bachelor of Arts degree from Marygrove College, Detroit, USA; a Master of Arts and Doctorate in Sociology from Nairobi University; Post Doctorate Certificate in International Agriculture and Rural Development from Cornell University and a Certificate in International Relations from Humphrey Institute at the University of Minnesota. She holds Honorary Doctorates of Humane Letters from Kalamazoo College in Michigan, and Trinity College in Hartford, Connecticut. Mbula Bahemuka is currently the Kenya High Commissioner to Canada and Ambassador to Cuba.
CAROLINE BEGG
Director of Stage (Internship), Farm Management and Technology Program, and
Faculty Lecturer, Plant Science, McGill University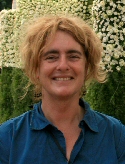 Caroline Begg conducts research on the relationships between spatial patterns of crop and soil parameters in agricultural fields. Her goal is to increase agricultural producer's awareness of variability within the field and the impact this has on crop growth, on the application of fertilizers and manures and the effect on nutrient and soil loss from fields. The research involves on-farm fieldwork using GPS and includes interactions with producers and agro-environmental clubs. The crop and soil data and spectral images are analyzed using GIS software. As well she is involved with the development of a Web site to present the results obtained as a "How to Manual" suitable for perusal by agricultural producers. Her additional interest is the development of sustainable ecological agriculture practices.
TED BOYLE
Canadian Centre for Policy Alternatives
Ted Boyle is a Regina-based communications and public affairs consultant who spent 25 years working in Saskatchewan's labour, public, and Crown corporation sectors. He holds degrees in English, Communications and Canadian Studies from the University of Saskatchewan, Loyola University, and Carleton University, and served as a Visiting Scholar at the Institue of Government Studies at the University of California, Berkely.
HENK-JAN BRINKMAN
Senior Adviser for Economic Policy, World Food Programme
Henk-Jan Brinkman is Senior Adviser for Economic Policy in the World Food Programme, based in New York. Previously, he was chief Economic Analysis and chief Food Security Policy and Markets in the Office of the Executive Director of the World Food Programme in Rome, Italy. From 2001 to 2006 he was a Senior Economic Affairs Officer in the Executive Office of the Secretary General of the United Nations, where he advised the Secretary-General and Deputy Secretary-General on economic, social and environmental issues. Between 1989 and 2001, he was in the Department of Economic and Social Affairs of the United Nations Secretariat, where, inter alia, he contributed to the World Economic and Social Survey. He holds an M.A. in economics from the University of Groningen in the Netherlands and a Ph.D. in economics from the New School for Social Research in New York City. He has written on such topics as economic adjustment in Africa and human stature as a measure of the standard of living. He is the author of Explaining Prices in the Global Economy: A Post-Keynesian Model, which was published by Edward Elgar in 1999. He holds Dutch citizenship.
DEREK BYERLEE
The World Bank
Derek Byerlee, Co-Director, from Australia has wide experience in agricultural and rural development, having lived more than 20 years in Asia, Latin America, and Africa in filling various posts. Most recently he has been Rural Strategy Adviser in the Agricultural and Rural Development Department of the World Bank, and Lead Economist for the Agricultural and Rural Development in the Country Office for Ethiopia and Sudan, based in Addis Ababa. Before joining the Bank he was Director of Economics at the International Maize and Wheat Improvement Center, Mexico, and Associate Professor, Michigan State University, USA. He has published widely in several fields of agricultural development and has many years of practical experience of working directly with farmers.
NICOLAS CARPENTIER
Sun Youth Organization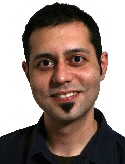 Nicolas Carpentier has been involved with Sun Youth since 1998. First as a volunteer during the Ice Storm, he was in charge of the organization's Senior Services for a number of years. In 2005, he accepted the position of Coordinator of Communications & Marketing. Mr.Carpentier is responsible for public relations with donors and with the media and for elaborating the organization's annual financing campaigns which generates over 5.2 million $ in revenue. Mr. Carpentier is behind every promotional event organized for Sun Youth. He is also a regular columnist for the Senior Times newspaper and a monthly contributor to the 24-Heures newspaper, informing the public on Sun Youth's programs and activities. Sun Youth Organization was founded in 1954 and has a staff of 68 full time employees. In the summer time, the organization hires over 100 students to work on special programs.
Hon. MICHAEL CHONG
MP, Wellington-Halton Hills
Michael Chong was first elected to Parliament in 2004 and represents the riding of Wellington-Halton Hills. In 2006, Michael served in the federal cabinet as President of the Queen's Privy Council, Minister of Intergovernmental Affairs and Minister for Sport. Prior to his election, Michael acted as Chief Information Officer for the National Hockey League Players' Association and as a senior technology consultant to the Greater Toronto Airports Authority for the redevelopment of Pearson International Airport. He has also held information technology positions at Barclay's Bank and Research Capital Corporation.In 1997, Michael co-founded the Dominion Institute, an organization committed to raising Canadians' awareness of history and civics. He is also a former board member of the Elora Festival and the Elora Festival Singers, as well as a member of the Corporation of Trinity College, University of Toronto. Michael also attended Trinity College at the University of Toronto where he obtained a degree in philosophy. Michael grew up and still lives just outside of Fergus in Wellington County, Ontario.
NEIL CONKLIN
President, Farm Foundation
Neilson C. Conklin is President of Farm Foundation. Prior to joining Farm Foundation in January 2008, Dr. Conklin was director of the Market and Trade Economics Division of USDA's Economic Research Service. The Market and Trade Economics Division provides a broad range of economic research and analysis on global agricultural markets. Prior to his service at USDA, Dr. Conklin was chief economist at the Farm Credit Council. Between 1984 and 1988, Conklin worked at the USDA Economic Research Service in various capacities including fruit and vegetable outlook and as deputy director of the Agriculture and Trade Analysis Division. He also served as chief of the Agriculture Branch at the Office of Management and Budget and on the faculties of Colorado State University, the University of Arizona and Arizona State University. Conklin received a Ph.D. in agricultural and applied economics from the University of Minnesota. He also holds an M.S. degree in agricultural economics from the University of Wyoming and a B.A. in history from Castleton State College in Vermont.
JIM CORNELIUS
Executive Director, Canadian Foodgrains Bank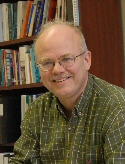 Jim Cornelius is the Executive Director of Canadian Foodgrains Bank, a position he has held since 1997. The Canadian Foodgrains Bank is a consortium of 15 Canadian church agencies that mobilizes and programs food and cash resources to address hunger around the world. In the last 25 years, the Canadian Foodgrains Bank has supplied over one million tonnes of food to various parts of the world, and supported many food security and nutrition initiatives. Prior to his appointment as Executive Director, Jim worked as a management consultant for 16 years, specializing in international relief and development. He conducted numerous assignments for the Canadian International Development Agency and various non-governmental organizations. He was lived, work in and traveled to various countries around the world. Jim did his graduate studies in international development at Carleton University's Norman Paterson School of International Affairs in Ottawa. He has an Honours B.A. in Sociology and African Studies from York University in Toronto, and studied Business Administration at Ryerson Polytechnical Institute in Toronto.
FRANÇOIS DAGENAIS
Director of External Financing and Investment Projects,
Inter-American Institute for Cooperation in Agriculture (IICA)
François Dagenais is currently Director of External Financing and Investment Projects with the Inter-American Institute for Cooperation in Agriculture (IICA) in San Jose, Costa Rica. He has held positions of increasing responsibility with IICA over the past 10 years. Prior to that he worked with CIDA in Honduras and was Assistant Deputy Minister in the Quebec Department of Agriculture. He has worked on agriculture, rural development, and natural resources projects in Latin America, the Caribbean, China, and several countries in Africa. He holds BSc and MSc degrees in agriculture from McGill and Laval, and a PhD from Montpellier. He has authored numerous reports on agriculture, project management and analysis, and food aid.
LOUISE FRECHETTE
Former Deputy Secretary-General, United Nations
ER. M. GOPALAKRISHNAN
Secretary General,
International Commission on Irrigation and Drainage (ICID)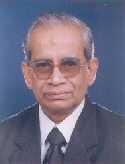 Er. Gopalakrishnan, a holder of the Master of Engineering (Honours) in Water Resources Development from University of Roorkee (now, IIT-R) and a Gold Medalist of the University, is the Secretary General of the International Commission on Irrigation and Drainage (ICID) since January 2004. He had served earlier in various senior and responsible high positions in Government of India and was a Member of the India's apex technical organisation, the Central Water Commission (CWC) as Member River Management and later the Coordinator of a Government of India's multi-disciplinary high level Task Force on Interlinking of Rivers in 2003. He has over four decades of experience in Water Resources Sector. In addition to his primary contributions to the International Commission on Irrigation and Drainage, he serves several professional societies within and outside the country. He is currently the President, Indian Water Resources Society and also the President of the New Delhi Associate Centre of World Water Council. He is an active Member of International Water Resources Association, ICOLD etc. He served as a Governor of the World Water Council representing ICID's position until March 2006. Mr. Gopalakrishnan is the Secretary of IWALC, an assembly of International Water Associations. He is currently a member of the Technical Advisory Committee of World Water Development Report 3 of the World Water Assessment Programme under UN- to be released during the World Water Forum 4 in Istanbul in March 2009. Mr. Gopalakrishnan had produced over 80 papers on topics of Water Resources Engineering covering different aspects and perspectives and delivered numerous invited talks.
DANIEL GUSTAFSON
Director, Liaison Office for North America
Food and Agriculture Organization of the United Nations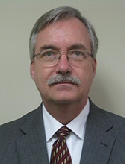 Daniel Gustafson is the Director of the FAO Liaison Office for North America. He has worked for the past 30 years on agricultural and rural development in Latin America, Africa and Asia as well as in the United States. He holds an M.Sc. in Agricultural Economics from the University of Wisconsin and a Ph.D in Agricultural Extension from the University of Maryland. He began his career in Brazil with the Inter-American Institute for Cooperation on Agriculture (IICA), where he worked from 1977 to 1988. This was followed by six years at the University of Maryland at the University's International Development Management Center. He joined FAO in 1994, first in Mozambique as an advisor within the Ministry of Agriculture and then as head of FAO's country offices in Kenya from 1998 to 2002 and most recently in India where he worked until returning the US in December 2007.
DOUGLAS D. HEDLEY
Executive Director,
Canadian Faculties of Agriculture and Veterinary Medicine
Dr. Hedley is a private consultant following many years in the Canadian Public Service in Agriculture and Agri-food Canada, retiring in 2004 as Assistant Deputy Minister. He also serves as Executive Director for the Canadian Faculties of Agriculture and Veterinary Medicine, (CFAVM), with representatives from the five veterinary medicine and eight agricultural faculties in Canadian Universities. He continues to work on farm income issues in Canada and the USA, has provided training on governance issues in China, and explores farm marketing and processing approaches within Canada and North America. He was a member of a study team for the US National Academy of Sciences in Washington, with a final report in June 2008. He also coaches mid-career Public Servants in management and leadership. He has worked in several countries around the world, USA, South America, Africa and South East Asia with The Rockefeller Foundation and Winrock International. His overseas work involved agricultural economic development, development of graduate-level university training in economics, university development, and policy and program development and advice at Ministerial level. He holds Masters and Ph.D degrees in agricultural economics from Michigan State University and a Bachelor's degree in agricultural economics and business administration from the University of Guelph.
NICHOLAS KASIRER
Dean, Faculty of Law, McGill University
Professor Nicholas Kasirer was appointed Dean of the Faculty of Law, McGill University, in November 2003. From 1996 to 2003, Professor Kasirer was the Director of the Quebec Research Centre for Private and Comparative Law, where he continues to act as secretary to the editorial committee of the Private Law Dictionary/Dictionnaire de droit privé and as an editor of a critical edition of the Civil Code of Quebec. He is a member of the editorial boards of the Canadian Journal of Law and Society, the Philanthropist, the Estates and Trusts Reports, and the Canadian Legal Education Annual Review. A specialist in language & law and family property law, Professor Kasirer's research bears on comparative law and Quebec legal culture. Professor Kasirer has received the American Society of Comparative Law's Hessel Yntema Award in Comparative Law, the Prix de la Fondation du Barreau, the Law Students' Association's John W. Durnford Teaching Excellence Award, and the McGill Alumni Association David Johnston Medal. Professor Kasirer was named James McGill Professor by the University in 2002.
SHELLEMIAH O. KEYA
Advisor to Director General, Africa Rice Center (WARDA)
Dr. Shellemiah Okoth Keya is Advisor to the Director General, Africa Rice Centre (WARDA) in Cotonou, Benin. A highly accomplished expert in legume and food crop production, Dr. Keya, a Kenyan citizen, obtained his B.Sc. (Agric) from Makerere University and completed his M.S. and Ph.D. degrees at Cornell University. He has led a very distinguished academic career as Dean, Faculty of Agriculture, University of Nairobi, Principal, College of Agriculture & Veterinary Sciences, Kabete Campus, and Vice-Chancellor, Moi University. He was appointed Executive Secretary of the Technical Advisory Committee of the CGIAR in 1996 and served in the position for 4 years, before becoming Assistant Director General, Research & Development, of WARDA and now Advisor to the Director General of WARDA. He has undertaken many studies in soils, forestry and agriculture for agencies such as the World Bank, FAO, UNEP and UNESCO.
JEAN-PAUL LAFOREST
Doyen - Dean
Faculté des sciences de l'agriculture et de l'alimentation, Université Laval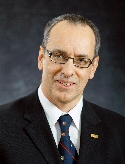 Jean-Paul Laforest was born in Montreal, Canada. He holds a BScA in Agronomy and an MSc in Animal Nutrition from Laval University and a PhD in Animal Physiology from University of Guelph. He spent a sabbatical year at the Wageningen Institute of Animal Science in The Netherlands, working in porcine reproductive physiology. He has been a faculty member at Laval University since 1987, becoming a full professor in 2000. Between 1999 and 2003, Mr. Laforest served as Chair of the Department of Animal Sciences. He has been Dean of the Faculty of Agriculture and Food Sciences since 2003. Mr. Laforest received best teacher awards from the Faculty and University in 2000 and 2001 respectively. He is the author and co-author of more than 45 refereed papers, 60 research reports and extension papers and more than 130 scientific communications; he has directed or co-directed more than 30 PhD and MSc students.
GAÉTAN LUSSIER
Chairman of the Board,
Canadian Agri-Food Policy Institute
Gaétan Lussier serves as a Director or member of a number of corporate boards including Shoppers Drug Mart and not-for-profit associations. From 1994 to 1999, Mr. Lussier was President and Chief Executive Officer of Culinar Inc., and was President of Weston Bakeries Quebec from 1988 to 1994. In addition to his executive level experience in the private sector, Mr. Lussier enjoyed a long and influential career as a senior public servant with both the Government of Canada and the Government of Quebec. Mr. Lussier was appointed Deputy Minister of Agriculture for the Government of Quebec in 1971. Mr. Lussier was Deputy Minister of Agriculture Canada and of Employment and Immigration Canada, as well as President of the Unemployment Insurance Commission. A recipient of the Order of Canada (1981), Mr. Lussier has received numerous other honours, including an honourary doctorate in agricultural sciences from McGill University (1979), and the Ordre de Mérite Agronomique de l'Ordre des Agronomes du Québec (1977). He received the Medal of Excellence from the Order of Agronome in 2006 and will be inducted to the Hall of Fame of Agriculture in August 2008 in Quebec City. From July 2003 to November 2004 was Chair of the External Committee on Smart Regulation. He was also requested by the Federal Government to create in April 2004 CAPI , the Canadian Agri-food Policy Institute. He is presently Chairman of the Board of this Institution. This Institute is dedicated to identifying future issues and opportunities affecting the future of the Canadian Agri-food economy.
CHANDRA MADRAMOOTOO
Dean, Faculty of Agricultural and Environmental Sciences, McGill University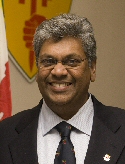 Chandra Madramootoo is the Dean of the Faculty of Agricultural and Environmental Sciences, a James McGill Professor in the Department of Bioresources Engineering, and an Associate Vice-Principal of McGill University. Prior to becoming Dean in 2005, he was the Founding Director of the Brace Centre for Water Resources Management, where he has played a pivotal role in building the Centre's extensive research, teaching and technology transfer programs, as well as its research infrastructure. Chandra Madramootoo obtained his B.Sc., M.Sc. and Ph.D. degrees in agricultural engineering, and irrigation and drainage engineering from McGill University. Prior to joining the staff at Macdonald in 1984, he worked for several years in agricultural water management in the Commonwealth Caribbean, conducting research and teaching in irrigation, drainage, water quality, water table management, watershed management and land reclamation. He has taught undergraduate and graduate courses in hydrologic systems and modeling, irrigation, drainage, and soil and water quality management. His research and teaching in water resources management has led to extensive international involvement with governments and institutions in the Caribbean, Central Asia, Egypt, Pakistan, India and Sri Lanka. Madramootoo has served as Vice President of the International Commission on Irrigation and Drainage (ICID), as President of the Canadian National Committee on Irrigation and Drainage (CANCID) and a Director of the Canadian Water Resources Association (CWRA). He serves on the drainage committees of the American Society of Agricultural and Biological Engineers (ASABE). In these capacities he has organized several large international workshops and conferences. Professor Madramootoo is the recipient of numerous awards. He is a member of the International Water Academy, a Fellow of the Canadian Society for Bioengineering and also a Fellow of the American Society of Agricultural and Biological Engineers.
GRACE MARQUIS
Canada Research Chair in Social and Environmental Aspects of Nutrition,
School of Dietetics and Human Nutrition, and
Interim Director, Centre for Indigenous Peoples' Nutrition and Environment (CINE)
McGill University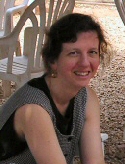 Grace S. Marquis is Canadian Research Chair in Social and Environmental Aspects of Nutrition in the School of Dietetics and Human Nutrition and the Interim Director for the Centre for Indigenous Peoples' Nutrition and Environment (CINE) at McGill University. She has worked in community research on child nutrition for 25 years, primarily in Peru and Ghana. Her research has examined determinants of diet and nutritional status of infants and young children living in poverty and the means by which individuals, communities, and societies can intervene to promote optimal nutrition. Longitudinal studies in Ghana have contributed to understanding the mechanisms by which HIV alters households' ability to provide optimal feeding and caregiving for infants and, based on this knowledge, to develop alternative feeding and caregiving strategies that will support child health and growth and are feasible for HIV-affected families to carry out. Projects in both Peru and Ghana support community-based adult education and income-generation activities in agriculture production to improve the availability, accessibility, and use of animal source foods in the diets of young children.
MOHAMMED MUKHIER
Head, Disaster Policy and Preparedness Department
International Federation of Red Cross and Red Crescent, Switzerland
Food Security for All and All for Food Security
Born in Sudan, Mohammed Mukhier is Head of Disaster Policy and Preparedness Department at the International Federation of Red Cross and Red Crescent Societies (IFRC) in Geneva since June 2006. Mr. Mukhier's department provides overall guidance to the IFRC's secretariat and to National Red Cross and Red Crescent Societies on topics such as disaster preparedness, disaster policy, disaster risk reduction, food security, livelihood and recovery. Before becoming Head of Department, Mohammed Mukhier held key positions in the field as Head of Operations for the Pakistan earthquake in 2006, Head of Delegation in Iran in 2004-2005, Regional Disaster Preparedness and Response Delegate for Eastern Africa from 2000 to 2003 and Senior Disaster Preparedness Officer in Geneva (1998-2000). Before joining the IFRC, Mohammed Mukhier also worked for Actionaid and was a Research Associate at the Cranfield Disaster Preparedness Centre at Cranfield University in England. Mohammed Mukhier holds several university degrees including diplomas in international management, food security and microcomputers for agricultural development.
AL MUSSELL
George Morris Centre
Al Mussell is a Senior Research Associate at the George Morris Centre. His areas of research expertise are farm management, agricultural marketing, and farm income policies. He also teaches finance and marketing to participants in the Centre's executive development and agricultural management programs. Prior to joining the George Morris Centre, Al worked as an economist in the milk procurement division of Land O'Lakes, Inc. in Minnesota. Al holds bachelors and masters degrees in agricultural economics from the University of Guelph, and a doctorate in agricultural economics from the University of Minnesota, where he was a Fulbright Scholar.
ANWAR NASEEM
Department of Natural Resource Sciences, McGill University
Anwar Naseem was born in Rawalpindi, Pakistan and grew up in Islamabad, Pakistan and Bangkok, Thailand. He received his BSc from McGill University in Biological Sciences and his PhD from the Department of Agricultural Economics at Michigan State University. Before joining the faculty at McGill, Anwar Naseem was a Postdoctoral Fellow at the International Food Policy Research Institute (IFPRI) based in Ethiopia. His areas of interest include agricultural development, economics of innovation, science and technology policy, and industrial organization. Dr. Naseem's specialization is in the fields of the economics of science and technology, the impact and regulation of agricultural biotechnology, intellectual property rights, modeling mixed R&D oligopolies, international agricultural development, the role of private sector in agricultural R&D, and science policy.
KANAYO F. NWANZE
Vice-President, International Fund for Agricultural Development
Kanayo F. Nwanze is a well seasoned manager who transcends the boundaries of his scholastic training combining strategic thinking with a well articulated vision of agriculture development, leadership and management skills, an excellent research and publications record, and thorough knowledge of current development issues and challenges. Mr Nwanze is currently the Vice President of the International Fund for Agricultural Development (IFAD), a United Nations specialized agency and an international financial institution with a mission of "enabling poor rural people to overcome poverty. " Mr Nwanze has over 30 years of extensive experience devoted to the improvement of livelihoods of poor rural communities. Prior to IFAD, he served as Director-General (1996-2006) of the Africa Rice Centre (WARDA) a member of the Consultative Group on International Agricultural Research (CGIAR), and held several senior positions at the International Crop Research Institute for Semi-Arid Tropics (ICRISAT) from 1979-1996. He started his international career as a Post-Doctoral Researcher with the International Institute for Tropical Agriculture (IITA) shortly after his Ph.D. (1975) in agricultural entomology from Kansas State University, Kansas, USA. Mr Nwanze is a member of several scientific associations and a Board Member of a number of institutions. He has received numerous prizes and awards.
TIM OGILVIE
Dean, Atlantic Veterinary College,
University of Prince Edward Island
Dr. Tim Ogilvie is Dean of the Atlantic Veterinary College (AVC) at the University of Prince Edward Island. Previously, he served the University as Acting Dean and as Chair of the Department of Health Management. During this time, he was also co-director of AVC's Veterinary Teaching Hospital. Dr. Ogilvie joined AVC as a faculty member in 1985 after serving as Director, Animal Industry Services Branch of the PEI Department of Agriculture and Forestry. He was previously employed in private practice. Dr. Ogilvie has been a participant in the several Canadian and Atlantic Business/Trade Development Missions, including to the US, Poland, Japan and China. He currently serves as a member of UPEI's Senior Management Group, the Canadian Faculties of Agriculture & Veterinary Medicine, the Association of American Veterinary Medical Colleges and the Canadian Animal Health Consultative Committee's National Farmed Animal Health Strategy Oversight Committee. He has also served on the boards of various provincial and national associations. Dr. Ogilvie's work has been published in refereed journals/texts and non-refereed journals in the areas of large animal internal medicine, specifically gastrointestinal and respiratory diseases.
PHILIP OXHORN
Director, Centre for Developing Area Studies
McGill University
Philip Oxhorn is the Director of the Centre for Developing Area Studies and Editor-in-Chief of the international journal Latin American Research Review. A former Associate Dean (Graduate and Postdoctoral Studies) at McGill, his research focuses on civil society and its role in both democratic transitions and the consolidation of new democracies, particularly in Latin America. Professor Oxhorn's publications include Organizing Civil Society: The Popular Sectors and the Struggle for Democracy in Chile (Penn State University Press, 1995), as well as numerous articles and three co-edited volumes: What Kind of Democracy? What Kind of Market? Latin America in the Age of Neoliberlism (with Graciela Ducatenzeiler, Penn State University Press, 1998), The Market and Democracy In Latin America: Convergence or Divergence? (with Pamela Starr, Lynne Rienner Publishers, 1999) and Decentralization, Civil Society, and Democratic Governance: Comparative Perspectives from Latin America, Africa, and Asia (with Joseph Tulchin and Andrew Selee Woodrow Wilson Center Press/the Johns Hopkins University Press, 2004). He is currently completing a book-length manuscript titled Sustaining Civil Society: Economic Change, Democracy and the Social Construction of Citizenship in Latin America (Penn State University Press, forthcoming). Professor Oxhorn has lectured extensively in North and South America, Western Europe and Australia. He has also worked as a consultant to the Inter-American Development Bank, the Canadian International Development Agency (CIDA), the International Development Research Centre (IDRC), the Ford Foundation, The Carter Center, the Woodrow Wilson Center for International Scholars, and the Canadian Foundation for the Americas. He has a PhD in Political Science from Harvard University.
HON. ROBERT PERSAUD
Minister of Agriculture, Republic of Guyana
The Hon. Robert Montgomery Persaud M.P. is Minister of Agriculture, Republic of Guyana. He has pursued studies in Public Communications in the United States and India, and holds a B.A. Degree from the University of Guyana, and a Master's in Business Administration from the University of the West Indies (Cave Hill Campus). In 1999, he was appointed a Media Advisor to the President of Guyana. Mr. Persaud also served as the national coordinator of the Guyana Information Communications Technology Strategy. In 2006, he was appointed Minister of Agriculture. Under his remit, agriculture in Guyana is being modernized and transformed. Mr. Persaud remains the driving force behind the country's Grow More Food campaign as well as being tasked with the responsibility for fisheries, livestock, other crops, bio-fuels, climate change unit, drainage and irrigation and forestry. The diversification of Guyana's agriculture is being advanced with the first dedicated project on agricultural diversification concluded in 2008. In addition to being a Member of Parliament, Mr. Persaud holds senior executive positions in the ruling People's Progressive Party.
CAROLINE PESTIEAU
International Crop Research Institute for the Semi-Arid Tropics
Caroline Pestieau is a member of the Governing Board of the International Crop Research Institute for the Semi-Arid Tropics (ICRISAT). She has had thirty-years of experience in relating research to public policy as a researcher and as a senior manager, both overseas and in Canada. Her most recent assignment was as Chair of the Board of the African Economic Research Consortium which supports policy-relevant research in 25 African countries. She was formerly Vice President, Programs and Partnership, at the International Development Research Centre, and before that Deputy Chair of the Economic Council of Canada. She is currently Adjunct Professor at the University of Ottawa School of Policy Studies.
ABNEL PIERRE
Haiti
SANDRA POLASKI
Senior Associate and Director, Trade, Equity and Development Program,
Carnegie Endowment for International Peace
Sandra Polaski is a Senior Associate at the Carnegie Endowment for International Peace and Director of its Trade, Equity and Development Program. The Carnegie Endowment is a global think tank with offices in Washington, Beijing, Moscow, Beirut and Brussels. Ms. Polaski's work focuses on trade, development, livelihood and income distribution issues. She served as the US Secretary of State's Special Representative for International Labor Affairs for Secretaries Madeleine Albright and Colin Powell. In this position she was responsible for incorporating labor and livelihood issues into US foreign policy. Previously, Ms. Polaski was the Director of Economic and Labor Law Research for the Secretariat of the North American Commission on Labor Cooperation, a NAFTA-related intergovernmental body. Ms. Polaski holds degrees from the University of Wisconsin and Johns Hopkins University School of Advanced International Studies (SAIS). Her most recent publications are: "Rising Food Prices, Poverty and the Doha Round" and India's Trade Policy Choices: Managing Diverse Challenges.
GSV RAGHAVAN
Department of Bioresource Engineering, McGill University
G.S. Vijaya Raghavan joined McGill University in 1974; he is a James McGill Professor in the Department of Bioresource Engineering. He started his research career working on the effect of soil compaction by agricultural machinery. The results of his research — quantifying the effect of compaction on soil, the resulting damage and its alleviation, effect on production losses and design of better tillage practices — led to several significant recommendations on conservation and zero-tillage practices at the provincial level that are still relevant after two and half decades. Subsequently, Vijaya Raghavan turned his attention to postharvest technology and focused his research on crop processing and storage. Apart from pioneering work in the areas of controlled- and modified-atmosphere storage of fresh fruits and vegetables, he has contributed to the development of knowledge in the areas of grain processing, drying and dehydration of agri-food produce, and storage. His work on various modified atmosphere storage technologies focused on the application of techniques involving use of membranes and diffusion channels to passively alter the storage conditions that control the quality and longevity of fresh produce. This innovative research brought him into contact with farmers near Montreal, leading to the establishment of one of the first large-scale commercial storage facilities in Canada. Vijaya Raghavan has always been striving to develop technologies that enhance heat and mass transfer in industrial and agricultural processes. The various designs developed by him for the use of particulate medium-based heating and drying systems have been put to use for heat treatment of soybeans and other grains. With support from the Canadian International Development Agency (CIDA), he has shared the benefits of his research efforts with people in India and China; he was the director of three major CIDA projects that provided training and support to Indian and Chinese Universities to strengthen their capacity in postharvest technology and food processing. He has also been part of developmental activities in parts of Africa and South America. Dr. Raghavan has been honored with many awards around the globe for his contributions in food processing outreach activities and his contributions to the many professional associations to which he belongs.
CAROLE ROBERT
President,
Biotechnology for Sustainable Development in Africa Foundation (BDA)
JOHN SCOTT
President,
The Canadian Federation of Independent Grocers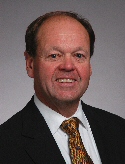 John Scott is President of The Canadian Federation of Independent Grocers, which is a national non-profit association, dedicated to furthering the unique interests of independent and franchised grocers in Canada. Following his post-graduate studies in economics at Queen's University, he moved to Alberta and was involved in several business and government related ventures. A primary focus of his work was the retail food industry.In 1991, Mr. Scott was appointed to the position of President of The Canadian Federation of Independent Grocers. He continues to be involved in a number of national industry and government committees as well as several boards in his home community of Unionville. He currently serves as Chair of the Board of Directors of Markham Stouffville Hospital and the Institute for Agri-Food Policy Innovation. His enthusiasm and passion for the retail food industry has helped lead CFIG to play a prominent part in the major issues challenging the Canadian food industry. He continues to analyze the industry and meld his perspective into the frequent presentations he makes to audiences throughout North America. He has delivered keynote addresses on the Canadian food industry at both national and international events.
ALY SHADY
Canadian International Development Agency
Aly Shady is Senoir Water Advisor at CIDA. He has graduated from Cairo University (Egypt), McGill University (Canada). He is a registered Professional Engineer (P.Eng.). He has been actively associated with international development in a number of capacities as a consulting engineer, agricultural specialist, irrigation and drainage engineer and water policy advisor. Mr. Shady has developed and managed more than 185 major projects, in more than 40 countries located in South and Central America, the Caribbean, Africa, Asia, Eastern Europe and Central Asia. He is the past President of the International Water Resources Association (IWRA), President Honoraire of the International Commission on Irrigation and Drainage (ICID), Governor and Co-founder of the World Water Council (WWC), member of the International Water Academy, member of the council of the International Hydropower Association (IHA) and founding member and Governor of the Arab Water Council (AWC). Mr. Shady's outstanding contribution has been widely recognized and he has received several awards in this respect including his recognition by the Head of Canada's Public Service by receiving the Award for Excellency in Policy in 2000, the Gold Medal Award of the Professional Institute of Public Service Canada (PIPSC) in 2002 and the Canada's Governors General - Queen Elizabeth Golden Jubilee medal in 2002. He has also received the Gold Medal of the World Water Council (2000), the Association of Professional Engineers of Ontario, Canada (1989).
DONALD L. SMITH
Chair, Plant Science Department
Head, Green Crop Network & McGill Network for Innovation in Biofuels and Bioproducts
McGill University
James McGill Professor Don Smith has been with McGill for more than 20 years; in that time, 52 graduate students have worked under his direct supervision, in the fields of production and physiology of crop plants, more recently with an emphasis on plant-microbe interactions, climate change and biofuels. Recent work in Smith's laboratory has led to the discovery of two sets of compounds, produced by bacteria, that cause plants to grow faster and produce more biomass and seeds, material useful for food, feed or biofuel production. Increased biomass production means more CO2 is taken from the atmosphere through photosynthesis, leading to a reduction in greenhouse gas levels. This research activity has resulted in over 245 publications, eight patents and a spin-off company. During his years at McGill he has been principal investigator on research activities valued at over $10 million, and research which advances our understanding of technologies that can lead to a more sustainable society. Don Smith was recently honoured by the Association francophone pour le savoir (ACFAS) with the Prix Michel-Jurdant - 2007.
GALINA STULINA
SANIRI and the Scientific Information Center of the Interstate Commission Water Coordination, Uzbekistan
Dr. Galina Stulina is a soils and agronomy specialist with SANIRI and the Scientific Information Center of the Interstate Commission Water Coordination, located in Tashkent, Uzbekistan. Dr. Stulina has amassed considerable field experience through her many field projects, soil surveys and feasibility studies with the Uzbekistan Ministry of Agriculture and Water Resources. She rose through the ranks eventually holding senior management positions in the Ministry. Dr. Stulina obtained her PhD from Moscow State University. She has led numerous studies funded by the European Union and CIDA on the improvement of water, land and agricultural productivity in Central Asia. She was awarded a NATO Fellowship to Lisbon Technical University. Dr. Galina has more than 40 publications and reports on soil science, crop yield forecasting, agriculture and climate change, and gender analysis of agricultural and rural communities in Central Asia.
ATO TEFERA DERBEW
Head, Amhara Regional State Bureau of Agriculture and Rural Development
Ethiopia
Ato Tefera Derbew is currently Head of The Amhara Regional State Bureau of Agriculture and Rural Development in Ethiopia. He has fourteen years of grass root experience in agriculture and rural development. Ato Tefera has Master of Science in Agricultural Economics.
K. THANGAVEL
Professor, Food Process Engineering
Tamil Nadu Agricultural University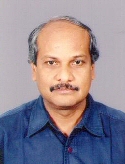 K. Thangavel is a professor of food process engineering in the Department .of Food and Agricultural Process Engineering, Agricultural Engineering College and Research Institute, Tamil Nadu Agricultural University (TNAU), India. His research interests include: membrane processing; technology for concentration of liquid foods; dairy by product utilization and new food product development; nanoencapsulation technology for functional food components; ohmic heating technology for the particulate foods and development of continuous ohmic heating systems; and food safety, product testing and quality control. He was instrumental in the establishment of Food Engineering Laboratories and Food Processing Pilot Plant at TNAU, as well as a Post Harvest Technology Centre in collaboration with CIDA and McGill University.
MAXIMO TORERO
Division Director of the Market, Trade and Institutions Division,
International Food Policy Research Institute
Dr. Máximo Torero is the Division Director of the Market, Trade and Institutions Division at (IFPRI) International Food Policy Research Institute , IFPRI Coordinator for Latin America, and a leader of the Global Research Program on Institutions and Infrastructure for Market Development. He received his Ph.D. from the University of California at Los Angeles Department of Economics, is a professor on leave at the Universidad del Pacífico. He was a postdoctoral fellow at the UCLA Institute for Social Science Research (ISSR). Dr. Torero's major research work lies mostly in analyzing poverty, inequality, importance of geography and assets (private or public) in explaining poverty, and in policies oriented towards poverty alleviation based on the role played by infrastructure, institutions, and on how technological breakthroughs (or discontinuities) can improve the welfare of households. He has won twice the World Award for Outstanding Research on Development given by the Global Development Network (GDN). His experience extends to projects in Latin America, Sub Saharan Africa, and Asia. Finally, on market access, Dr. Torero has worked on impact evaluation of contract farming arrangements to access to dynamic markets for small commercial farmers, and the creation and sustainability of urban-rural market institutions. His work has also focus substantially on the impact of rural households to phones as an instrument to reduce their asymmetry of information when accessing to markets.
DANIEL UZA
Vice-Chancellor, University of Agriculture Makurdi, Nigeria
Professor Daniel Uza is the fourth Vice-Chancellor of the University of Agriculture Makurdi, Nigeria; he was appointed to the post in 2007. Until his new appointment, Professor Uza was the Dean, College of Veterinary Medicine in the University of Agriculture Makurdi. The Professor of Veterinary Medicine who hails from Adikpo, Kwande Local Government Area of Benue State joined the University in 1985 when it was a campus of the University of Jos. Since the University's establishment in 1988 Professor Uza has held various posts and positions within the University set-up including membership of the Governing Council of the University. He is a member of several scholarly organizations and professional bodies, and has is the author of numerous professional papers and books.
JACK WILKINSON
International Federation of Agricultural Producers (IFAP)
Born and raised on a family farm in Ontario, Canada, Jack Wilkinson is a practicing farmer. He produces grains and oilseeds and has a beef cow/calf operation. Jack Wilkinson was elected President of IFAP in May 2002 by the 35th World Farmers' Congress held in Cairo, Egypt. Before being elected President of IFAP, Mr. Wilkinson was IFAP Vice-President and chaired IFAP's Trade Committee from 1996 to 1998. On the national level, Wilkinson served six years as President of the Canadian Federation of Agriculture, and was also President of the Ontario Federation of Agriculture. During this time he served on numerous Federal and Provincial committees, covering such as land use, tax policy and safety nets. Mr. Wilkinson started in agricultural politics at the beginning of the '80s from local to international level. Jack Wilkinson returned to farming in 1979 after retiring as a captain in the Canadian Armed Forces, where he served as a flight instructor. He is a graduate of the University of Western Ontario.
ROBERT S. ZEIGLER
Director General
International Rice Research Institute (IRRI)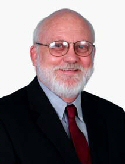 Dr. Robert S. Zeigler earned his Ph.D. in plant pathology from Cornell University in 1982, his Masters in Botany (forest ecology) from Oregon State University in 1978, and his B.Sc. in biological sciences from the University of Illinois in 1972. After graduating in 1972, he joined the Peace Corps and spent two years as a science teacher in the Democratic Republic of Congo in Africa (formerly known as Zaire). He then returned to the U.S. to complete his studies before joining in 1980 IRRI's sister center in Colombia, the Centro Internacional de Agricultura Tropical (CIAT) as a visiting research associate working on cassava. In 1982, Dr. Zeigler went to Burundi to work for three years as a technical adviser for the African nation's maize program at the Institut des Sciences Agronomique du Burundi. He then returned to CIAT as the institute's senior staff plant pathologist until 1992, ultimately taking over as the head of its rice program. It was his success at CIAT that led IRRI to offer Dr. Zeigler his first position in the Philippines as the leader of the Institute's Irrigated Rice Research Program. Dr. Zeigler worked at IRRI in the Philippines from 1992 to 1998 as a plant pathologist and leader of the Institute's Irrigated Rice Research Program. From 1992 to 1996, he also led IRRI's Rainfed Lowland Rice Research Program. After seven years at IRRI, Dr. Zeigler left to become professor and head of the Department of Plant Pathology and director of the Plant Biotechnology Center at Kansas State University in the U.S., before working as director of the Generation Challenge Program of the Consultative Group on International Agricultural Research (CGIAR) based in Mexico. Dr. Zeigler's research has focused on the development of resistance to plant pathogens in crop, primarily rice. An important dimension of his work was to assess the interaction of plant resistance genes and pathogen population dynamics. He has published widely in these areas. In 2007, he was named a Fellow of the American Association for the Advancement of Science (AAAS) for distinguished contributions in plant pathology, plant breeding, and microbial biology covering a range of food crops and microorganisms, and for leadership in international agriculture.
ZHU JING
Deputy Director, Department of Economics and Finance, College of Economics and Management
Nanjing Agricultural University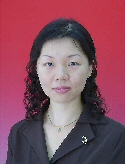 Jing Zhu is the deputy director of Department of Economics and Finance, College of Economics and Management, Nanjing Agricultural University (NAU). Her major research areas are food security and international agricultural trade. Dr. Zhu has published widely in leading academic journals in China, and has won a series of awards form the Chinese government for her research achievements. She is the member of Agricultural Advisory Committee to the regional government in China, and also serves as a consultant to the World Bank project missions to China. Dr. Zhu obtained her Ph. D. in Agricultural Economics from NAU in 2000 before she joined International Food Policy Research Institute (IFPRI) in 2001 as a post doctoral research fellow. She has received trainings in Institute of Social Science (ISS) in the Netherlands, Australian Bureau of Agricultural and Resource Economics (ABARE) in Australia, Iowa State University in the U.S. She is currently a visiting professor at University of California, Davis, USA.