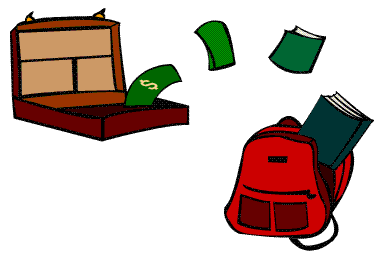 Some companies and organizations offer scholarships or bursaries of particular interest to FMT students. While we can't guarantee that we'll always know about all of them, we'll post information for you about the ones we do find. Then it's up to you to apply for them!
Students from beef farms/ranches should note:
many breed associations in Canada provide scholarships (Angus, Shorthorn, Simmental, Hereford, etc). Contact
fmt [dot] macdonald

[at]

mcgill [dot] ca

(us)
or check their youth association pages for details.
Visit the AUCC
website
for additional scholarships available for post-secondary studies.
- Current Student Scholarships -
Deadlines for external scholarships are set by the associations/organizations that offer the awards. Check their websites periodically for updates or changes.
Jersey Canada Youth Scholarships
Jersey Canada offers two scholarships of $750 each to recognize outstanding interest, knowledge and achievement in the Jersey breed, as well as agriculture in general. The scholarships are available to all young Canadian Jersey enthusiasts enrolled in at least the second year of study at any post-secondary College or University. Candidates must not have previously been awarded the Jersey Canada Youth Scholarship. For more information and to apply, click here. Deadline is September 15, 2014.

Nola Brown Continuous Achievement Award
In memory of Nola Brown, former Jersey Canada employee, this award will be presented annually at the Royal Agricultural Winter Fair. Criteria for interested applicants:
a student entering or continuing college or university (program does not need to be agriculture related);
an individual who participates in activities in their home community, displays qualities of leadership and has a strong independent work ethic;
a Canadian citizen who is connected to the Jersey business or interested and involved with the Jersey cow;
a person who clearly demonstrates the ability to work with others in a cooperative and productive manner, has a keen interest and aptitude in some aspect of agriculture, a love of animals, contributes significantly through volunteer work and participate in extracurricular activities.
Applicants should send a resumé and cover letter outlining their achievements to the Jersey Canada office or email the Nola Brown Selection Committee: nolabrownaward [at] gmail [dot] com. More details here. Deadline to apply is September 15, 2014.
Tronia Post-Secondary Scholarships
This competition is open to all students enrolled in an agribusiness or related program. Recipients will be chosen based on leadership qualities, demonstrated involvement in extracurricular and community activities, and academic standing. Students must have an academic average of 80% or higher. Two $1,000 scholarships are awarded annually. For more information and to download the form click here. Deadline to apply: October 3, 2014.
Warren Grapes Agricultural Education Fund
The objective of the Warren Grapes Agricultural Education Fund is to promote agricultural and silvicultural education and learning among the English-speaking farm and rural community of Quebec through the provision of bursaries. The Fund was created in September 1998 in honour of the late Warren Grapes who served many years as QFA president and was an inspiration to all. The Fund provides bursaries to support individuals pursuing secondary and post-secondary studies in recognized agriculture or silviculture programs. The bursaries are a direct grant of monies to recipients to cover any and all reasonable costs related to the pursuit their studies. For more information and the application form, please click here. Deadline to apply is October 17, 2014.
Congratulations to 2013 Warren Grapes Agricultural Education Bursary recipients Carrie Simpson (Hinchinbrooke, QC) and Daniel Sutherland (Huntingdon, QC).  The bursaries were awarded at the QFA AGM on November 15, 2013.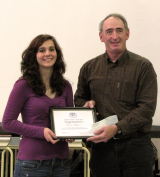 Larry Campbell Milton Memorial Scholarship
***For students graduating from FMT and pursuing a relevant university degree in Fall 2015***
Created in honour of the late Larry Campbell, who retired after 38 years of service with the Canadian Meat Council, two $2,500 scholarships will be awarded annually to current 4-H members planning to attend a Canadian University in a Food Science, Meat Science or Animal Science discipline. The first set of scholarships will be awarded for members starting post secondary education in the fall of 2015. The Larry Milton Campbell Memorial 4-H Scholarship Program is administered by the Canadian 4-H Council, which also will select the scholarship recipients. Click here for the Application Form and Guidelines. The application deadline is December 1, 2014 at 11:59pm EST.
Holstein Canada Education Awards
These awards are for regular or junior members of Holstein Canada, or sons/daughters of a member, and have completed at least one year of university/college (or Cégep in Québec) and returning to school within the calendar year. Six bursaries of $750 will be awarded as such: Western Canada (1), Ontario (2), Quebec (2) and Atlantic Canada (1). Consideration will be given to farm involvement & work experience, youth program involvement, career choice, and points scholastic record. For more information and the application form, please click here. Deadline to apply is October 3, 2014. 
Holstein Quebec Education Awards
These awards are offered to regular members and junior members of Holstein Canada and sons/daughters of a member, who are currently completing a DEP in agriculture or who have already completed at least one year in an agricultural program at the college or university level and are returning to school. Four awards of $500 are given annually. Students must be interested in the dairy industry. To be eligible, the candidate must complete the application form, provide a letter of recommendation and submit their documents by December 1, 2014.
TD Scholarships for Community Leadership
Twenty renewable scholarships are awarded to Canadian (or Permanent Resident) students in their last year of high school or CEGEP (in Quebec) who have demonstrated leadership in improving their community. Each scholarship has a value of up to $70,000 and includes funds towards tuition and living expenses each year at a Canadian post-secondary institution (for up to a maximum of four years). Opportunities for summer employment, mentoring and annual activities are also included. Based on community leadership and academics (75% average or higher). For info, click here. Deadline to apply: November 28, 2014.
FRAQ Education Bursaries
These bursaries are designed to encourage academic excellence in the field of agriculture. Application is open to members of the Fédération de la relève agricole du Québec (FRAQ) who are currently enrolled in agricultural programs, either at the professional, collegial or university level. The bursaries are offered in partnership with la Financière agricole du Québec. A bursary of $750 is available to students currently pursuing studies in a collegial program. For more information on how to apply, please click here. Deadline to apply was January 31, 2014.
Hats Off to You Stéph!
Our 2014 regional winner, Stéphanie Bélanger-Naud pictured with FMT Associate Director, Serge Lussier (left) and her parents at the April 30th regional presentation at the Institut Culinaire St-Piux X in Montreal.
Hats Off to You! is awarded to female students that study in technical and professional programs that are traditionally male-dominated occupations. It is to encourage and to value young women's study efforts in those occupations. This award is offered by the Ministère de l'Éducation, du Loisir et du Sport du Québec. Stépanie also won a provincial MAPAQ scholarship for young women studying in agriculture, fisheries or food, awarded in Quebec City in June. The value of the national MAPAQ prize is $2,000. For more information on this contest, visit this website. Deadline to apply was March 14, 2014. 
Excellence Award for Ag Students
Each year, Farm Management Canada collects submissions from agricultural students across Canada and awards three winners with $1,000 towards furthering their education in agriculture. The award is designed to help students develop their communication skills by having the opportunity to voice their opinion on a subject related to farm management. For more information and the application form, please click here. Deadline to apply was May 9, 2014.  
Keith Gilmore scholarship
Up to ten scholarships are available and are awarded each year in the latter part of August, including: Four $1,500 scholarships are offered to individuals enrolled in a recognized diploma program in agriculture, agricultural journalism and/ or animal health technology, leading to a career in the field of agriculture. The successful applicants will have already completed a minimum of one year in a diploma program. The Keith Gilmore Foundation was established in 1987 with its headquarters located at the Canadian Hereford Association in Calgary, Alberta. It was established to provide scholarships to worthy applicants in the fields leading to agriculture, veterinary studies and agricultural journalism. The foundation is named in honour of the late Keith Gilmore, editor and publisher of The Canadian Hereford Digest for 30 years. It recognizes his contribution to the Hereford breed, agricultural journalism and the beef cattle industry.
Deadline to apply is May 15 each year. Find the application form here. Congratulations Daniel Sutherland for winning a $2,000 scholarship in 2013!

Loran Scholars
**For FMT students who are graduating and continuing their studies at university.**
30 graduating high school or CEGEP students are selected as Loran Scholars on the basis of character, service, and leadership potential. Scholars receive a $9,000 annual stipend and a matching tuition waiver, a summer program, a week-long orientation expedition, one-on-one mentorship and participation in the community of past and present Loran Scholars, in total worth up to $80,000. Additionally, provincial awards of $2,000 are awarded to students who are short-listed but do not make the final scholars list. Deadline to apply: October 22, 2014. For more information, visit their website.
Congratulations to FMT graduate Mario Roy from St-Jules, QC who received one of the 2013-2014 provincial scholarships!
- Future Student (Entrance) Scholarships -
Canadian Agri-Business Education Foundation (CABEF) Awards
CABEF is awarding six (6) awards, valued at $2,500 each, to students in their final year of high school or Cegep and entering a recognized Canadian post-secondary institution agricultural program. Applicants will be assessed on the combination of their leadership attributes, academic standing, and answer to the essay question: "Why am I pursuing a career in agriculture?"  (max. 500 words). The application form can be found here. The deadline to apply is March 1, 2015. Congratulations to FMT graduate Mario Roy from St-Jules, QC who was one of six winners for 2014!
Monsanto Fund Opportunity Scholarship
The Monsanto Fund Opportunity Scholarship Program is for Canadian high school students from family farms who have successfully enrolled at a Canadian educational institution (degree or diploma) in a first-year agriculture program.
If you have applied for entry into a college or university, but have not yet been accepted, you can still apply for a Monsanto Fund Opportunity Scholarship. However, if you are awarded a scholarship, you must provide an acceptance letter from your educational institution.
Successful applicants will each be awarded a scholarship based on demonstrated academic standards and leadership in the community. Selection will be made by an independent panel.  Deadline to apply was May 30, 2014. For more information and the application form, please click here. Congratulations to student Shelby Drew, of Canton-de-Hatley, QC, who won a scholarship in 2013.
OYF Memorial Scholarship
One $1000 scholarship is awarded annually to an individual pursuing post-secondary education in agriculture. Students entering their first year of an agricultural diploma or degree program, or already studying in such a program may apply. Click here for more information. Deadline to apply is June 30 annually. 
- Loans and Bursaries -
Information and assistance is available at the Macdonald Campus Student Service Centre (Centennial Centre CC1-124) for all students concerning government aid programs (includes all Canadian provinces), McGill Loans and Bursaries, and the Work Study Program. During the academic year (September to April) appointments are available with the Loan Administrator for information concerning funding, debt management, budget counselling and the McGill Loans and Bursaries Program. Please call 514-398-7992 for details or to make an appointment with our Loan Administrator.
For more details about: Government aid programs, McGill Loans and Bursaries, Debt Management, Budget Counselling, Work Study Program and Scholarships, please visit the McGill Scholarships and Student Aid Office.
All applicants for McGill aid must apply for maximum government aid or other assistance for which they are eligible. For Quebec students, please consult on-line Aide financiere aux etudes (Student Aid) at www.afe.gouv.qc.ca.