August:
August:
Students in year 1 in the Physical Activity and Health class, early in the semester.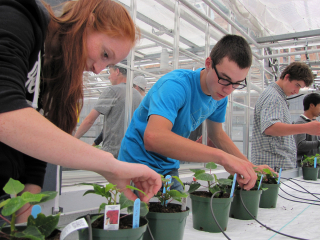 August 26th, students in the Agricultural Botany laboratory section plant poinsettias and hook up the watering system (above), while on August 28th, they plant soybeans to grow in the greenhouse (below).
Students mix and mingle at the FMT Pizza Party on August 27th.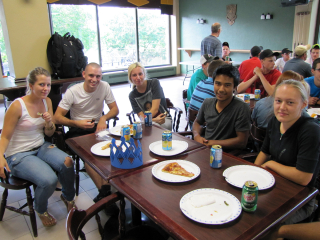 September:
In their Microcomputing lab section, students are taught in the computer labs in Macdonald-Stewart building (September 12th).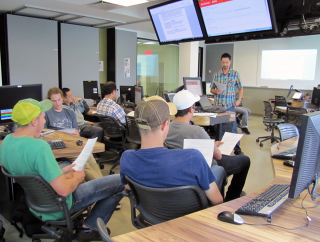 On September 13th, the Soil preparation class visited Les Productions Breizh in Sherrington, Qc, which produces onions and carrots.
Students study the anatomy of hooves in Animal Anatomy and Physiology, and identify what they are examining in the lab, September 16th.
Year one students received a workshop in using the library's online catalogue and researching techniques on September 18th.
Amongst others, these 5 year 3 students: Karsten Miehe, Daniel Sutherland, Justine Pouliot, Stéphanie Bélanger-Naud, and Adrian Spuehler all donated blood for the first time at the DHNUS blood drive on campus, on September 25th. Keep up the good work!
Students learn about different methods and machinery used for fall field work on September 27th in their Soil Preparation outdoor lab.
September 30th Year 2 Fruit and Vegetable students harvested grapes from the vines at the Hort centre.
October
On October 1st, the Fruit and Vegetable Crops class pressed the grapes they harvested.
Our third year students visited a variety of ag businesses in Southwestern Ontario on the annual field trip, October 8-10. Here they visited Chudleigh's Orchard.
Landscape design Year 3 students plant bulbs around Harrison and Rowles Houses on October 11th.
Year 2 students harvested kale and cilantro on October 15th.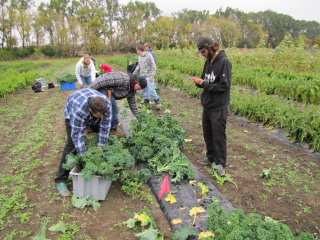 Year 2 Dairy Heifer Management students measured their heifers on October 16th to chart their growth.
Students in Ag Botany (year 1) examined plant cells under the microscope on October 16th.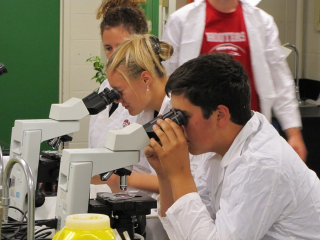 Lino Saputo Jr., CEO of Saputo, spoke at Macdonald Campus on October 17th. FMT students attended and many posed thoughtful questions during the discussion period that followed his presentation.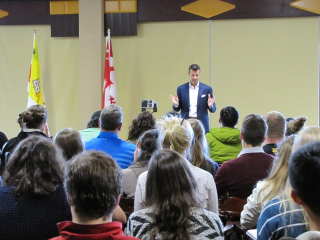 A dozen FMT students are on the McGill Woodsmen teams this semester. Here they are after competing in mid-October.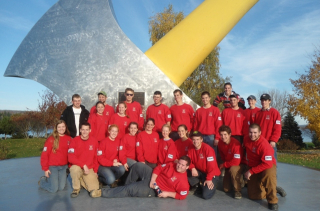 Second year students traveled to Adirondack Farms in Peru, New York on October 25th.
October 29th saw second year Fruit and Vegetable Crops students sampling dozens of varieties of apples and pears to compare taste, texture, colour, and other factors.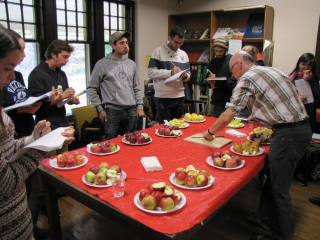 year 1 Ag Botany students make bread, October 30th in the Ceilidh kitchen.
November
Students identified weeds in their Ag Botany (year 1) class on November 6th.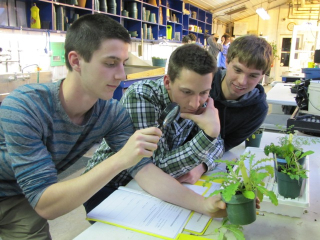 On November 6th, there was a very special guest lecture on animal handling and welfare, by Dr. Temple Grandin, the lecture theatre was packed; FMT students attended.
Students in Dairy Heifer Management measured their heifers to chart their growth, at the Mac Farm November 13th.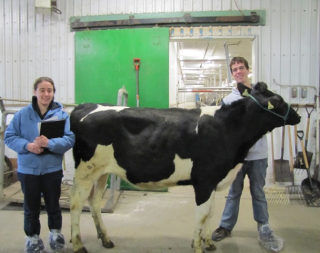 Also on November 13th, the Ag Botany students measured their poinsettia plants                                                                                  
The annual FMT Awards night was held on November 27th at Tadja Hall. Students were awarded bursaries, awards and scholarships to help them with their education.
Students in Landscape Design (year 3) created displays of photos demonstrating design themes, for the Macdonald community to vote on, on November 29th. They were on display in the Macdonald-Stewart Lobby.
December
Students measured their poinsettias for the last time on December 2nd, before taking 1 of theirs home, and selling the other 2 they produced to help fundraise for their class' grad party in 2016.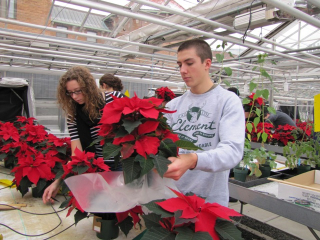 December 5th, Students in Microcomputing did group presentations in the Active learning classrooms.
Also see the 2012-2013 Academic year
For even more photos, you can scroll through galleries from past years using the navigation bar on the left.