September 28:
Trip to Marché Central for the students enrolled in the Fruit and Vegetable Crops' course. They were able to see what takes place at the Marché Central of Montreal, early in the morning in terms of exchanges between producers and retailers.
In the Soil Preparation laboratory class, the FMT students were looking at primary tillage equipments in action on the Macdonald Campus Farm fields to learn how to adjust the equipment and to evaluate the work. Below is a chisel plow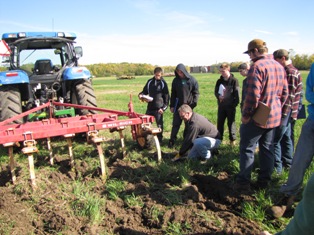 September 5:
At the Horticultural Centre, the 1st year students are learning how to graft pear trees with the help of Mr. Michael Bleho as part of their Agricultural Botany's laboratory.
Also see the 2011-2012 Academic year
For even more photos, you can scroll through galleries from past years using the navigation bar on the left.