October 19:
Third year students are working hard in their Landscaping Design course to contribute to our beautiful green campus! Keep up the good work!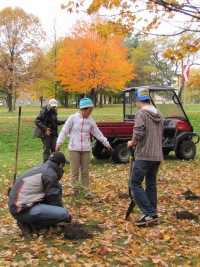 October 9:
First year FMT students are playing Football on the McEwen field as part of their Physical Activity and Health course.
October 2-4:
The third year FMT students are on their three day long field trip to South Western Ontario to visit different types of enterprises. They get the opportunities to discuss with farm managers about how their enterprise is managed about labor, marketing, location, history, farm transfer, etc. This is to help the students at planning their future farm business plan that they have to produce in the following term.
October 1-5:
It is the internship week for all first year students on an agricultural enterprise of their choice. It is to allow the students to understand the workplace functions and characteristics of the farm manager. They collect pertinent information in the workplace during their internship. Some students decide to do their internship on the facilities that we have on campus such as the Horticultural Centre, the Dairy and Poultry Complexes this year.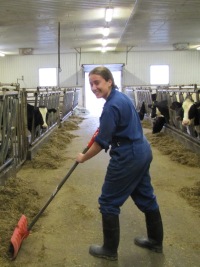 October 1:
Second year FMT students are happy to help sorting apples they have harvested from the Macdonald Campus Horticultural Centre as part of their Fruit and Vegetable Crops' course.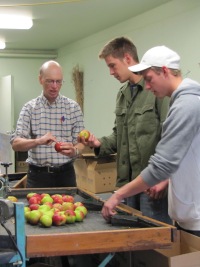 Also see September 2012 pictures
For even more photos, you can scroll through galleries from past years using the navigation bar on the left.